Things to Do in New Berlin
---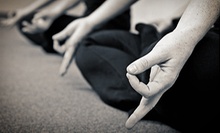 A one-on-one Pilates, yoga, or personal-training session tailored to your workout goals
Use Today 5:30am - 8:00pm
---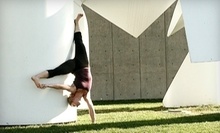 Five styles of yoga classes range from aerobic power Vinyasa to the highly meditative yin yoga and its lengthy posture holds
Use Today 6:45am - 9:45am
---
Recommended Things to Do by Groupon Customers
---
Dogs may be man's best friend, but having a horse show up at your wedding is more likely to impress. Milwaukee Coach and Carriage arranges such romantic gestures with its fleet of well-mannered equines and spacious coaches. Its custom carriage rides wend to and from marriage ceremonies as well as birthday parties, grand openings, and other special events, imbuing passengers' evenings with timeless flair and romance.
For a more casual trot around the city, Milwaukee Coach and Carriage also leads 30- or 60-minute tours of downtown, rolling past popular landmarks to create a memorable date without getting involved in a high-speed chase. Each carriage holds up to four adults and two children total, though 12-person wagons are available for larger groups.
228 E National Ave.
Milwaukee
Wisconsin
414-272-6873
Every year, a crew of landscapers draws on a palate of bricks, wood, and water, as well as foliage and flowers, to fashion sweeping terraces and murmuring aquatic features. This year, in its 88th iteration, The Realtors Home & Garden Show explores the hours of the day through designs focused on facilitating morning meditation, afternoon cookouts, and evening film screenings. One installation rises from the work of international chalk artist Julie Kirk Purcell, who teases the eye with mural of a chalk garden that seems to leap in three dimensions from the floor of the convention hall.
Chatter drifts to the model patios and gardens from more than 250 exhibitors and vendors, who showcase home-improvement and landscaping techniques alongside designers of windows, cabinetry, fences, and saunas. A culinary area stands out from the rows of home wares with daily demonstrations from five chefs, including some nominated for James Beard awards. The sessions focus on topics including plating, raw food, and French dishes, all using organic ingredients from local farms. Nearby, a market bustles with guests toting potting supplies, gardening tools, and makeup kits for vain scarecrows. Outdoor furniture begs to perch on patios alongside lawn ornamentations that hint at European and Asian art traditions or highlight work by local artisans.
8200 W Greenfield Ave.
West Allis
Wisconsin
414-727-8860
Beach-goers stave off direct sun exposure by hunkering under Bradford Beach Cabana Company's signature cabanas, or basking in the shade of rented beach umbrellas. The purveyor's cushioned lounge chairs fit comfortably beneath their shady structures, and a team of food-service attendants is on hand to ferry snacks to beach-goers who would otherwise have to infiltrate seagull potlucks. On breaks from lounging, adventurers can take to the waves in rented water gear, paddling touring kayaks or balancing atop standup paddleboards on the clear lake waters.
2400 N Lincoln Memorial Dr.
Milwaukee
Wisconsin
414-502-7368
Bumper, Slick, Makaia, and Diego may sound like a team of superheroes, but at Oceans of Fun, they are the names of just 4 of the 11 sea lions and seals that inhabit the center's waters. Nestled in the Milwaukee County Zoo, the educational center focuses specifically on marine animals, educating visitors on their traits, their favorite places to play, and conservation strategies. Kids can feed the seals and sea lions buckets of fresh fish or build their animal-training repertoire during interactive programs; the animals also perform in shows four times daily throughout most of the year.
10001 W Bluemound Rd.
Milwaukee
Wisconsin
414-453-5527
Inspired by the German Turnverein associations of the early 19th century, the Milwaukee Turners first came together in the mid 1800s, gaining their charter from the Wisconsin State Legislature in 1855. In 1882, the group constructed Turner Hall, and the building has housed the organization and its stockpiles of sweatbands ever since. Over the decades, the hall has welcomed in visitors with a mission to help them create sound bodies and minds.
Though they derive their name from "Turnen," the German word for gymnastics, the Milwaukee Turners teach visitors much more than just how to lasso a pommel horse. In addition to the gymnastic school, the organization schedules classes for fencing and yoga. Their rock-climbing wall's top ropes take climbers up 26 feet as they practice belaying techniques. To strengthen minds, the Turners lead meetings such as the 4th Street Forum, which discusses issues crucial to the community, and host concerts within the Turner Hall Ballroom.
Now a national landmark, Turner Hall echoes the organization's rich history. Sprung from the mind of famed architect Henry H. Koch, the building's design includes an Italianate façade crafted with Cream City brick and panoramic paintings that make visitors think they're trapped inside a cartoon. The hall boasts a full restaurant, beer hall, and two-story ballroom, making it an ideal locale for special occasions.
1034 N 4th St.
Milwaukee
Wisconsin
414-272-1733 x2
Creative Fire Art & Pottery Studio has a roomy workspace where adults and kids can learn the craft of clay. The facility hosts day and evening classes. There's also open studio time, where students can come and go as they please to finish building a piece or see if their clay pigeon has morphed into a real pigeon. In party packages, you and a group of friends can get a room to yourselves to work with clay under the advisement of an instructor. It's also worth it to stop in Creative Fire Art & Pottery Studio's gallery, which feature a number of original pottery pieces.
6427 W North Ave.
Wauwatosa
Wisconsin
US
414-443-9402
---