Things to Do in New Bern
---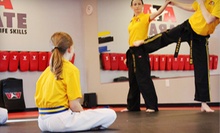 Classes teach self-confidence and self-defense to toddlers through adults in karate, tae kwon do, and Krav Maga styles
---
Recommended Things to Do by Groupon Customers
---
Spurred on by winter's chill, Captain Richard Andrews leads small groups to the lower Roanoke River in search of the region's abundant striped bass. Whether armed with light tackle or fly gear, anglers reap the benefits of colder water temperatures, which send their prey swimming from Albemarle Sound into the lower Roanoke's deeper river channels. While no fishing trip is ever guaranteed, fishermen in the area have reported hauls in excess of triple digits on the luckiest of expeditions during this time of year. The four-to-five-hour half-day charters shove off at 8:30 a.m. from the Shipyard Landing boat ramp just off the Cashie River.
1052 E Main St.
Washington
North Carolina
252-945-9715
Within 93,000 square feet, the North Carolina Aquarium at Pine Knoll Shores manages to fit all of the state's and most of the world's main aquatic environments into five galleries. A 30-foot waterfall throws a cool mist over guests as they begin a journey that brings them to the Piedmont gallery, where the aquarium's three spunky river otters—Neuse, Pungo, and Eno—frolic and play poker underwater. Further exhibits promise other memorable encounters, such as the Tidal Touch Pool where handlers let visitors touch skates, rays, and select invertebrates. At the epicenter lies the ocean gallery, anchored by a 306,000-gallon tank with a 65-foot viewing window. Sand tiger sharks and moray eels swim about the Living Shipwreck exhibit, a replica of a German U-boat that sank off the United States' East Coast in 1942. Behind the glass of another tank, a young loggerhead sea turtle named Nimbus flashes its gold-toothed smile and rare white coloration.
Divers host live shows twice a day in the ocean tank, answering visitors' questions via special equipment. They've also been known to assist with proposals, unveiling engagement rings as an unsuspecting fiancé peers through the glass. Beyond overseeing the standing exhibits, the staff also ventures outside for numerous educational programs and activities. Participants can catch crabs, fish in the surf, explore the marsh, or even explore the water on canoeing and kayaking outings.
1 Roosevelt Blvd.
Pine Knoll Shores
North Carolina
252-247-4003
Though she had already established four fitness businesses and accrued more than 20 years of experience as an instructor, Blythe Bracey's introduction to hot yoga was reformative. The art helped her overcome the emotional turmoil of divorce and fueled her tenacity in life, so much so that she opened me. to spread the word about hot yoga's many benefits. Blythe guides students through classes in a room heated to 100–105 degrees, the known boiling point of inspiration. She encourages guests to make the experience a personal one—just as it was for her—and highlights hot yoga's capacity to boost mental as well as physical health.
Ballet-inspired workouts, boot camp, and Pilates courses are also part of Blythe's curriculum, facilitated by the gym's two floors and trove of equipment. Regardless of their background, all guests progress through routines at their own pace in an effort to cultivate self-awareness.
3105 Ward Blvd., Suite C
Wilson
North Carolina
252-206-5151
In a 2011 interview with the Rocky Mount Telegram, George Millar reveals he has been a facilitating fun for a long time. "Soccer wasn't in existence when we started," he points out, and neither were home video games. Noticing a dearth of places in his hometown where kids and families could safely enjoy themselves, he put his skills as a professional contractor to work. In 10 outdoor batting cages, he installed pitching machines that sling baseballs and softballs from T-ball speeds up to 80 miles per hour. Next, he and his crew of five guys—all of whom are still operating the business today—built an 18-hole mini-golf course modeled after those in Myrtle Beach, designing a path that winds past waterfalls, natural plantings, and tricky bunkers filled with saltwater taffy. An arcade blares with games and the crack of pool balls ricocheting inside, and an elephant-shaped inflatable bounce house bobs with jumpers inside until they come zipping out down its slide.
1265 Independence Drive
Rocky Mount
North Carolina
252-442-4774
---