Things to Do in New Braunfels
---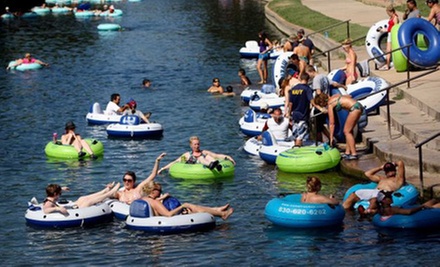 ---
Recommended Things to Do by Groupon Customers
---
Sunset Bowling Lanes opened in 1959 with 24 solid-wood lanes and a stockpile of miniature pencils to keep track of spares and strikes. The alley has since upgraded to computerized scoring systems while also maintaining the charm of classic tenpin entertainment. In addition to its open bowling and league opportunities, Sunset Bowling Lanes hosts events such as college nights—which provide students with discounts so they can save up for books or exam mulligans—and keeps its patrons fueled for the eternal turkey hunt with burgers and drinks from the snack bar.
1304 Hwy. 123
San Marcos
Texas
512-396-2334
Hogs. Feral hogs everywhere. That's the problem that faces agricultural landowners in Texas right now. Lonestar Helicopter Hunter blossomed from this problem, and its staff of active duty and ex-military personnel began hunting hogs from the passenger seats of their helicopter to help battle the destructive populations. In addition to helping farmers, the group realized how powerful the adrenaline rush was and started teaching other hunters and marksmen the challenging hunting style. Soon they came up with a paintball-based version, which equips adrenaline-seekers with markers, paintballs, and a field of stationary targets to aim at, providing the same kind of excitement as the real hunt. In addition to aerial target practice, Lonestar's expert pilots also license and certify burgeoning helicopter pilots with private, commercial, and certified instructor courses.
121 Center Point Ct.
San Marcos
Texas
512-348-6833
The certified marksmen of Bullseye Shooting Sports teach the fundamentals of safety and accuracy to pupils of all ages. In addition to offering courses in range safety, NRA-certified instructors teach students how to responsibly fire pistols, rifles, and shotguns. Fletched projectiles are the subjects of private archery lessons, held on the facility's open-air range, as well as at kids' backyard archery parties. USA Archery–certified coaches tote portable ranges and the requisite equipment to shindigs, instructing up to 20 kids, adults, or terrified bull's-eyes in marksmanship.
169 Autumn Chase
New Braunfels
Texas
830-660-9703
The horses at Hollow Tree Ranch trot around more than 20 grassy acres laced with streams, dotted with leafy trees, and imbued with wild country atmosphere. Here, skilled instructors guide beginner students during horseback-riding lessons. They place their pupils on the horse right at the beginning for hands-on instruction in saddling up and controlling a steed through trotting, weaving between obstacles, and riding over a log trail. They also combine equestrian training with group roping lessons, where they demonstrate how to coil, aim, and throw a lasso at targets such as an orange cone, a ground dummy, and a high-school bully. They run a one-week intensive day camp in horseback riding, tacking, and care, and regularly use equine therapy to instill communication skills, core muscle strength, and confidence in young people with disabilities.
789 Herbelin Rd.
New Braunfels
Texas
830-609-8993
Floats last between one and four hours each, and the short, one-hour route can be repeated. Gather a team of water-drawn hooligans for a relaxing journey that takes you around the famous Horseshoe Loop. The river is flush with Momma Nature's finest currents and rushing at its highest level in three years, so there's no better time to propel yourself and your professional water Marco Polo team down a living waterslide. Choose the route that will satisfy your inner sundial and outer sunsoaker.
11860 FM 306
New Braunfels
Texas
Texas Sphere Ride brandishes a novel thrill with its massive inflatable spheres that send adrenaline junkies tumbling along a fenced-in track. The hollow, cushioned plastic balls safely cradle strapped-in pairs as they gather speed, rolling and bouncing along a dirt path. For added excitement, Texas Sphere Ride's partnership with Helicopter Tours of Texas augments spherical jaunts with a short ride in a chopper for a more heart-pounding adventure than a hostage negotiation in a cardiologist's office.
6700 N IH 35, Suite B
New Braunfels
Texas
830-214-7804
---