Things to Do in New Braunfels
---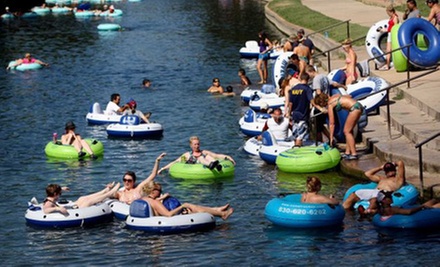 ---
Recommended Things to Do by Groupon Customers
---
Floats last between one and four hours each, and the short, one-hour route can be repeated. Gather a team of water-drawn hooligans for a relaxing journey that takes you around the famous Horseshoe Loop. The river is flush with Momma Nature's finest currents and rushing at its highest level in three years, so there's no better time to propel yourself and your professional water Marco Polo team down a living waterslide. Choose the route that will satisfy your inner sundial and outer sunsoaker.
11860 FM 306
New Braunfels
Texas
Judo is one of the grappling arts, which means that it has no strikes and uses no weapons, unlike karate or tae kwon do. Judo was developed in 1882 by Jigoro Kano as a comprehensive method of physical education, and it continues to provide exercise, entertainment, and self-defense knowledge today. For fun or competition, Universal Judo provides instruction and enjoyment to practitioners of all skill levels and ages. Call ahead to schedule your first visit.
13122 Lookout Run
San Antonio
Texas
Texas Sphere Ride brandishes a novel thrill with its massive inflatable spheres that send adrenaline junkies tumbling along a fenced-in track. The hollow, cushioned plastic balls safely cradle strapped-in pairs as they gather speed, rolling and bouncing along a dirt path. For added excitement, Texas Sphere Ride's partnership with Helicopter Tours of Texas augments spherical jaunts with a short ride in a chopper for a more heart-pounding adventure than a hostage negotiation in a cardiologist's office.
6700 N IH 35, Suite B
New Braunfels
Texas
830-214-7804
Sunset Bowling Lanes opened in 1959 with 24 solid-wood lanes and a stockpile of miniature pencils to keep track of spares and strikes. The alley has since upgraded to computerized scoring systems while also maintaining the charm of classic tenpin entertainment. In addition to its open bowling and league opportunities, Sunset Bowling Lanes hosts events such as college nights—which provide students with discounts so they can save up for books or exam mulligans—and keeps its patrons fueled for the eternal turkey hunt with burgers and drinks from the snack bar.
1304 Hwy. 123
San Marcos
Texas
512-396-2334
The engine's howl steadily builds as the Robinson R44 helicopter's blades churn with increasing velocity. Passengers look out of bubble windows and see grass whipping beneath. In a moment, the turf disappears, fading from view as the chopper lifts higher into the sky. So begins an aerial adventure led by experienced pilots Steve Van Buren and John Holler, who venture into the airways above Austin, San Antonio, the hill country, and central Texas. The air-conditioned copters—equipped with four-way communication that allows guides to maintain contact with passengers—glide through the firmament, as pilots obey all stop-sign-shaped clouds on their way to eye-catching views of sites such as historic Gruene. Crews also bring helicopters to clients for party rentals and assist landowners with predator control and game surveys.
6700 N IH 35, Suite B
New Braunfels
Texas
830-214-7804
"It's like throwing a party every day," Byron Severance, who co-owns The Jumpy Place along with his wife, Cathy, told the Hays Free Press. "It's the most fun I've ever had in a job." Byron and Cathy's indoor playground—kept immaculate with a strict socks-only policy, daily disinfectant washes, and an unbudging ban on trashcan-dwelling Grouches—relieves the endemic of excess energy common to youths aged 10 and younger. As children bounce in and slide down air-filled fortresses, adults entertain themselves with complimentary coffee, WiFi, and cartoon-free television. Both locations are open every day except Tuesday, and each admission grants all-day access that allows families to come and go as they please.
1145 N Loop 337, Suite 200
New Braunfels
Texas
830-625-9900
---