Day Spas in New Carrollton
---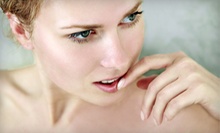 Skilled massage therapist delivers combination of gliding Swedish strokes with probing deep-tissue pressures to relieve tension
Use Today 10:00am - 5:00pm
---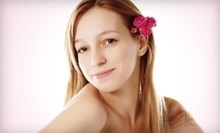 Skilled aesthetician deep cleans face, sloughs off dead cells & uncorks pores, finishing with hydration & soothing shoulder & neck massage
Use Today 1:00pm - 5:00pm
---
Recommended Day Spa by Groupon Customers
---
Board-Certified Dermatologist Dr. Lisa C. Kates helms a staff dedicated to providing expert skincare in an intimate and relaxed setting. An aesthetician begins visits by taking a detailed look at the epidermis, determining any possible skin concerns and suggesting a personalized treatment regimen. If clients opt for the AFA facial peel, they will enjoy a formula made from naturally occurring amino acids that produce skin's natural moisture, as the peel smoothes, softens, and sheens up skin with less drying and irritation than glycolic acids. Even patients who have the perfectly youthful and even-toned skin of a Greek god can benefit from the AFA peel, which encourages cell turnover and enhances natural glow.
2200 Defense Hwy., Suite 201
Crofton
Maryland
US
410-451-5500
NovaLash-certified extensionist Gail Hallman, a graduate from the Von Lee International School of Aesthetics, is well versed in the art of applying eyelid fringe. The semi-permanent, individual, synthetic lashes are designed to resemble a naturally curled lash and respond better to wear and tear (flirty winks, marathon crying sessions) than any other material. Lashes vary in length and thickness.
7270 Cradlerock Way
Columbia
Maryland
Transitions Lifestyle System transcends the constraints of mere diet; rather, it is a holistic approach to health, fitness, and happiness. The program includes low-gylcemic-index meal plans, daily journaling, an educational DVD, a professional and encouraging support system, helpful reading materials, nutritional supplements for weight management, and access to an interactive website to track your progress. The system traditionally lasts 90 days, but this Groupon offers a more accelerated program for one third of the time. By checking in with a Transitions Lifestyle System advisor regularly, clients feel more accountable for their daily choices and tend to see positive results. Depending on your chosen location, you may also receive one Groupon bonus:
10111 Colesville, Suite 103
Silver Spring
Maryland
Eye Doctors of Washington offers Latisse eyelash treatments (regularly $120 per box) to peepers wishing to add more pizzazz to eyelids. With Latisse's eyelash growth treatment, clients will apply a Food and Drug Administration–approved solution to their eyelashes every night before going to bed. The procedure results in longer, fuller, and darker lashes, maximizing batting and blinking effects. One box covers one month of treatment, with full results generally seen in three to four months. As a bonus, Eye Doctors of Washington is throwing in a 20% discount on up to two additional boxes, beyond the two included with this deal. This Groupon also includes a consultation with one of Eye Doctors of Washington's array of ophthalmologists and optometrists.
2 Wisconsin Circle, Suites 200 & 230
Chevy Chase
Maryland
The Still Point's newly opened yoga studio boasts a dedicated staff of instructors ready to energize and invigorate students with yoga classes to suit conscious exercisers of all experience levels. Nestled into two spacious studios, expertly trained yogis lead each class session, and students follow a flowing series of stretches, extensions, and poses designed to improve physical and mental health.
1 Columbia Avenue
Takoma Park
Maryland
301-920-0801
The owners of Farashé the Day Spa designed it with the feng shui elements of water, fire, metal, wood, and earth in mind. It makes for a fitting setting, since the treatments that take place there, like feng shui, draw from ancient Eastern healing philosophies. These Ayurvedic treatments range from scalp massages that stimulate the senses to applications of warm oils that separate clients from the lampposts to which they've frozen their foreheads. Aestheticians also perform Western spa treatments including facials with Dermalogica or GM Collin products. During body treatments, therapists draw from natural ingredients, such as mineral salts and sea mud, which clients then wash off with a massaging Vichy shower. Treatments take place amid the arched doorways and draped gold silk curtains that mark the spa's Indian- and Moroccan-influenced decor.
5570 Sterrett Pl., Ste. 105
Columbia
Maryland
410-964-1500
---