New Castle, PA Outdoor Activities
---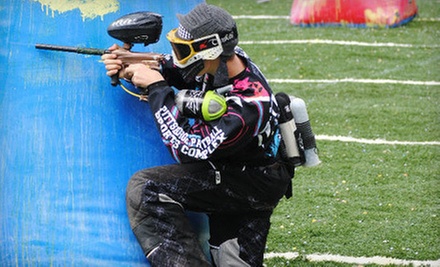 Avalon - Bellevue - Ben Avon
---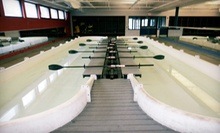 Students start on ergometers before hitting indoor and outdoor waters; students also learn terminology, safety, and techniques
---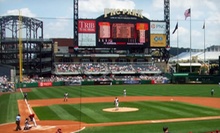 The water limo stocked with beer, wine, and bottled water shuttles guests to and from Pirates games every half-hour
---
Recommended Outdoor Activities by Groupon Customers
---
'Burgh Bits & Bites celebrates the melting pot of downtown Pittsburgh cuisine with different tastes from different ethnicities in different Euclidean spaces. Palates will encounter up to six different tastings during the approximately two-hour restaurant crawl. Snack on Italian specialties such as imported meats and cheeses or Mediterranean eats such as hummus, or savor bites with universal acceptance, like pizza. Tours are kept to groups of 10 or less per knowledgeable guide, ensuring that you get individual attention and a cool tour nickname. After the tour, participants will have been fed enough tiny bites to equal a small meal, pushing stomach-o-meters from E (extremely unfilled) to F (full as a submerged timpani). A bottle of water is provided at the start of the tour, and you will have the option to bring your own refreshments. Children and infants are free, as long as they aren't eating.
1711 Liberty Ave.
Pittsburgh
Pennsylvania
2012 was almost the Pirates' year. They began the season with a team ERA of 2.78 in April—the 3rd best in the league, and by the start of July, they were neck-and-neck with the Cincinnati Reds for the top spot in the NL Central. Though a late-season slump derailed their return to glory, the 2013 campaign offers another shot at a division title, especially since the MLB no longer prohibits forcing opposing players to walk the plank.
Pittsburgh Pirates
In the Pittsburgh Alleghenies' first National League game in 1887, the rag-tag squad amassed six runs against the mighty Chicago White Stockings, establishing the team as a force to be reckoned with for decades to come. Today, through more than 130 years, five World Series titles, and four previous stadiums, the Alleghenies—now the Pirates—make their home at PNC Park, where pop flies soar amid views of the Clemente Bridge and Steel City skyline sprawling in the background. Located only 443 feet away—or, by official MLB measurements, 807.3 half-eaten hot dogs—the Allegheny River waits for home runs to splash down after sailing over the right-field wall, which stands at 21 feet high in honor of legendary Pirate Roberto Clemente. Off the field, the stone archways lining the entry-level façade tip their cap to the club's former longtime home, Forbes Field, and an outdoor terrace and riverwalk cool down fans enjoying the game on warm summer nights.
115 Federal St.
Pittsburgh
Pennsylvania
877-893-2827
Named for the sunny yellow birdsfoot trefoil flowers strewn throughout the course—sprouted from seeds that fell off hay wagons rumbling through years ago on the fields of the former Buffalo Creek Farms—the championship golf course at Birdsfoot Golf Club enchants golfers with rolling hills and country charm. The links-style front nine give way to a back nine whose fairways open over hills, inviting golfers to pull out their drivers and whack dimpled orbs with the club-swinging gusto usually reserved for cracking eggs into an omelet pan. The Pittsburgh Post-Gazette highlights the course's 465-yard third hole as one of the 18 best public holes in western Pennsylvania, citing its mounded fairway, which doglegs left and challenges putts with a downhill, sloped green. As carts zoom from one hole to the next, they traverse a path where bogeyman faces carved by a local artist peer from tree trunks. When players finish their rounds, they can unwind in a clubhouse where ghosts from its former life as a farmhouse offer advice on covertly changing scorecard results.
Course at a Glance:
18-hole, par 72 course

Length of 7,034 yards

Course rating of 74.4

Slope rating of 137

See an interactive course tour
225 Furnace Run Rd.
Freeport
Pennsylvania
877-295-3656
---