New Haven Automotive
---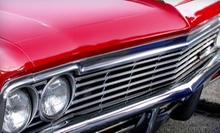 Technicians perform exterior car wash, comprehensive interior detailing, or 10-minute oil change
---
Recommended Automotive by Groupon Customers
---
A Grease Monkey full-service oil change is more than a simple oil infusion. Expert mechanics give your car a full physical, checking its respiratory system (air filter, breather element, and PCV valve), vision (windshield-wiper blades and exterior lights), and circulatory system (power-steering fluid, battery fluid, windshield fluid, transmission or transaxle fluid, differential fluid, and engine-coolant level). Your car's carpets will then be vacuumed and its exterior windows washed, leaving it cleaner and healthier than a bar of soap running on a treadmill. A tire rotation completes your car's transformation into a fully tuned wheelmobile.
10830 Coldwater Rd
Ft. Wayne
Indiana
In addition to doling out free flat repairs, alignment checks, and front-end, brake, and tire inspections, the ASE–certified mechanics at Patriot Tire & Auto head off or mend automotive malfunctions with preventive service and repairs. The shop's online service, My Garage, helps diagnose ailments before they even reach the shop, allowing drivers to note handling issues, strange smells, or what color exhaust the car is coughing up. A nationwide limited warranty then covers some services for up to 12 months or 12,000 miles. True to its name, Patriot Tire & Auto also stocks name-brand tires trusted manufacturers including Michelin, Goodyear, and Bridgestone.:m]]
205 Fernhill Ave.
Fort Wayne
Indiana
260-484-7530
When it was founded in 1959, Ziebart's business model hinged on a single service: their innovative rust-prevention procedure. However, the chain has diversified its auto treatments throughout the last five decades. Though the team of certified technicians continues to safeguard vehicles against corrosion, they also protect paint jobs with Z-Shield and Diamond Gloss coatings and render interior fabrics stain-resistant with their house Ultra Fabric Protector formula. They clean and disinfect ride interiors, and hand-wash and machine polish exteriors to a sparkling shine. Beyond up-keeping vehicles, they stock an arsenal of car electronics that run the gamut from remote car starters to in-dash navigation systems, which can help drivers find their way back home without relying on a trail of breadcrumbs.
1025 Avenue of Autos
Fort Wayne
Indiana
260-459-3455
Soap N' Suds Auto Detailing has been washing, cleaning, and waxing cars, trucks, and boats by hand for the more than 15 years. Whether they're overhauling grime or reinforcing an already brilliant shine, the staffers utilize eco-friendly Meguiar's and Mothers products. As they work, clients and car owners stay cozy in a lobby complete with a TV that streams lives footage of cars singing in the shower.
7661 Bluffton Rd.
Fort Wayne
Indiana
260-579-7213
The highly trained technicians at Jiffy Lube tend to about 24 million customers each year with services such as the Jiffy Lube Signature Service Oil-Change, which helps promote the longevity of each vehicle. Staffers acknowledge that oil plays a crucial role in maximizing the lifespan of each car: it cools the motor and helps prevent moving parts from deteriorating. More than 20,000 technicians who have completed an extensive training program certified by the National Institute Automotive Service Excellence (ASE) service vehicles at Jiffy Lube.
In addition to performing oil changes, technicians perform preventative services such as air-filtration and electrical system maintenance, among others. Jiffy Lube's quality pledge includes a commitment to transparency, which stipulates that they will inform car owners of any necessary services, complete a service only after it has been approved, and refuse to replace windshields with saran wrap.
4334 Coldwater Rd.
Fort Wayne
Indiana
260-483-3779
The staff at Allied Motorworks speaks the langage of European, American, and Asian automobiles fluently, and showcases those car-talk skills during battery, transmission, engine, and brake services. In addition to internalizing the factory specs of luxury and imported vehicles, they perform all types of auto maintenance. During oil changes, techs perform extensive checks, and crews degrime every nook and cranny of a car during auto details, creating a shine that even hovering birds take as a threat.
6820 Sylvania Ave.
Sylvania
Ohio
419-515-4000
---