Things to Do in New Haven
---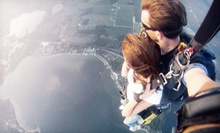 After safety lesson, expert instructors accompany skydivers of all experience levels as they safely fall downward to beautiful views of lake
---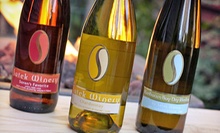 Guests sip locally bottled beverages and tour an award-winning winery, visiting the production and bottling operations
---
Recommended Things to Do by Groupon Customers
---
Set your strike ball loose on any of the 32 spacious lanes at Crazy Pinz, all of which are surrounded by a mass quantity of flat-screens and projection screens. As you catch a sports game on the surrounding videoscape, track your real-life championship with the center's state-of-the-art scoring system. Though not included in the Groupon, if hunger and thirst start splitting your stomach, pick up some spare eats at Coconutz, a full-service eatery on site, or squelch desires for deliciousness at the Snack Shack, a stop-'n'-go destination dedicated to fueling today's unsung American heroes—children.
1414 Northland Blvd.
Fort Wayne
Indiana
At Black Rose Rentals, helpful teams of party suppliers deck out celebrations with brand-new equipment. The staff sets up summery white canopies over outdoor banquets and facilitates toe tapping with DJ rental systems. Inflatable moonwalk palaces keep revelers entertained and airborne, while portable dance floors turn lawns and patios into glitzy ballrooms. Black Rose Rentals delivers, installs, and strikes all equipment, and staffers are backed by the confidence of full item insurance, a million-dollar liability, and a pat on the back from Bacchus.
4257 Goeglein Rd.
Fort Wayne
Indiana
260-267-6730
Fort Wayne Ballet began pirouetting in 1956 to enrich the community's arts offerings with dance instruction and performances. Beginning with its inaugural performance of Cinderella, the ballet company has performed timeless pieces including The Nutcracker, Giselle, and Swan Lake. In addition to its shows and classes, Fort Wayne Ballet maintains strong links to the community, which is evident in its theme: everybody dances. The Ballet works to find adoptive families for dogs through the Muttcracker program, produces trading cards with dancers, I&M linemen and players from each of Fort Wayne's minor league teams, and stages three main stage productions and three Family Series performances per year.
303 E Main St.
Fort Wayne
Indiana
Resplendent with a multitude of American art forms, the Fort Wayne Museum of Art brandishes masterpieces from United States artists from the late 18th century to the modern day. The permanent collection entices meandering visitors with nearly 1,400 American-grown pieces from artists including George Inness, Janet Fish, and William Forsyth, such as paintings, sculptures, photographs, and flags fashioned from apple pie. In addition to a permanent display of 56 Amish quilts, the Fort Wayne Museum of Art touts rotating exhibits such as the current Material World, a collection of textiles hailing from different countries, time periods, and transdimensional planes.
311 E Main St.
Fort Wayne
Indiana
The theater is part of the artistic arm of the First Presbyterian Church, and auditions for the troupe's roughly six annual plays are open to anyone. An art gallery doubles as the lobby for this 300-seat auditorium, which regularly hosts well-known ensembles, including past acts The King's Singers and saxophonist Ashu.
300 W Wayne St.
Fort Wayne
Indiana
260-422-6329
Prana Yoga School of Yoga and Health takes its name from the Sanskrit word for "breath," a vital life force. As part of the studio's mission, its instructors aim to expose students to all the benefits of yoga and holistic health in a welcoming and nonjudgmental environment. With 60 classes available each week, Prana Yoga's two locations offer sessions designed for practitioners of every experience level. During all-levels courses, instructors invite all students to practice together while also modifying and adjusting poses for those who need it. Restorative sessions help practitioners relax, and prenatal courses bring relief to mothers-to-be.
In addition to group yoga, the facility hosts private one-on-one yoga, teacher-training programs, and a variety of workshops. Massage therapists are also available to perform Thai, hot-stone, and Swedish massages. As part of a commitment to giving back to the community, the founder of Prana Yoga also runs the Pranayoga Foundation, which brings yoga therapy to people with cancer and other chronic illnesses.
200 S Pearl St.
Fort Wayne
Indiana
---