Auto Service in New Hope
---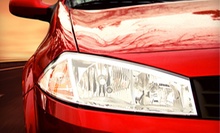 Hand washes kick off extensive details that include high-speed buffing, carpet and seat shampoos, paint sealants, and chrome detailing
---
Recommended Auto Service by Groupon Customers
---
Ready your ride for the pending holiday road trips and holiday demolition derbies with today's Groupon: $25 for an oil change and a 47-point inspection at Uptown Imports—that's a $72 value for the combined services. Citysearchers vote Uptown Imports 2006's and 2007's best auto repair and auto mechanic, respectively. If your car wants a synthetic oil change or exotic filters, you'll need to pay an additional fee.Mile 3,001: You car will instantly explode or may just feel neglected, but either way is never going to trust you like it once did.Mile 4,000: With less oil powering your car's Temporal Stasis Module, you may accidentally drive into the past or into a TGI Friday's.Mile 5,000: Your car is 400% more likely to turn into a bicycle and 36% more likely to sign up for a painting class.Mile 6,000: The "Check Oil" light goes off, but the "Read Up On the Hundred Years' War" light comes on.Mile 7,000: Emilio Estevez gets in the car without permission and asks for a ride.
2904 Harriet Ave. S
Minneapolis
Minnesota
US
Bobby & Steve's Auto World repairs, maintains, and spruces up autos across eight Twin Cities locations, each decked out in vintage Coca Cola and Chevy memorabilia. On-site mechanics tackle all kinds of transportation-related jobs, from oil changes and flat tires to broken glass and sputtering exhaust pipes. The specialists can also tow your car, replace feeble batteries, and calmly persuade doors to open after extended lock-outs. At the detail shop, a team of highly trained reconditioning techs uses specialized tools to gussy up your car. They'll remove oxidation with orbital polishers or deep-clean carpets with hot water extractors. The shop also has an arsenal of more than 20 chemicals to treat all types of surfaces; enlist their help for vinyl and leather conditioners or Rain-X solution, which fends off stains due to precipitation or truck beds full of sports mascots with super soakers.
7090 21st Ave.
Lino Lakes
Minnesota
651-294-2094
For nearly three decades, Feldmann Imports has taken care to pamper its vehicular and human clients equally with a full spread of conditioning, tire, and repair services, as well as a variety of creature comforts. ASE-certified technicians deal swiftly with road-related difficulties and detail rides while patrons lounge in the waiting room stocked with Starbucks coffee, cookies, and WiFi. On Thursdays and Saturdays, free shoe shines, massages, and manicures put an extra spring in visitors' steps and high-fives. A complimentary airport or Mall of America shuttle allows clients to drop off vehicles before traveling or shopping.
4901 American Blvd. W
Bloomington
Minnesota
952-567-2180
Dave Juntunen made his foray into the automotive industry in 1996 by working as a restoration technician for Kirk's Volkswagen—one of the largest facilities of its kind in the United States at the time. He started out with washing and waxing, but his detail-oriented personality prevented him from cutting any corners. Eventually, he progressed to exacting tasks such as paint correction, clear-coat restoration, and wet sanding. He also studied stain, scratch, dent, and paint technology.
With this knowledge, Dave started his own auto garage for exotic and European vehicles, which he dubbed Top Gear Autoworks. He later founded Twin Cities Detailing, where he and two other technicians primp elite chariots such as Lamborghinis, Mercedes, and ancient Roman quadrigas. They offer everything from basic details to in-depth sessions featuring clay-bar treatments, Menzerna products, and a three-step polishing process. When they aren't washing roadsters, Dave and his team repair upholstery, apply tinted window films, and decorate façades with pin striping to make autos look slim.
3055 Columbia Ave. NE
Minneapolis
Minnesota
612-788-1197
The automotive professionals at Honest-1 Auto Care repair vehicles with a commitment to eco-friendly standards and practices. Technicians Dave and Shawn tackle every square foot of vehicles with an extensive battery of services while educating owners on the unique needs of their roadsters. Customers can lounge in a thoughtfully tiled waiting room equipped with TVs, an Internet café, free drinks, and free oxygen. There's a free shuttle available as well, and the shop also offers a complimentary pickup and drop off service.
2217 S. Lyndale Ave
Minneapolis
Minnesota
US
Deion, Chris, and the crew of mechanics at Perfect 10 Quick Lube stand by seven days a week, waiting readily to give sanctuary to cars in need of maintenance and repair. Techs keep the garage stocked with Pennzoil and Shell motor oils in order to cool down the tension between sputtering engines and hotheaded pistons. Bays hoist cars into the air so that mechanics can inspect, clean, and service their undersides. In addition to maintenance, car washes keep cars looking as clean as a whistling cat, and the waiting room gives motorists a break from the driver's seat with comfortable chairs, a TV, and a selection of auto accessories.
1001 County Highway 10
Spring Lake Park
Minnesota
763-783-5700
---