New Jersey Guide and Deals
---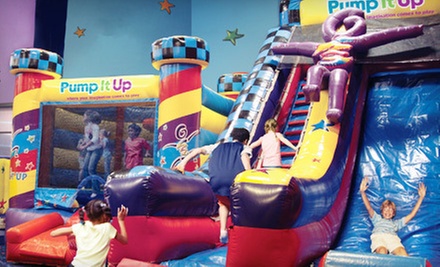 ---
Recommended Tours by Groupon Customers
---
Cousins Dean Del Prete and Paul Sattler started playing paintball for fun in 1986. Noticing a lack of places to play or find equipment, the pair took advantage of this business opportunity and founded Cousins Paintball the following year, creating a one-stop shop for players. They started out with the only paintball field on Long Island, and since then, they have grown to encompass 10 New York locations with scenario and speedball fields. Today, teams equipped with full mask and semiautomatic paint markers wander across their 20- to 80-acre spaces, searching for the opposing team's flag. Eco-friendly paint ensures trees do not suffer lasting damage, and themes such as hide-and-seek and cops and robbers add variety to a full day of games.
2727 Arthur Kill Rd.
Staten Island
New York
800-352-4007
Upgrade the framed family photos that have been hanging in your parents' home for the past 600 years. With today's Groupon to ADC Photography, $20 gets you an in-studio session (a $150 value) and an 8x10 print (a $65 value), plus 25% off any additional a la carte prints (discount not valid for collections). Now that you aren't riddled with acne or plagued with a six-year-old's gummy smile, split the cost with your sibs and surprise your folks with a more up-to-date snapshot just in time for the holidays.In 1978, amateur bat photographer Gregory Hansen was in his front yard one night when a mysterious white orb appeared in the sky over his home. Diverting his attention from a particularly active nest of eptesicus fuscus, he began photographing the orb, which made no attempt to flee or conceal itself. Hansen continued to document the orb as it reappeared over his house, each night shrinking slightly "as though passing slowly into the spirit world," Hansen observed. On particularly cloudy nights, the orb would not be present, prompting Hansen to speculate that ghosts may be allergic to thunder.
26 S Maple Ave.
Marlton
New Jersey
US
When we work out alone, this is how it goes: we can't figure out the machines, do a wimpy walk on the treadmill, go home, and eat Funyons. Today's Groupon brings back the buddy system before letting you loose on the gym. For $29, you get an hour-long personal training session and fitness assessment (a $35 value) and a one-month membership (a $75 value) at Optimal Sport Health Clubs. Your personal training session pairs you up with an expert trainer to evaluate your fitness level, help you set personal goals, briefly exchange Dungeons and Dragons anecdotes, and get you started on a proper workout. You'll get an entire month to put your training into practice with unlimited access to Optimal's equipment and group fitness classes at any of its three locations: Philadelphia Curtis Center, Newtown, and Burlington, NJ. Plus, if you decide you want to join Optimal Sport Health Club after your Groupon month is up, your initiation fee is waived.Follow @Groupon_Says on Twitter.
2501 Mt Holly Rd.
Burlington
New Jersey
US
Dead skin cells, unwanted hair, and crumbs dull the pellucid celluloid of even the fairest face. Today's Groupon freshens faces with a $40 face-making treatment from Mullica Hill Skincare. Choose from a soothing facial ($85), microdermabrasion ($100 value), or a laser hair removal treatment for chin ($250) or lip ($120).
134 Bridgeton Pike
Mullica Hill
New Jersey
US
Cherry Hill Health & Racquet Club's fitness facilities sprawl over 160,000 square feet, giving a friendly, family-oriented venue to quench appetites for exercise and recreation. Transform modest arms into muscle-stuffed torso extensions by lifting one, or even two, of Cherry Hill's 20,000 pounds of free weights. Others can bolster their endurance on one of the club's 65 cardio machines—each equipped with its own digital entertainment system—or by hitting the tennis court with less entertaining analog friends. Destroy opponents and calories in racquetball, or take to the club's full-size hardwood court to compete in fast-paced basketball, tactical volleyball, or interminable flexed-arm-hang competitions.
1820 Old Cuthbert Rd.
Cherry Hill
New Jersey
US
856-429-1388
Get a picture that will forever preserve your nubile physique and uncanny resemblance to a certain pop star with today's Groupon to Crane Photography. For $50, you'll get a two-to-three-hour outdoor photo shoot or studio portrait session, a $150 value. You'll also get an 8"x10" print and an opportunity to order additional prints for 25% off normal print pricing. (See "Investment" on the website for print prices). Your photographer will travel within a 40-mile radius of Medford, NJ, in a refrigerator with wheels; locations outside the radius will incur an additional $50 fee per 30 extra minutes of driving each way.
6 Haynes Creek Ln.
Medford
New Jersey
US
---