New London, CT Outdoor Activities
---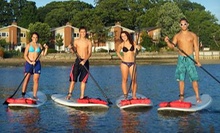 Use Today 8:00am - 12:00pm
---
Recommended Outdoor Activities by Groupon Customers
---
At Connecticut Cycle Center, indoor spinning classes or triathlon training with coach Kelli Montgomery beckon students to wheel in their own bikes and affix them to cycling apparatuses. Both classes and training sessions emulate outdoor adventures thanks to ErgVideo and CompuTrainer systems, which mimic famous routes on TV screens. Virtual Tour de France inclines or Spanish plains challenge cyclists to push their endurance to the brink as they mingle with peers. Classes, like the art of hanging out in an operating laundry machine, range from beginner base spins to high-power interval training. Feedback after each session charts your ascent to fitness. High-quality Apex bikes are available for rental and can be taken to nearby roads for an alfresco adventure.
28 School St.
Brandford
Connecticut
In 1958, Ryan Family Amusements founder James A. Ryan opened a simple, eight-lane bowling alley, planting the foundation for a slew of entertainment centers throughout Massachusetts and Rhode Island. At 10 locations, visitors enjoy a variety of arcade and skill games in addition to traditional candlepin, tenpin, or duckpin bowling. Every Friday and Saturday evening from 9 p.m. until midnight, bowling lanes take on an incandescent glow, allowing bowlers to experience futuristic entertainment without the inconvenience of rising jetpack-fuel prices. Bumper bowling is available for younger players, and an onsite concession stand refreshes responsible adults with glasses of beer and wine.
115 New State Hwy. Rte. 44
Raynham
Massachusetts
508-822-2304
A full quarter mile of outdoor track snakes across the grass, sending racers on an adrenaline-fueled grudge match of hairpin turns, pedal-pushing straightaways, and close finishes. A speedy fleet of go-karts sends drivers flying down the track in vehicles such as the swift 9-horsepower Interceptor, or the two-seater Tornado, which allows children to ride alongside their parents to learn proper three-point turn technique. An on-track scoreboard displays racers' lap times with accuracy up to a 1,000th of a second, and printed results enshrine automotive achievements and bragging rights for display. Inside, a beeping, blinking arcade pits gamers head-to-head in pro-racing simulators, bouts of Guitar Hero, or rousing tournaments of air hockey.
1762 Berlin Tpke.
Berlin
Connecticut
860-829-5278
Devised in 2001 by a Brown University medical student in order to support Hasbro Children's Hospital's Asthma Camp, the annual Breeze Against Wheeze 5K run and 3K walk raises a quarter of the funds the camp needs each year to educate youngsters about managing a disease that stands as the leading cause of child hospitalization nationwide. At the start of the race, athletes trek across the Brown University campus and down Blackstone Boulevard, speeding past other runners or strolling at a heart-healthy pace to show their anti-asthma verve. The top competitor in each age bracket, plus the three fastest men and women overall, win a bounty of gift certificates and sports gear to help fuel their future challenges, while postrace raffles lend the chance for any participant to be crowned a winner. Before the adult events, kids can race for free, testing their endurance and agility without crawling through the TV screen into their favorite video game.
171 Cushing St.
Providence
Rhode Island
Spooky, undead monsters and lively tunes combine to create a jovial atmosphere inside Monster Mini Golf's 10,000-square-foot, glow-in-the-dark course. As players navigate the 18 mind-boggling holes, a DJ spins tunes to awaken tone-deaf monsters, occasionally doling out prizes to golfers for reasons ranging from "craziest hair" to "smoothest celebration after a hole in eight." And after a wacky session of putting, guests can flex their thumb muscles inside a decked-out video arcade lined with both classic and modern games.
20 Main St.
Windsor Locks
Connecticut
860-370-9450
At 14,000 square feet, the Bank of America City Center dwarfs the famed ice rink at New York City's Rockefeller Center and provides visitors with plenty of room to skate for hours. All winter long, the rink hosts public sessions as well as Learn-to-Skate classes for beginners and drop-in refresher classes for adults. Located in Kennedy Plaza, skaters can enjoy a day of gliding against a backdrop of Providence landmarks during open skate sessions, group skating and birthday parties. After graceful spins across the ice, guests can indulge in cocoa, coffee, and delicious eats from downtown Providence's nearby local haunts.
2 Kennedy Plz.
Providence
Rhode Island
---