Shopping in New Port Richey East
---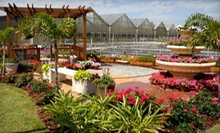 The nursery open since 1962 outfits gardeners with hostas—vibrant green garden and ground-cover plants with ovate leaves
Use Tuesday 8:00am - 4:30pm
---
Recommended Shopping by Groupon Customers
---
Knox Nursery, Inc. started in 1962 on the Knox family's porch. Although the family-run nursery has grown to encompass more than 23 acres since then, the second-generation owners haven't forgotten their humble beginnings, still emphasizing the down-home customer service that made the business what it is today. They and their staff lovingly harnesses the Floridian sunshine to produce plugs and liners, cultivating more than 5,000 plant varieties ranging in size from young ones destined for greenhouses to 4-inchers perfect for landscaping.
At the retail center, staffers stand ready to help green-thumbed shoppers to navigate the selection of annuals and perennials or pick out shrubs to block views of money-filled swimming pools from jealous neighbors. Palms, trees, and vegetables await their chance to fill out gardens or finish landscapes.
940 Avalon Rd.
Winter Garden
Florida
407-654-1972
When Peter Santangelo became president and owner of his parents' nursery business at age 17, he carried on his parents' horticultural expertise and the Santangelo entrepreneurial spirit to make his business a success. He traveled all over Florida to cull his botanical inventory, and over the years he expanded the nursery and even started doing his own farming.
A winner of the 2011 and 2012 Best of Suncoast silver award, Canterbury Farms employs botany buffs who tend to 43 acres of Florida-friendly woodland plants that include palms, shrubs, and tropical herbage. The lush, green landscape is punctuated by colorful exotic plants as well as by Amigo, a cartoonish fiberglass statue that once perched on the roof of Peter's parents' nursery decades ago. Pensive green thumbs may solicit shrub-related style from Canterbury Farms experts by bringing in photos of their outdoor or indoor spaces, and free estimates are also available for landscaping projects.
14220 Thornwood Trl.
Hudson
Florida
727-857-0242
Stacks of neatly folded denim line Original Stitch Boutique's custom-built white shelves, their tags bearing the insignia of coveted brands such as AG Jeans and Hudson. A cursory glance around the store reveals that the jeans are not the only items hand-selected from top designers; the boutique's timeless apparel and accessories for men and women include selections from David Lerner, Ben Sherman, and other hot names based around the world.
Along with its rotating selection of runway-inspired looks—many of which adorn mannequins posing in window displays or working in the back office—the boutique carries handmade jewelry and vintage fashion pieces that invoke the elegant trends of past eras. Victorian-style armchairs call to mind the same age-old sophistication, politely holding purchases while customers peruse the racks of watches, bracelets, and button-down shirts.
1464 Main St.
Sarasota
Florida
941-554-8335
Mattress1One's immense inventory brims with top-quality slumbering surfaces from renowned brands such as Tempur-Pedic, Serta, Sealy, and Stearns & Foster. At multiple locations throughout Florida, knowledgeable staff members roam showrooms that brim with an array of mattresses forged from such materials as memory foam, high-tech innersprings, silk, and cashmere. They also curate an online Mattress 101 guide, which includes handy tips on selecting the ideal mattress size, keeping the mattress in tiptop shape, and mounting a rock-solid legal defense in case you accidentally rip the tags off.
17280 US Hwy. 441
Mount Dora
Florida
352-385-9444
LPI Firearms' multilingual team of Leslie A. Muniz and Ashley L. Magalas—both certified as NRA Firearm Instructors—teach classes in English and Spanish that enrich students' gun-handling knowledge, skills, and safety. Firearms-training courses imbue beginners with basic instruction and techniques, gun how-to classes dispense tips on gun cleaning and range safety, and Women on Target classes enhance the marksmanship of female participants. With her expertise in security-guard instruction and keeping uniforms from fading in the wash, Leslie also runs 40-hour security officer D trainings and 28-hour G trainings, which prep candidates on the required info and skills needed to become licensed unarmed or armed security officers, respectively.
9402 E Fowler Ave.
Tampa
Florida
813-466-8736
Seven days a week, the Mattress Warehouse of Tampa Bay team outfits sleepy customers with new, brand-name sleep cushions at 70%–90% off their typical costs. Because much of the merchandise is closeout or overstock, customers are able to take home Stearns and Foster, Sealy, Serta, and Simmons mattresses at extra-privileged prices. The store also stocks Vivon memory-foam mattresses, which ensure that dreams don't escape heads so that sleepers can vividly recount every detail to their coworkers in the morning. Trained staffers are available to deliver and set up beds, and an online tips page helps shepherd shoppers through the bed-selection process.
7604 Industrial Ln.
Tampa
Florida
813-326-1939
---