New River, AZ Outdoor Activities
---
Recommended Outdoor Activities by Groupon Customers
---
Since hosting their first class in 1989, Arizona Climbing and Adventure School's instructors have sent an estimated 37,000 students scurrying up the earth's craggy cliffs. Instead of learning climbing in an indoor facility, participants climb nature's precipices outdoors upon the Southwest's cliffs and mountains. Adventurer and school director Mark Brontsema guides his students and fellow instructors by a philosophy that emphasizes self-reliance, goal setting, and teamwork. He now brings more than three decades to his post as school director, taking time from a busy schedule that includes writing gear reviews for the New York Times.
The school offers a large number of courses that target students of varying skill levels and reveal technique secrets in small groups of two to six students. Classes may focus on rappelling and anchors, guide services, and equipment-free bouldering, which relies solely on the climber's hands, feet, and retractable suction cups. Adventure courses include day trips and overnight climbing excursions, while special workshops address topics such as backpacking, being an ecologically responsible climber and hiker, and using GPS devices.
10989 E. Dynamite Blvd.
Scottsdale
Arizona
Front Range Climbing Company offers some of the best guided rock climbing in Colorado. Try our climbing instruction from the very basics of the sport to the cutting edge of technical climbing. Our climbing classes don't stop at the end of the summer but continue through the winter months.
16300 McDowell Mountain Park Dr.
MMRP
Arizona
Arizona Outdoor Fun lets riders whip around winding lakes, trails, and tight canyons the way nature intended—atop landscape-chewing wheels. When not busy peddling a cache of extreme all-terrain Honda vehicles and dirt bikes, Rhino UTVs, and agile sport quads, their expert guides lead fun, scenic ATV tours around the Verde River and Bradshaw Mountains, sharing tidbits about local Native American culture, plants, fossilized cowboy hats, and wildlife. They also deal in aquatic sports with boat rentals including wakeboard boats, pontoon boats, and fishing boats, small vessels such as jet skis, and kayaks and canoes that run on man power. Master mechanics at the shop's garage keep all vehicles ready for adventure, drawing on more than 25 years of experience to repair personal ATVs and other recreational crafts, including scooters and go-karts.
20802 E Bartlett Lake Rd.
Care Free
Arizona
602-400-2445
As the Bradshaw Mountain range stretches into the Sonoran Dessert, its landscapes change quickly. Shrub-strewn hills dip into valleys dotted with cacti. Clear streams run through dense copses, and then open to bare, clay-red plateaus. The guides at Desert Wolf Tours unveil these unforgiving yet magical landscapes, chiefly by leading caravans of Tomcars. These all-terrain vehicles let guests power over rocks, up hillsides, and through card towers to visit destinations such as old turquoise and gold mines and a ghost town.
Desert Wolf's team also takes visitors into the desert for recreational target shooting, supplying them with firearms, such as M16 rifles and Glock 17 handguns, to shoot under the supervision of NRA-certified instructors. Desert Wolf, a family-owned business, adheres to eco-friendly practices, participating in programs such as the Leave No Trace Center for Outdoor Ethics. These efforts have not only earned the respect of guests, but also a certificate of excellence from TripAdvisor.
47801 N Black Canyon Hwy.
New River
Arizona
A flurry of paintballs whiz through the air, splattering their targets with brightly colored pigment. Players at Westworld Paintball Adventures explore either indoor or outdoor fields, where they can unleash a paintball-pelting fury, rain or shine. At Splatter Ranch's outdoor enclave, paintballers find cover in gullies or clusters of shrubbery as majestic cacti stand guard a safe distance away. The field and on-site pro shop spread across 20 acres of terrain, which is peppered with a few buildings where players can duck into or play Rochambeau for decoy duty.
At the indoor arena, Xtreme Pursuit, players kick up clouds of dirt as they chase each other around a 33,000-square-foot facility and take shelter in bunkers and buildings amid specialized lighting, a sound system, and fog machines. The facility is air-conditioned and open year-round, with a pro shop supplying equipment to players.
Jomax & Scottsdale Rd.
Scottsdale
Arizona
In the shadow of the mountains of Tonto National Forest, Bartlett Lake watercrafts skid across 2,815 acres of the lake's pristine waters. The marina abounds with recreational facilities—its fleet of professional jet skis, pontoons, and ski boats sit parked along docks of grills, a general store, and a covered, floating patio. A 45-foot yacht towers over the rest of the rental boats, furnishing lively parties of up to 25 people with a slide, bar, and restroom, while a large houseboat floats along the lake peacefully—an impressive vessel complete with private rooms, a deck, and kitchen. As visitors navigate the lake or forage the surrounding area's desert terrain trails, they have the opportunity to admire indigenous plants and abundant wildlife.
20808 E Bartlett Dam Rd.
Phoenix
Arizona
---
---
Outdoor Activity Deals - Recently Expired
---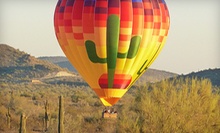 Hot air balloons send passengers soaring over the Sonoran Desert followed by champagne and catered bites on the ground
---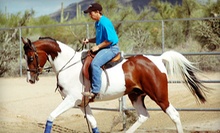 A ranch arena becomes a sandy stage for lessons that cater to ages 5–75
---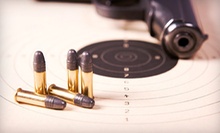 Completion of an online 45- to 60-minute concealed-carry-weapon course lets grads apply for licenses valid in up to 34 states
---
---