New Rochelle Cleaning and Home Services
---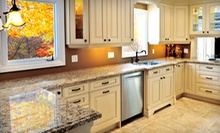 Design experts help guests gussy up homes and kitchens with stylish, American-assembled and expertly finished cabinets that add to any decor
Use Today 12:00am - 11:30pm
---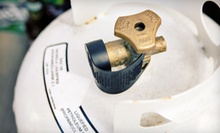 Gas experts who replenish approximately 200 propane tanks every day offer refills for existing propane tanks up to 20 pounds
Use Today 10:00am - 3:00pm
---
Recommended Home Services by Groupon Customers
---
Today's Groupon wipes out four hours worth of trifles, menial tasks, and complicated toils with a personal assistant from Lambent Services. Lambent is a personal-assistant agency that staffs an elite group of intelligent, motivated, and personable individuals, ready to work with busy people to free them from life's quotidian minutiae and onuses.That said, don't limit your children's potential with a list of children's books that teach bad habits:
30 E 20th St.
New York City
New York
US
Budget Dry Waterproofing Inc.'s team, which boasts the only two NAWSRC-certified waterproofing specialists in Connecticut, keeps basements dry with waterproofing services to prevent flooding, mold, and mildew. Project managers evaluate each job and present homeowners with a plan that's mindful of their budget, whether mending cracks or protecting crawl spaces from dampness. While the job is in progress, a dedicated foreman keeps homeowners abreast of progress and how long it will be until basement ghouls can move back in. Each of Budget Dry's technicians trains continuously to keep abreast of new technology and evolving techniques for waterproofing and foundation repair.
800 Village Walk, Suite 266
Guilford
Connecticut
203-421-8560
Spaces Design Studio owner Joy Nan Rodia knows that each room in a person's home serves a distinct purpose. A bedroom should offer end-of-day relaxation, a home office should invigorate the senses, and a kitchen should function as both a communal haven and the best place to hide from the ghosts that inhabit in all televisions. Giving life—and a unifying vision—to these spaces is what she does best. A graduate of New York's Parsons The New School for Design and the founder of the Association of Redesign and Staging Professionals, Joy has been providing interior-design services for 20 years. No matter the job, she carefully considers each residential or commercial client's color preferences and budget as she creates an atmosphere using flooring, lighting, and fabrics.
In addition to her own design work, Joy shares her passion for home styling via classes, workshops, and training programs at her School of Interior Redesign and Home Staging. She also gives back, acting as an interior designer for the Make-A-Wish Foundation of New Jersey.
248 Columbia Turnpike
Florham Park
New Jersey
973-794-3510
At Heavenly Maid Cleaning Service, a team of background-checked employees customizes cleaning services with a focus on the safety of each household and its inhabitants. The team can provide all-purpose cleaning supplies or use the client's own products upon request. Each home will be matched with its own designated employee, ensuring efficient future visits and less stress for territorial sofas.
217 Riverdale Ave.
Yonkers
New York
Slate NYC's skilled staff defends delicate wedding gowns from the ravages of time, siphoning out stains and dislodging dirt without damaging the fibers or dulling the color. Before commencing the cleaning, gown gurus analyze the materials and design of the dress and draft a plan for restoring it to full luster. Environmentally friendly processes gently wash away caked-on cake frosting while preserving the integrity of the fabric, whether it's covered in jewels or hand sewn from leftover wedding invites. Skin-friendly cleaning solutions are used, leaving the gown free of residues, odors, or chemicals that could irritate sensitive pelts. Dresses are returned with a set of boxes for easy viewing, storage, and fort-building.
96 Morton St.
Manhattan
New York
800-573-8459
Sumeshe Maids and Concierges employs bonded and insured cleaners who trek their way through homes, sweeping, dusting, and scrubbing away soil and making order out of chaos. Owned by a busy mother intent on making things easier for others, the cleaning company turns soiled kitchens, living rooms, and bathrooms into wholesome areas that sparkle like the teeth of an orthodontist's prized ventriloquist dummy. But cleaning isn't the extent of the staff's expertise; through their concierge service, they'll tackle a plethora of time-consuming tasks, including running errands, making travel arrangements, painting, and organizing household clutter.
1100 Ave. of the Americas
New York
New York
---