New Smyrna Beach Gyms and Fitness
---
Gym, Exercise, Weightloss Deals
---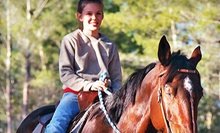 Build character and learn life skills through Western horseback riding lessons on 26-acre ranch at one of Florida's oldest riding facilities
---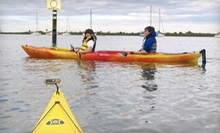 Kayakers learn paddling, balance, and safety before a tour that may include dolphin, bird, and manatee sightings
---
Recommended Gym, Exercise, Weightloss by Groupon Customers
---
Krista Shirley has spent years travelling the world with an open mind and open heart, learning to infuse her own Ashtanga yoga practice with the global perspective she gleaned in Thailand, Scotland, and India. Now that she's home, Shirley continues to expand her practice each year by embarking on annual retreats to Mysore, India, where she was authorized to teach by the prestigious Krishna Pattabhi Jois Ashtanga Yoga Institute.
Her dedication to preserving the authenticity of Ashtanga is apparent in the thoughtfully constructed classes and workshops at The Yoga Shala. Shirley eschews the gym-like trappings of trendy yoga studios, preferring to establish a school that incorporates yoga's physical and mental benefits into her students' everyday lives. Krista's commitment to education does not stop with her students, however, as her instructors accompany her every year to India to help deepen their mastery of traditional Ashtanga practices.
Within the 2,100-square-foot studio, instructors teach Ashtanga yoga in the traditional Mysore way. This method allows teachers to work individually with their students while guiding groups through each posture. The studio also holds progressive beginners' classes and Ashtanga flow classes that apply the Vinyasa principles of breath expansion and drishti, which is a focused gaze that develops concentrated intention.
927 N Pennyslvania Avenue
Winter Park
Florida
407-506-7735
At the tee box on Cimarrone Golf Club's 12th hole, golfers face a dilemma: play a drive safely out to the right—where, at worst, the ball may stray into the rough—or attempt an aggressive shot over the water on the hole's left side, cutting off much of the dogleg and setting up a closer approach. With multiple bending fairways, deep bunkers, and a water hazard or marsh feature on every hole, the 18-hole, 6,891-yard course presents high-risk, high-reward scenarios at nearly every turn, delighting golfers who like to live dangerously and favoring those whose sand wedge moonlights as an actuary.
Before rounds, golfers can warm up swings at the club's driving range, a much-needed confidence booster before taking to the water-laden course or betting that they can outdrive the staff's resident T-shirt cannon.
Course at a Glance:
18-hole, par 72 course
Length of 6,891 yards from the farthest tees
Course rating of 73.5 from the farthest tees
Slope rating of 137 from the farthest tees
Five tee options
Scorecard
2800 Cimarrone Blvd.
Jacksonville
Florida
Renowned golf-course architect Bobby Weed aims to fill his courses with the kind of rich details typically produced only by Mother Nature herself. His 2008 overhaul of The Deltona Club completely transformed the course: today, blowout-style native-sand bunkers bear roughly scalloped edges that call to mind a raw desert landscape, and the elevation rises in craggy steps as the course progresses, giving players a sense of conquering the land itself. The course's resulting beauty, sense of challenge, and secret bonus level snagged the club a spot on Golfweek's list of best Florida courses in 2012.
1120 Elkcam Blvd.
Deltona
Florida
386-789-4911
Forte Fitness's owner, Alicia Streger, gathers a crew of trainers whose backgrounds are as diverse as the exercises performed within her boot camps. When not motivating people to achieve their fitness goals, instructors spend time participating in fitness competitions and charity camps within the community, building strong bonds and increasing their accountability and success as co-trainers. Each instructor's background is reflected in his or her physical and mental fitness, and they try to instill that discipline in students through their 21-day Belly Blast Challenges, boot camps, and regular kettlebell courses, all supplemented with nutritional education. For traveling clients who don't want to lose the rhythm of their routine, the instructors assemble their 20 favorite body-weight exercises, ones that conveniently don't require using any particular equipment or punching any particular wall.
455 S Denning Dr.
Winter Park
Florida
Since its 1965 founding in Venice Beach, California, Gold's Gym has dotted the globe with more than 600 locations where professional athletes and exercise newbies gather under the umbrella of personal strength. Nearly 3.5 million Gold's members chart and aim for their fitness peaks, perspiring beneath the gaze of certified personal trainers or pedaling beside peers at cycling sessions. In a diverse lineup of group classes, patrons strengthen cores with Pilates, finger-paint pictures of ninjas in martial arts, and amp up heart rates to the pulsating soundtracks of Les Mills routines. Many Gold's Gym locations stockpile futuristic amenities, such as cardio machines with individual iPod docks and televisions that help keep patrons motivated.
7733 Turkey Lake Rd.
Orlando
Florida
The staff at Medi-Weightloss Clinics heartens seekers of healthy lifestyles with a medically supervised weight-loss program that roves over medical history before delving into a personalized package that's quick to increase metabolism and slim figures. The program, featured on the Today show, begins with a consultation administered by a team of physicians and sultry magicians' assistants who test vital signs, run EKGs, perform a body-fat analysis with Tanita scales, and conduct a complete physical exam.
An online resource center arms health-seekers with weight-loss tools, recipes, and fitness advice, and the clinic's signature supplements, dietary products, and exercise tools ably complement the program. Custom diet plans created by a medical professional, vitamin shots, and motivational guidance round out the weight-loss package and are sometimes supplemented by cheetah cubs to chase you around the block.
4300 W Lake Mary Blvd.
Lake Mary
Florida
407-333-9200
---