Museums & Galleries in New Smyrna Beach
---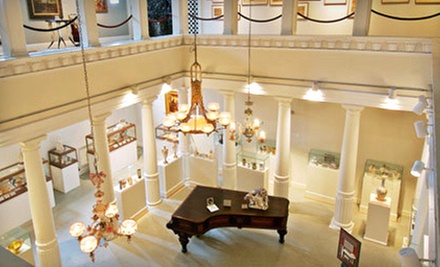 ---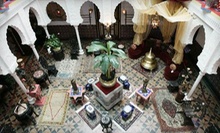 Audio narration expounds on the history of global antiques as visitors wander the halls of a restored Spanish villa
---
Recommended Museums & Galleries by Groupon Customers
---
Celebrating the ship's 100th anniversary, Titanic The Experience's live actors, full-scale models, and 20,000-square-foot interactive museum faithfully recreate the poignant story of one of the world's most famous ships. One-hour guided tours of the museum led by trained performers immerse visitors in the mystery and lore of the ship's tragic tale. Actors donning garb from the early 1900's portray such iconic characters as Molly Brown and the time-traveling Gilligan, amid full-scale recreations of the Titanic's grand staircase, promenade deck, and boiler room. History buffs can also feast their eyes on an 8-foot replica of the ship as it appears on the ocean floor today. More than 200 artifacts from the ship's history are on display as well, including memorabilia from the blockbuster film Titanic and an apology letter from the glacier.
7324 International Dr.
Orlando
Florida
407-248-1166
Physically, celadon porcelain from the Ming and Qing Dynasties and a 13-foot skeleton of the giant ground sloth don't have too much in common. But both explore how our world has evolved and how we perceive it—making both perfectly suited for display in the eclectic exhibits of the Museum of Arts & Sciences. The 100,000-square-foot museum—which perches on a 90-acre nature preserve—houses a planetarium alongside myriad exhibits that delve into art, history, and science.
The museum's particularly impressive assembly of Cuban art draws visitors through 300 years of history with more than 200 rare maps, paintings, and ceramics. Nearby, the exhibit of Chinese art glimmers with gemstones, bronzes, and cloisonné. Visitors also peruse crafts made closer to home in the 4,000-square-foot gallery of American art, where portraits by Gilbert Stuart and landscapes by George Bonfield hang on walls, rather than on the traditional horse's withers. In addition to its traditional art galleries, the Museum of Arts & Sciences also hosts more fragile objects inside the Helene B. Roberson Visible Storage Building, a 4,400-square-foot glass-fronted space designed to maintain exhibits in a climate-controlled state.
Younger museum-goers can gaze longingly at the 800 teddy bears on display in the Americana-focused Root Family Museum before heading to the Charles and Linda Williams Children's Museum to explore hands-on science exhibits. In addition to assembling and testing model racecars, whippersnappers strum the 16 laser beams of a laser harp and find the carotid artery with an ultrasound at the radiology lab. Daily shows in the planetarium continue scientific education by unlocking the night sky's mysteries, such as why stars don't go out when you blow on them.
352 South Nova Rd.
Daytona Beach
Florida
Snap! Orlando unravels a city-wide canvas for more than 50 renowned photographers and emerging local talents to showcase their shutterbug prowess. Stretched across a dozen different venues, including art galleries, cafés, and exhibition spaces, the multi-day celebration unites both photography novices and veteran collectors under the same creative banner. On Friday, an artist reception launches the festivities with live talks from featured visionaries, and on Saturday, a fashion show shifts the spotlight from portraits to patterns with bold new styles inspired by some of the event's creative minds. Attendees can also drop in on a lineup of lectures, workshops, and guest speakers who will be on hand to discuss their areas of expertise or demonstrate their go-to dance moves for developing a Polaroid.
101 S Garland Ave.
Orlando
Florida
The St. Augustine Lighthouse has been keeping its luminous eye on the Atlantic's endless horizon since 1874. In the 130 years since, the tower of Alabama brick and Philadelphia iron has served as the home of light keepers, a beacon to sailors, and a target of arson, eventually benefiting from a 15-year restoration project that commenced in 1980. Today, a staff of historians and protectors is eager to share the rich history of the nation's oldest port, not only through education and preservation but also by letting guests explore.
Visitors can scale the 165-foot, black-and-white lighthouse's 219 steps to the bright-red observation deck to catch breathtaking views of St. Augustine and spot gangs of dolphins making trouble by the shore. Lens-room tours allow up-close access to the regularly off-limits Fresnel lens, built in 1873, which weighs 2,000 pounds and shepherds ships with a light that radiates for 25 miles on a clear night. The clink of champagne glasses adds an element of glamour to Sunset Moonrise events, whereas Dark of the Moon tours let guests in after-hours to hear the tales of paranormal activity that earned the lighthouse a feature on Ghost Hunters.
81 Lighthouse Ave.
St. Augustine
Florida
904-829-0745
Before paved streets and residential blocks took its place, a maze of wetlands rife with rustling wildlife thrived in Central Florida. Such a scene is hard to imagine amid a backdrop of loud car horns, but skeptical visitors to The Brevard Museum of History and Natural Science can travel back in time and see it for themselves on a stroll through the museum's 19.5-acre nature preserve.
This remarkable preserve joins special exhibits dedicated to regional and cultural artifacts in fulfilling the museum's mission to keep Florida's heritage alive in the minds of its current inhabitants. Since the nonprofit facility first opened in 1973, an influx of state and philanthropic funding has spawned further expansion. One of the most crucial add-ons, the Taylor Wing, now houses a nonstop procession of visiting exhibitions and the kid-themed Imagination Center, where young hands can touch actual fossils of mammoths and 8-track tapes. Popular ongoing exhibits include large dioramas of local ecosystems and the Windover Story exhibit, which illustrates how the residents of Brevard County lived 7,000 years ago.
2201 Michigan Ave.
Cocoa
Florida
US
321-632-1830
Trained at The Chouinard Art Institute by lauded impressionists Millard Sheets and Phil Dike, Lynne French conjures brilliant landscapes out of oils and watercolors. She often works brushless, letting the colors pool and blend on tissue paper through a meditative method called zen-tissue watercolor. Despite the time commitment of zen-tissue watercolor, French still exhibits her work in international galleries and fills her online store with a plentitude of paintings and limited-edition prints. She also has a gift for rendering evocative landscapes based on her patrons' memories and photographs, as well as on residue from their dream catchers.
631 Sycamore Street
Celebration
Florida
407-900-5796
---