Coffee & Treats in New South Memphis
---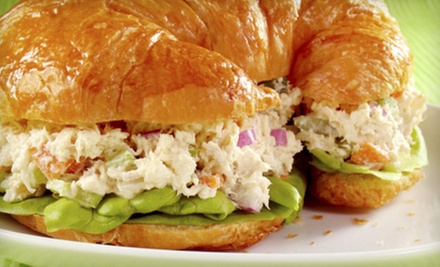 ---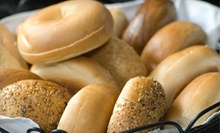 16 flavors of New-York-style bagels made in-house from scratch complement hearty sandwiches and breakfast classics
---
Recommended Coffee & Treats by Groupon Customers
---
Each day, Maggie Moo's scoopers mix up batches of ice cream in-house to dish out a range of inventive frozen cakes and treats. Pints ($4.99) or quarts ($7.99) cool taste buds with more than 50 flavors, including classics such as vanilla bean or dark chocolate and custom blends such as pink peppermint stick and Cinamoo Bun. Patrons can enhance creamy cones ($2.89 for one scoop, $3.89 for two scoops) with one of 30 mix-ins, such as almonds, cookie dough, or corduroy trousers, or indulge in one of Maggie Moo's specialty treats, including shakes, smoothies, and sundaes.
150 Peabody Place , #114
Memphis
Tennessee
The cookie menu at Makeda's Homemade Butter Cookies features a regular cast of 16 delectable homemade cookies that are baked fresh on-site all day long and are made with top-quality ingredients (no preservatives or trans fat) and 100% real butter. Your Groupon allows you to mix and match up to 13 of Makeda's cookies to suit your taste, so load up on the bakery's hottest seller, the classic butter cookie, or build a sampler box of Makeda's other enticing offerings. Popular yum discs include a Jiff-infused peanut-butter cookie; gooey, old-fashioned iced oatmeal; and a colorful M&Ms-freckled cookie. Fans of the color brown will enjoy the double-chocolate dream cookies or the double-chocolate pecan (which, like the paler pecan, features nuts picked fresh daily by neighborhood squirrels and left in a basket on Makeda's doorstep at dawn), and then, of course, there's the brown-speckled chocolate-chip cookie.
1329 Madison Ave.
Memphis
Tennessee
Dinstuhl's is a family-owned and family-operated business that's been serving up sweets to Memphis since 1902. Even today, a Dinstuhl can be found in the kitchen, helping to hand-make something worthy of significant salivation. With today's Groupon tucked into your nougat center, you can obtain a one-pound box of assorted chocolates from one of Dinstuhl's three candy cabins, while avoiding the candy cabin in the forest. Your chocolate box will contain a dazzling array of fine handmade chocolates that include nuts, creams, caramels, nougats, and chips covered with rich milk and dark chocolate, all of which are crafted with top-of-the-pole ingredients and nature's chocolate (love).
5280 Pleasant View Road
Memphis
Tennessee
In a world filled with loveless industrial snack patties, the baked goods at Ricki's Cookie Corner and Bakery go above and beyond normal cookie protocol to provide just enough sweetness to heal psychic wounds. The cookie that sparked the Ricki revolution, the world-famous chipsticks ($6.85 per pound), are a wallet-shaped slice of chewy excellence stuffed with chocolate chips and optional walnuts, also available in peanut butter for George Washington Carver fans. The chocolate marshmallow brownie ($6.85 per pound) is a gooier endeavor ideal for negating awkward silences. Sweet and soft cinnamon buns ($5.70 for six) provide an excellent option for those looking to indulge their sweet tooth before lunchtime without getting judged by a counsel of their peers.
5068 Park Avenue
Memphis
Tennessee
The bakers at Cupcake Cutie Etc. whip up fresh batches of mini cakes throughout the day, which customers can ornament in an ever-changing selection of icings, fillings, and toppings at the custom cupcake bar. Chocolate, red velvet, and lemon-flavored cupcakes emerge from the pan as fluffy as a cloud fresh from the dryer. The bakers lavish the cakes with icing such as buttercream and caramel, then shake on free sprinkles and let guests choose from up to 31 toppings, including Cinnabon swirls, oreos, and almonds. Cupcakes may also harbor gooey fillings such as cream cheese and strawberries.
In addition to baking cupcakes, sculpted cakes, and tiered wedding cakes, bakers also make cake pops, which free hands to tie intricate sailor's knots without depriving mouths of sugar. They also rent out their mocha-colored café for parties and special occasions.
7140 Stage Rd. , Suite 112
Bartlett
Tennessee
901-729-6514
Tinkerbell dolls, sugar-spun Prada shoes, baby booties, and toy cars: these are just a few of the adornments that perch atop the custom-made confections at Mad Lily Cakery. A staff of baking gurus creates a kaleidoscope of desserts from flavors such as chocolate amaretto and red velvet, yielding both traditional circular cakes as well as ones shaped like sharks, sports jerseys, or bubblegum machines. For smaller bites, fluffy dollops of frosting crown cupcakes, cookies, and a variety of premade treats.
1105 N Houston Levee Rd.
Cordova
Tennessee
901-287-9249
---