Restaurants in New Territory
---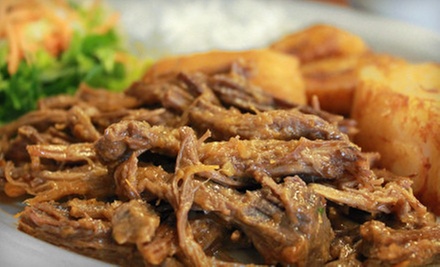 ---
Recommended Restaurants by Groupon Customers
---
The Russo family moved from Italy to New York in 1964, and from New York to Texas in 1978, carrying with them time-honored culinary techniques imported straight from the old country. Anthony Russo has worked side by side with family members and Italian chefs since the age of 12, learning to prepares salads, pastas, and pizzas from only the freshest of ingredients. Anthony's love for his family's cooking grew into a lucrative business, with Russo's Coal Fired Italian Kitchen restaurants and Russo's New York Pizzerias popping up all over the American South.
Like a cookie decorated with Lady Liberty's Social Security Number, Russo's pizza is an edible souvenir of the Big Apple, introducing palates to the thin, crispy brick-oven pies that helped make New York cuisine world famous. In between bites of basil-, anchovy-, and meatball-crowned pizzas, diners feast on baked ziti, lobster ravioli, and tortellini carbonara, as well as oven-cooked flatbread sandwiches and toasted calzones.
5727 Westheimer Rd.
Houston
Texas
US
Cafe Benedicte likens its menu to a magic mirror that reflects all points along the Mediterranean at once, from Andalusian Spain to Greece to North Africa. As such, diners can voyage from a starter of asparagus flan and sautéed crab claws ($9.95) to North African taboule with avocado ($6.95). Take your tongue on an edifying odyssey by touring entrees such as slow-roasted lamb shanks with couscous or saffron rice ($22.95) and a decadent four-ounce peppercorn-crusted fillet and five-ounce lobster thermidor in port wine ($32.95). Omnivores and vegivores alike can savor vegetable dolmates ($12.95), and sweet teeth can delicately nibble on the crêpe brûlée, which one-ups the classic crème brûlée by wrapping it in crêpe and flaming it with Grand Marnier ($7.95).
15455 Memorial Drive
Houston
Texas
US
281-558-6607
According to one estimate, seafood that's been left in the sun for more than 79 days will taste markedly worse than fresh seafood. Feast on freshly prepared seafood with today's Groupon, offering $30 worth of authentic Cajun eats and drinks at Orleans Seafood Kitchen for $15. This authentic eatery is located in Katy, less than 30 minutes outside of Houston, and boasts a thriving bar scene, freshly made sauces, and weekly events.
20940 Katy Freeway, Suite G
Katy
Texas
Trios Downunder's fresh wraps successfully pile on the best parts of the food pyramid in one holdable package. Choose from four tasty, fiberful flatbreads for the Laffe-wrap base (white flaxseed, wholemeal, thin, or thick), and select from a menu including classic, grilled, breakfast, and panini-style options. With neatly folded falafel patties, cucumber, and hummus, the vegetarian falafel wrap ($5.99) is a smart choice for herbivores. Meat eaters can try the ragin' Cajun chicken wrap with seasoned rice, hot chicken, sautéed red onions and bell peppers, and aioli dressing; or the chicken schnitzel wrap loaded with cheddar, coleslaw and sweet chili sauce ($6.49 for each). Trios also serves salads, such as the walnut chicken ($7.49) and the Mediterranean feta ($5.99), and decorated spuds like the barbecue brisket ($6.99) and the spicy Mexicana ($5.49). You can complement your wrap with potato wedges or a fruit cup for $2.29.
10535 Westheimer Rd., Suite 104
Houston
Texas
Don't judge a dish by its density—the yeasty slivers here boast charred crusts, imperfectly delicious surfaces (some parts chewy, others crisp and crackly), and more than 30 fresh toppings. Combining family recipes with austere advice (his father's famed phrase was "If you can't make it fresh, don't serve it"), first-generation-Italian Anthony Russo spent years developing the special slices, authentic appetizers, and pasta dishes on the menu.
6560 Greatwood Pkwy, #900
Sugar Land
Texas
Before dinner, peruse tempting antipasti options like the goat-cheese flan with roasted beets and watercress salad resting in a refreshing reservoir of balsamic syrup ($14), or the hickory-smoked quails nestled between warm asparagus under the pour of fig-grape-must dressing ($16). The bold spaghetti and sea bass, dressed in garlic oil, gray-mullet roe, and arugula ($16), harnesses the power of spoon, fork, and slurp, while pasta purses stuffed with steamy lobster and heightened by a spicy vodka sauce can be scooped up with ease ($20). Heartier plates include buffalo-tenderloin medallions amidst a vincotto and onion medley ($40), or roasted duck breast accompanied by butternut squash in a fig demi ($37). Like the temperament of an unlicensed clown, menu pricing and availability may change without notice.
2525 West Loop S, Suite A
Houston
Texas
---