Things to Do in New Territory
---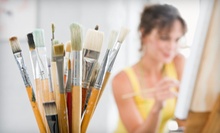 Professional artists lead students through steps of reproducing images with paint during BYOB classes set to up-tempo music.
---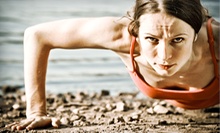 Gain lean muscle mass and shed fat in these intense boot-camp sessions
---
Recommended Things to Do by Groupon Customers
---
If your Monday morning already has you waiting for the weekend, today's Groupon will make the anticipation taste better with a drizzle of hot sauce and hope. Today's Groupon makes your weekend plans sizzle with two tickets to the upcoming weekend of hot live music and hotter hot sauce at the ninth annual Houston Hot Sauce Festival. For just $5, you and a friend get a full day (Saturday, September 19, 11 a.m.–6 p.m., or Sunday, September 20, 12 p.m.–5 p.m.) of music, tastings, and shopping. Tickets are normally $5 each, so today's two-for-one deal gives you enough extra dough to buy your favorite salsa, wing sauce, peppers, and spices to bring home for private scorching consumption or to share with fellow tasters of the flame.
10505 Cash Rd.
Stafford
Texas
US
Though you're free to take the machine on a pub crawl or bring your own under-21 drinks, alcoholic drinks are only allowed onboard for very specific routes. Check the FAQ page for drinking restrictions and other information. You can keep the afternoon clean and family oriented too, which is especially easy if you have multiple wives and enough children to fill all the seats. This centipedal device has the distinction of being one of only two activities perfect for both bachelorette parties and church outings, the other being barbecue wrestling. And since the cruiser never tops eight miles per hour, you'll be safe from accidents and, if not every chupacabra, at least the fat ones.
This performance is ideal for anyone who's nostalgic for the days when they slept under the stars and sipped from a flask of fresh-squeezed tumbleweed juice. Exposure to the sweet hymns of the Fort Bend Symphony Orchestra stokes wizend mustaches back to life and cures the itching and burning of severe rashes.
10505 Cash Road
Stafford
Texas
From its first days as a converted parking garage to its time as a host for Quentin Tarantino's five-day movie marathons, Alamo Drafthouse Cinema has ushered film-lovers of all breeds into its atypical auditoriums. The theaters subvert the industry standard by offering locally brewed beer and fine wines, a rotating menu of handcrafted snacks and desserts, and an advertisement-free experience. A long table stretches in front of every row of seats, enabling waiters to unobtrusively pick up written food orders throughout the night.
Both first-run blockbusters and classics are projected onto the silver screen in crisp 35-millimeter or digital format. Meanwhile, surround sound submerges audiences in the cinematic landscape, whether they're seated in one of the intimate theaters reserved for indie screenings or the more expansive spaces afforded to Hollywood epics.
The staff and an enormous shepherd's crook enforce a strict no-talking, no-texting policy—with a few notable exceptions. For example, fan-centric Quote-Along and Sing-Along nights encourage guests to shout their favorite lines, and appearances by actors, directors, and other film celebrities append in-depth discussions onto the show. These exclusive events have helped build Alamo Drafthouse's reputation among cinephiles across the country, leading to nods from Entertainment Weekly, which called it "one of America's most fanatically unique moviegoing experiences," and Wired, which opined that it "might just be the coolest movie theater in the world."
1000 West Oaks Mall
Houston
Texas
281-920-9268
Inside Texas Rock Gym, over 14,000 square feet of climbable surface wait to be gripped and clambered over by novice and expert climbers, who navigate routes that are regularly altered to keep things fresh. The gym's mandatory orientation ensures that each visitor observes proper safety measures during their climb. Following orientation, climbers can strap themselves to a harness at one of more than 40 rope stations and begin top-rope climbing up lofty heights, while more advanced climbers lead trips up over complex courses or the stone faces of former presidents. Climbers can also skip the harnesses altogether and try their hand at bouldering across height-restricted surfaces, or head to one of the gym's Tai Chi or Yoga classes.
1526 Campbell Road
Houston
Texas
US
713-973-7625
The leaders of Eight Friends Out fashion themselves equal parts matchmakers and event planners, helping Houston singles meet and commingle through fun, safe events. Annual and semiannual memberships grant members admission to a variety of themed speed-dating events, such as Italian brunches, Indian dinners, and martini nights, which are hosted at a variety of venues. Events typically are arranged by age group, as the staff recognizes that most people prefer to date within five years of their own age. Eight Friends Out's team is proud of its track record, estimating an average of about three marriages per year in its nearly 20-year history.
5115 Westheimer
Houston
Texas
281-870-0827
---