Beauty & Spas in New Westminster
---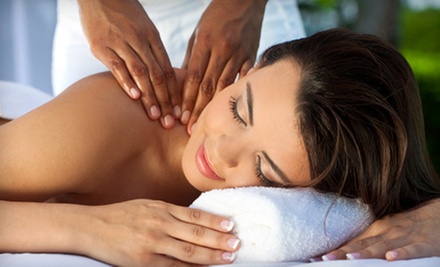 ---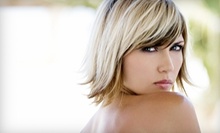 Use Wednesday 10:00am - 4:00pm
---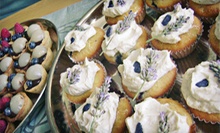 Guests enjoy tea and pastries while sampling the exotic scents of perfumes handcrafted from botanical ingredients
Use Today 11:00am - 2:00pm
---
Recommended Beauty & Spas by Groupon Customers
---
At Unwanted Ink, registered nurse Debbie leads a team of adept laser technicians who help dislodge undesired ink, restoring skin canvases to smoothness. Debbie believes in patient comfort and compassion, as evidenced by her thorough study of each patron's medical history and consultations, during which she explains the tattoo-removal procedure in great detail.
Before each treatment, Nurse Debbie sets up skin with Dr. Numb topical numbing ointment, guarding against the light sting of the lasers and the subsequent landing spacecraft. She then uses an energy-efficient Cynosure laser tailored to the process of tattoo removal, singing away most colours in the spectrum—excluding greens—to erase designs faster than the interior decorator for a supervillian's top-secret lair. A cooling machine soothes epidermis in the targeted area during each step of the removal. Following treatment, Nurse Debbie bestows all supplies necessary to facilitate skin recovery in the first three days, such as bandages, tape, and wrap, as well as necessary instructions to prevent scarring.
135-3388 Rosemary Heights Cres.
Surrey
British Columbia
604-536-1617
Long before he opened Westcoast Piercing and Ink, professional piercer Kelly began to reconsider his own body's potential as a template for artistic self-expression. As a pre-teen during punk rock's heyday in the early 80s, he became fascinated with big chains, spiked bracelets, and large rings—pretty much anything that would showcase his style and increase his radio signal. The scene's do-it-yourself ethic often led his friends to experiment with unsanitary piercing methods, but Kelly thankfully knew better and decided to take the true D.I.Y. route: he became a certified piercer himself and opened Westcoast Piercing Guy.
Today, years after his initial stroke of inspiration, Kelly operates out of a health-board approved studio that has been given the seal of approval from the local medical community and clients alike. He continues to outfit ears and other body parts with piercings; only now he works alongside a band of piercers and tattoo artists who decorate skin with everything from colorful custom sleeves to blank crossword puzzles that help clients pass the time during morning commutes.
14687 108 Avenue
Surrey
British Columbia
604-584-2639
Shic Laser Skin & Spa's professionally trained staff harnesses the power of lasers and wax in the battle against unwanted hair. Techs do away with unwelcome follicles by zapping them with intermittent pulses of laser light and uprooting them with wax or systematic Indian rubs. Clients also frequent Shic Laser Skin & Spa for pampering treatments that include tension-relieving massages and skin-cleansing facials that utilize Aveda, être belle, and Di Morelli skincare products.
122-12827 76 Ave.
Surrey
British Columbia
604-593-6620
While browsing shops during her travels in New York, Australia, and Europe, Alisa West Folk's lifelong dream to own a boutique only grew stronger. Her own wish was granted when she and her mom, Kathie, opened Wish.List Boutique. The mom-and-daughter team stocks the shop with finds such as Deborah Lippmann and Butter London nail polish, Deux Lux handbags, and Hanky Panky underwear. Alisa especially loves the Voluspa candles—"The smells are unbelievable," she says, singling out Santiago Huckleberry as her favourite aroma.
It's Alisa and Kathie's passion for their products that makes Wish.List Boutique a treasure trove for shoppers. They have to "fall in love" with something in order to consider it worthy of the boutique's shelves. "Anything we would want to use or feel like we need in our lives, we want in the store," Alisa says. That includes a focus on paraben-free, organic, and less-toxic items, including John Masters Organic haircare products.
The store brings a chic vibe to Kitsilano with white paint, a damask accent wall, and butterfly motif, all lit by chandelier. To keep faces equally fresh, the staff's professional makeup artist gives complimentary makeup applications and cosmetics advice on Thursdays, Fridays, and some Saturdays. Wish.List Boutique also hosts events on occasion—they threw a lipstick and wine-pairing party for their one-year anniversary in 2010, and Real Housewives of Vancouver star Mary Zilba helped them celebrate posh polishes with a 50 Shades of Summer party.
In addition to feminine accessories and beauty products, Alisa and Kathie also curate a selection of baby gifts, and the shop is a popular place to pick up presents. "A lot people come in looking for a gift and then they end up buying something for themselves," Alisa says.
Alisa knows she's doing her job right when she's out at a restaurant or around town and someone asks her where she got her bag. It's even more gratifying when she hears their response: "They say, 'Oh, I love that store!'" she says.
2811 West Broadway
Vancouver
British Columbia
604-676-8070
The aestheticians at Forever Young Beauty & Body Care Center boost their clients' natural beauty with facials, scrubs, and slimming spa treatments. They draw from advanced technological instruments to erase signs of aging and acne with LED phototherapy, radio frequencies, and intense pulsed light (IPL). While their facials infuse skin with revivifying vitamin C and collagen, nail technicians tend to hands with manicures that remove rough calluses and painful mousetraps.
3344 Cambie St.
Vancouver
British Columbia
604-877-1323
The beauty specialists of Pure Essence Nail & Esthetics strive toward purity on several levels: at the outset of each appointment, they work to make their practices transparent. They ask questions and carefully weigh responses so that they can deliver results that match expectations. Throughout each facial, they soak skin in Decléor products, which are known for containing plant oils and other concentrated, natural ingredients. They finish appointments with thorough sterilization procedures, using hospital-grade disinfectants to purify tools. Aestheticians only skip this step for one reason—if they've applied semipermanent makeup, they promptly dispose of the equipment and restock brand-new tools for the next client. These practices are meant to honour and respect guests as though they're royalty or blood relatives of Tim Horton.
2636 Arbutus St.
Vancouver
British Columbia
---