New Westminster Outdoor Activities
---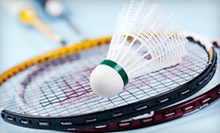 Badminton enthusiasts can drop in to play among internationally ranked coaches on 1 of 12 courts
Use Today 9:00am - 12:00pm
---
Recommended Outdoor Activities by Groupon Customers
---
Richmond Indoor Paintball lets competitive sharpshooters live out intricate battle strategies in 25,000 square feet of barricades, abandoned buildings, and streets made to look like a real town. Open year-round, the facility's graffiti-splattered walls surround the field, and the beat-up old cars littered about offer cover. Players find only premium rental equipment, paintballs, and all elements of play kept feeling as though they were plucked straight from a video game. The space accommodates up to 60 guests from noon to midnight each day except Tuesday, when the facility closes for cleaning and community art-history lectures. Click here to view a virtual tour.
160-6631 Westminster Hwy.
Richmond
British Columbia
604-278-8897
King George Aviation Flight School's squadron of instructors use their decades of combined experience to introduce novice pilots to the skies. Official licensing courses range from navigation and mountain flying to radio procedures or instructor ratings, and their Discovery flights give beginners a taste of the skies while proving to nonbelievers that clouds are, in fact, made of marshmallow. The school also rents its planes to pilots for day trips and sells certain models.
4981 King George Blvd.
Surrey
British Columbia
604-501-2488
Owned and operated by a cohort of passionate paintball players since 2001, Ambush Paintball's three recreational fields, with a fourth opening May 27th, constantly undergo grooming to ensure their safety and to accommodate new, challenging obstacles. A 200-foot-long tire wall, two-storey clock tower, and 50-foot easel for target practice adorn the massive 450'x250' Ambush City Field, whose square shape and symmetrical layout prevent either team from naming their strategies after famous couture dresses. Meanwhile, two mobile homes, nicknamed the Redneck Fortresses, shelter participants on the Grassy Mounds Field when they're not navigating the trenches and maze-like grassy paths on the outside. More paths abound on the 5-acre diamond-shaped Lost Forest Field, whose tree forts and barricades have hosted as many as 200 players at a time. Elsewhere, a celebrated speedball park hosts a range of guests––from first-timers to pros of the sport––for tournaments every Sunday.
7550 160 St.
Surrey
British Columbia
604-812-2379
Billowing sails propel vessels in and out of the English Bay, where MacSailing strengthens sea legs with an expert-crafted sailing curriculum for everyone from novice seafarers to competitive racers. MacSailing teaches pupils to captain a wide variety of vessels in lessons for youths and adults, and also rents out sailboats for more experienced wave-tamers. Each of MacSailing's instructors is certified by the Canadian Yachting Association, which is the best illustration of nautical mastery short of wearing a souvenir T-shirt from the Bermuda Triangle.
1300 Discovery St.
Vancouver
British Columbia
604-224-7245
The abundance of natural splendour surrounding Burnaby's small lake inspired the creation of Deer Lake Boat Rentals. With blue herons standing tall in the waters, eagles soaring overhead, and turtles playing duck-duck-goose with Canadian geese, the region is teeming with wildlife. Fourteen years under the current ownership and opened in 1972, Deer Lake Boat Rentals rent kayaks, rowboats, pedal boats, and canoes to make the lake and its wildlife accessible to families. They are also equally focused on safety, so they provide all the requisite necessities, including lifejackets and staff a skilled crew ready to assist in any way necessary.
5435 Sperling Ave.
Burnaby
British Columbia
604-839-3949
Harbour Cruises & Events has ferried aquanauts across the waters of Vancouver Harbour for more than a century, elucidating the city's history and granting seldom-seen views of the skyline. On the MPV Constitution, one of Vancouver's only authentic paddlewheelers, guests can enjoy views of the city on the open-air deck, or below on the A and B decks where the luxuries of a fine-dining restaurant take to sea. The Sunset dinner cruise and the Indian Arm luncheon cruise make use of such fine settings to create floating meals of beef bordelaise and fresh British Columbian salmon accompanied by live music. Fireworks cruises celebrate the waning of summer with a buffet dinner and live DJ, letting couples get close and practice their breakdancing moves when everyone else is looking to the sky.
501 Denman St.
Vancouver
British Columbia
604-688-7246
---