Things to Do in New Westminster
---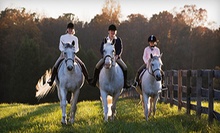 Equine riding experts introduce students of all ages to the art of english riding via fun and safe lessons held in a heated indoor arena
---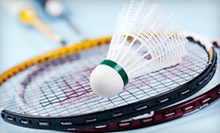 Badminton enthusiasts can drop in to play among internationally ranked coaches on 1 of 12 courts
Use Today 9:00am - 12:00pm
---
Recommended Things to Do by Groupon Customers
---
Rain or shine, for 362 days out of the year, Vancouver's streets teem with Big Bus's fleet making their daily stops around the city's sites. Customers pile aboard for 90-minute hop-on, hop-off tours that trek down a route that wends past Vancouver's most compelling attractions, enabling guests to create flexible sightseeing outings that proceed at a convenient pace. Tour captains ferry passengers past 22 city landmarks, such as Stanley Park, Granville Island, and Gastown, letting passengers spring out of their seats before picking up ticket-holders and tumbleweeds eager to make their way across the city. Champions of making the city accessible to visitors from around the globe, Big Bus tours are available in seven languages, including English and German.
321 Water Street
Vancouver
British Columbia
604-299-0700
Richmond Indoor Paintball lets competitive sharpshooters live out intricate battle strategies in 25,000 square feet of barricades, abandoned buildings, and streets made to look like a real town. Open year-round, the facility's graffiti-splattered walls surround the field, and the beat-up old cars littered about offer cover. Players find only premium rental equipment, paintballs, and all elements of play kept feeling as though they were plucked straight from a video game. The space accommodates up to 60 guests from noon to midnight each day except Tuesday, when the facility closes for cleaning and community art-history lectures. Click here to view a virtual tour.
160-6631 Westminster Hwy.
Richmond
British Columbia
604-278-8897
When doctors told Joey and Darryl Simon that their son Jet's premature birth could result in learning disabilities, the couple immersed him in the world of art as a means of helping him overcome any educational obstacles. Their tutelage and care paid off, resulting in an impressive array of paintings from their child at a very young age. Jet's talent and creativity inspired his parents to establish 4Cats Arts Studio in hopes of unleashing the inner artists of other children as well as adults. The Simons accomplish this mission through hands-on sessions in mixed media, painting, and Artist Focus classes, which concentrate on the histories and styles of certain artists, such as Picasso's cubism and Andy Warhol's self-portraits of soup cans.
3730 W 10th Ave.
Vancouver
British Columbia
At U Paint I Fire, artists create personalized pottery under the direction of head instructor John, a man with decades of experience in ceramics. Mugs, bowls, and pots twist into existence every day at the studio, especially during group classes. In these sessions, students use their hands, a wheel, or telekinesis to formulate creations and learn other important techniques, such as trimming and glazing. In addition to its classes, U Paint I Fire opens its studio space for birthday parties, bridal showers, and school projects. An assortment of tools and supplies is available for purchase.
3632 4th Ave. W
Vancouver
British Columbia
604-732-3312
A PADI five-star instructor-development centre, Ocean Pro Divers has provided Surrey with professional scuba training and gear for more than two decades. Over that time, owners Shannon and Wes Kozak have netted a team of expert, PADI-certified instructors, who draw from both local and tropical experiences to enlighten students at two fully equipped facilities. In addition to offering the full spectrum of scuba-training courses, the Ocean Pro Divers staff leads diving adventures almost every weekend of the year. They also offer travelling dive packages to international destinations, giving students a choice between wading through exotic waters or staying near home to explore the subaquatic depths of Vancouver, which abound with marine life and hibernating hockey players during the off-season.
4600 Clarence Taylor Crescent
Delta
British Columbia
Canada
Vancouver Water Adventures equips maritime adventurers with wet suits, life jackets, and personal watercraft for exploring the waterways of False Creek and English Bay. The staff stocks a fleet of jet skis, paddleboards, and water bikes, which riders can pedal along inlets without having to worry about the confusion associated with bike lanes or passive-aggressive hand signals. In addition to soaking up scenic ocean views and spying on local wildlife, guests can accompany skilled guides on tours to the area's most impressive sights. Those operating machines must have a valid driver's licence, and all passengers must be at least 6 years old without factoring in alternate theories of relativity.
1812 Boatlift Ln.
Vancouver
British Columbia
Canada
---