Things to Do in New Westminster
---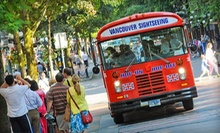 Double-decker and open-top busses make stops at 22 of Vancouver's most interesting sites, granting guests chances to hop on and off at will
---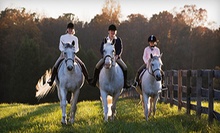 Equine riding experts introduce students of all ages to the art of english riding via fun and safe lessons held in a heated indoor arena
---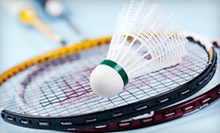 Badminton enthusiasts can drop in to play among internationally ranked coaches on 1 of 12 courts
Use Today 12:00pm - 3:15pm
---
Recommended Things to Do by Groupon Customers
---
Richmond Indoor Paintball lets competitive sharpshooters live out intricate battle strategies in 25,000 square feet of barricades, abandoned buildings, and streets made to look like a real town. Open year-round, the facility's graffiti-splattered walls surround the field, and the beat-up old cars littered about offer cover. Players find only premium rental equipment, paintballs, and all elements of play kept feeling as though they were plucked straight from a video game. The space accommodates up to 60 guests from noon to midnight each day except Tuesday, when the facility closes for cleaning and community art-history lectures. Click here to view a virtual tour.
160-6631 Westminster Hwy.
Richmond
British Columbia
604-278-8897
Now that it has been fully restored, the Rio Theatre immediately recalls the splendour of its grand opening in 1938. Hiding behind the old-fashioned aesthetics, however, are a digital HD projector and surround-sound speakers that immerse filmgoers in an eclectic array of first-run blockbusters and cinema classics. Showing films again as of April 2012, the theatre's movie selection ranges from sci-fi and horror to wholesome family films, though the program coalesces around a love for pop culture that the owners share with their most ardent fans.
Aside from the daily show times, cult classics—frequently in their original 35 mm form—screen at midnight on Fridays. Guests from all walks of life come out to these packed showings, where they can snack on popcorn made with real butter or win prizes for dressing in costume as their favourite character or key grip. The 420-seat theatre also hosts concerts and events throughout the year, including past performances by Janeane Garofalo and local musicians Bend Sinister.
1660 East Broadway
Vancouver
British Columbia
604-879-3456
When doctors told Joey and Darryl Simon that their son Jet's premature birth could result in learning disabilities, the couple immersed him in the world of art as a means of helping him overcome any educational obstacles. Their tutelage and care paid off, resulting in an impressive array of paintings from their child at a very young age. Jet's talent and creativity inspired his parents to establish 4Cats Arts Studio in hopes of unleashing the inner artists of other children as well as adults. The Simons accomplish this mission through hands-on sessions in mixed media, painting, and Artist Focus classes, which concentrate on the histories and styles of certain artists, such as Picasso's cubism and Andy Warhol's self-portraits of soup cans.
3730 W 10th Ave.
Vancouver
British Columbia
King George Aviation Flight School's squadron of instructors use their decades of combined experience to introduce novice pilots to the skies. Official licensing courses range from navigation and mountain flying to radio procedures or instructor ratings, and their Discovery flights give beginners a taste of the skies while proving to nonbelievers that clouds are, in fact, made of marshmallow. The school also rents its planes to pilots for day trips and sells certain models.
4981 King George Blvd.
Surrey
British Columbia
604-501-2488
From the highest point of Adventures Out West's Colorado Springs trail rides, riders on horseback have a view of not just one mountain range, but three. Since giving their first tour in 1973, the guides of Adventures Out West have created many such scenic jaunts through Colorado and Arizona that deposit participants directly into the most beautiful parts of the local geography. Whether soaring over snowcapped mountains from the basket of a hot-air balloon or fly-fishing in the South Platte River, patrons get a chance to interact firsthand with all of nature's local sights, sounds, and whoopee-cushion gags.
4360 Agar Dr.
Richmond
British Columbia
CA
A PADI five-star instructor-development centre, Ocean Pro Divers has provided Surrey with professional scuba training and gear for more than two decades. Over that time, owners Shannon and Wes Kozak have netted a team of expert, PADI-certified instructors, who draw from both local and tropical experiences to enlighten students at two fully equipped facilities. In addition to offering the full spectrum of scuba-training courses, the Ocean Pro Divers staff leads diving adventures almost every weekend of the year. They also offer travelling dive packages to international destinations, giving students a choice between wading through exotic waters or staying near home to explore the subaquatic depths of Vancouver, which abound with marine life and hibernating hockey players during the off-season.
4600 Clarence Taylor Crescent
Delta
British Columbia
Canada
---