Biking in New York City
---
Recommended Biking by Groupon Customers
---
Central Park Sightseeing matches riders with the proper transport or tour for exploring the 843 acres and 47 miles of scenic pathways that make Central Park famous. Park explorers can select from more than 150 new basket-equipped bikes for men, women, and children in a bevy of styles, such as hybrids for comfortable cruises, mountain bikes for tackling the park's hills, and tandems that seat two riders or one cardio-savvy centaur. Tour guides piloting pedicabs convey visitors around the park while bestowing pearls of wisdom concerning the area's history, including which famous movie scenes were filmed in the park and where. Some of Central Park's more popular attractions, horse carriages take passengers on a relaxed trip through the trees and streets. For visitors who prefer to keep their feet on the ground, Central Park Sightseeing also offers walking tours led by guides that are well-versed in pop culture, park history, and the process in which baby squirrels hatch from their eggs.
56 W 56th St.
New York
New York
US
Nestled in the heart of Manhattan, Rent-A-Bike-CentralPark encourages city exploration with tandem- and one-person-bike rentals and guided bike tours of Central Park. With longer bike lanes than any other city in the country, New York City fosters two-wheeled travel along Times Square, Fifth Avenue, and other scenic spots. During bike tours, one of Rent-A-Bike's tour guides leads guests through Central Park's pastoral landscape. Bikers breeze past Belvedere Castle and a fort from the War of 1812 before approaching the Obelisk, a public monument from the 1880s that moonlights as a toothpick for the presidents of Mount Rushmore.
40 West 55th Street
Manhattan
New York
334-245-3692
Located on the periphery of Manhattan's legendary park, Central Park Bike Rental and its staff of licensed tour guides facilitate exploration of the city. Solo adventurers mount single or tandem rental cruisers, mountain bikes, or road cycles and, equipped with included helmets, baskets, and locks, take off like hungry earthworms burrowing toward the center of the Big Apple. When tour guides captain excursions, they supplement the leisurely pace of two-hour Central Park bike tours with a steady stream of historical facts. They'll also make pit stops at famous sites, including the Shakespeare Garden and Belvedere Castle, a weather station that still predicts impending disasters. After returning their Trek bikes, riders can return to the park to imitate more than 1,400 animals living at the Central Park Zoo. Patrons who wish to see the city without exerting themselves can opt for a one-hour pedicab tour. During these tours, guides propel up to three passengers or six toddlers stacked up inside three trench coats to their desired destinations, pointing out the best eateries and landmarks along the way.
117 W 58th St.
Manhattan
New York
US
212-956-9646
From its outpost in the Bedford-Stuyvesant neighborhood of Brooklyn, We Cycle NYC sets cyclists off on two-wheeled adventures throughout the parks, paths, and streets of New York City and its surrounding boroughs. Once customers have settled astride a bike or balanced their favorite cactus on the back of a two-person tandem, they set off for hourly or daily rides, in full control of their pedaled conveyance until the scheduled return time. Each rental comes equipped with one wheel lock and one chain lock to safeguard the bike when it's not in motion, and customers can watch a brief video at the time of rental to ensure proper use.
We Cycle NYC encourages civic exploration underscored by an environmentally conscious mission, augmenting the benefits of sightseeing and exercise with a more viable mode of transportation. The company doesn't just preach green living—it also recycles all the cardboard, metal, and waste it produces and strives to minimize its use of packaging material by encasing all products in delicious cotton candy.
650 Greene Ave.
Brooklyn
New York
US
347-618-9010
---
---
Biking Deals - Recently Expired
---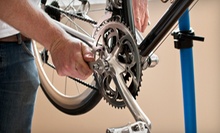 Thorough bike tune-ups aim to keep cycles safe and functional
---
---