Nightlife in New York City
---
---
New York City Nightlife Guide
New York City nightlife is constantly abuzz. No other city in the U.S.  has more unique pubs, nightclubs, bars, and after-hours fun. Wherever one is in this city a dive bar, club, wine bar, or unique forms of after-hours entertainment are sure to be near.
For those willing to stray outside of Manhattan, Brooklyn Bowl is one of the most unique nightlife attractions in NYC. This bar is also a hopping music venue AND features 16 full-service bowling lanes. One might think that bowling isn't conducive to a happening night on the town, but it turns out that no one can hear the sound of pins rattling over the guitars and vocals of some of the hottest indie bands in the nation.
A chic wine bar should be considered for a more sedate evening on the town. One of the better wine bars in the city is the 8th Street Winecellar, located at West 8th Street and Fifth Avenue. It features a simple cafe-style decor with cozy two-person tables lit by candlelight. Home to dozens of mid-price wines hailing from exotic locales like France, Spain, and Italy, this is a great place to have a quiet night out, away from the hustle and bustle of the city.
Sometimes, though, all anyone really wants to do is hit the clubs. NYC nightclubs are open for business almost everyday of the week. For live house music and fresh hip-hop acts, check out Rebel NYC. Located at West 30th Street between 7th and 8th Avenue, this venue boasts multiple floors, performance space, and a fully stocked bar available for anyone looking to dance and socialize through the night.
The best part about the nightlife in NYC is that there's something different to do every night. Ditch that boring old hangout, walk down the streets of NYC, and find the perfect hangout spot right around the corner.
One of the better wine bars in the city is the 8th Street Winecellar, located at West 8th Street and Fifth Avenue.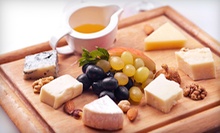 Savory snacks keep hunger at bay as the swirled aromas, tannins, and fruity finishes of five dynamic wines entice the senses
Use Sunday 2:00pm - 11:45pm
---
Recommended Nightlife by Groupon Customers
---
From way off Broadway to slightly off-Broadway comes the Chicago-born phenomenon Flanagan's Wake. One of the longest-running shows in Chicago theater history makes the jump to NYC by way of the intimate Sweet Caroline's theatre. For $20, you'll get one ticket to the show, a $50 value. Your Groupon can be used at any performance you want, but not for stealing hats backstage. Choose between: Mondays, Thursdays, Fridays, and Saturdays at 7:30 p.m.; or the Sunday matinee at 4:30 p.m. The runtime is approximately 90 minutes with no intermission, so regulate your liquid intake accordingly.Follow @Groupon_Says on Twitter.
322 W 45th St
New York
New York
US
Peri Wine Bar curates a varied stock of quality vintages, serving them by the glass and bottle, alongside a menu of light fare. Rows of obsidian and amber bottles perch on hardwood shelves hanging from the rustic brick walls, their fragrant contents sourced from wineries across the world. Beneath hanging chandeliers, patrons divvy up gourmet pizzas, salads, and appetizers, emerging from a kitchen that remains open until the last, bleary-eyed call of the night. The bar hosts live music, DJs, jazz, and dancing during the course of the week, and the in-house WiFi pipes in with pairing recommendations and aerates chardonnays with essence of funny-cat videos.
181 Essex Street
New York
New York
212-995-9463
Like any good basement, Cellar 58 is full of secrets. Hidden in the back of the East Village eatery is a wine-tasting room—recently described as "elegant" by New York magazine—that shelters more than 150 varietals hailing from such overlooked countries as Greece and Bulgaria. Two-dozen wines can be poured by the glass, including several culled from the vineyards of Italy, France, and similarly eminent regions.
There also lurks a surprising treasure in the front dining room. Marble-topped tables play host to entrees and small plates prepared by chef Fabio Bano, who comes to Cellar 58 from the ultra-private Soho House. Using cooking methods that he learned and perfected in Italy, Bano handcrafts pastas and inventive desserts, which, like top-secret memos, melt satisfyingly upon entering the mouth.
58 2nd Ave.
Manhattan
New York
US
212-420-1300
Mention the Cryan family to South Orange locals and they'll probably tell you stories. They'll talk about the sons who've worked as chiefs of the local police and fire departments, the father who emigrated from Ireland in the '40s, and the lively parties held at Cryan's Beef & Ale House. Captained by the youngest son, Jimmy, the 30-year-old local landmark is the last of the 30 pubs and eateries the family owned throughout Jersey.
An Irish flag waves outside the cheerful Celtic storefront, beckoning passersby in for some beer and Irish pub classics. Inside, a St. Patrick statue smiles down on rows of cushy green booths, where diners wrap their hands around corned beef sandwiches and hearty Angus beef burgers. Among regular patrons are students from the nearby Seton Hall University and a woman named Carol, who has eaten there every night since 1982. Throughout the week, the restaurant plays host to lively events, from spirited DJ college nights to traditional Irish music shows.
24 1st St.
South Orange
New Jersey
A rare outlet for commercially sanctioned laughter in downtown Los Angeles, Garrett Morris' Downtown Blues and Comedy Club helps visitors escape the stresses of the workweek with a rotating stable of top-tier standup talent every Friday and Saturday. Comic legend Garrett Morris, now seen as Earl on CBS' 2 Broke Girls, hosts showcases of comic talent with charming wit and tales of how he outlived the original cast of Saturday Night Live. The bill remains consistently loaded with fresh-faced and seasoned funny folk, with past luminaries including George Lopez, Margaret Cho, and Wayne Brady, along with aspiring stars in the twilight before their first mismatched-marriage sitcom.
Keeping true to its name and Morris' roots in the New Orleans music scene, the venue often punctuates its comedy shows with performances from top blues artists—including Morris himself, who has lent his soulful pipes to the Harry Belafonte Singers—that add melody to the mirth. While weekend shows feature Garrett's hosting and harmonies along with the headlining acts, the Thursday Night Experience allows youthful burgeoning comics and musicians to hog the spotlight.
1626 Broadway, Between 49th and 50th
New York
New York
US
212-757-4100
Oak Ale House is an eatery divided in half—one side is a sports bar, and the other is an old-fashioned Italian restaurant. Paintings of Italy hang in the latter section, where families crowd long tables piled high with plates of pasta, pizza, and burgers. The menu unfolds to reveal a mélange of American-Italian staples such as penne in a creamy vodka sauce, and rib-eye steaks that sizzle out the national anthem as they're cooked. Back in the kitchen, ovens bake thick and thin pizzas to a bubbly golden brown, and grills heat up eight types of hamburgers to sate hamburgervores.
Beyond the guarded border dividing the two establishments lies a sports bar, where frothy brews pour from kegs and live music beckons toes to start tapping. The bar also houses seven flat-screen TVs, billiards, darts, and karaoke on select nights.
26 W Pleasant Ave.
Maywood
New Jersey
201-880-1551
---