New York City Spa and Massage
---
---
New York City Spa And Massage Guide
New York City may be the city that never sleeps, but it also offsets this well-deserved reputation with opportunities to recharge at its myriad spas. With an incredible array of services, from rejuvenating facials to detoxifying massages, New York City spas offer a respite from the hustle and bustle of the city.
If one is pounding the pavement in Midtown,  they step right into the aptly named Bliss Spa. With two locations--one in Midtown and its flagship locale in SoHo, this spa features treatments such as the Rhythm and Bliss massage. Take a look at the Bliss brand lotions and potions; one is  sure to find something to perk up their skin after a late night that turned into an early morning. And, with names like Thinny Thin Chin neck firming cream, one gets a sense of their cheeky humor.
After a long day of shopping in SoHo, one can put their feet up at Soho Sanctuary, a day spa in New York City that's exclusively for women.  Be warmly greeted by a welcoming staff, and then pampered by aestheticians with products such as Dr. Hauschka's rose cream, which will take the senses to a higher place above the din of the city.
For something truly transformative, try Pure Qi in Greenpoint. The services at this spa run the gamut from reflexology to ear candling with a face lymphatic-draining massage. Or, if one want the benefits of a good sweat without actually exercising, try the cupping or the moxibustion treatments, both of which use heat to stimulate circulation and break up congestion.
After an hour or two indulging in a New York City massage or relaxing at a spa, one is sure to leave with a re-balanced Qi and ready to give New York a run for its money.
The services at this spa run the gamut from reflexology to ear candling with a face lymphatic-draining massage.
---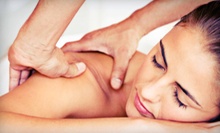 Use Friday 12:00pm - 4:00pm
---
Recommended Spa & Massage by Groupon Customers
---
Your Groupon is good toward gourmet or hard waxes given by the spa's expert aestheticians. Tribeca Beauty Spa is famous for its exceptional Brazilians and offers a full menu of waxing services. If you should choose to exceed your $75 value, you can simply pay the difference. Here are a few of the options you can get with your Groupon:
8 Harrison Street
New York
New York
212-343-2376
As one-stop shop for relaxation and beauty services, O Spa curates a menu that ranges from traditional spa massage therapies, facials, and slimming wraps to specialized treatments such as mani-pedis, eyelash extensions, and permanent makeup. The spa's technicians can use laser light to permanently reduce unwanted hair and remove tattoos clients got during their teenage years of rebellion and obsession with the Artist Formerly Known as Prince. Permanent-makeup artists fill in barren eyebrows or line the eyelids or lips, keeping facial features constantly looking fresh.
7606 3rd Ave.
Brooklyn
New York
718-833-8811
The massage therapists and aesthetician at Spa Dew perform treatments that combine Eastern and Western sensibilities—all within a tranquil, nature-inspired ambiance. The 5,000-square-foot space boasts a reception area with a waterfall and groupings of plants and flowers bring the outdoors in, as does a wall decorated with variously sized tree cross sections. The water fountain in the hallway further nods to nature, and leads to a steam room and spacious relaxation rooms for women and men.
A privacy suite allows couples to share time in a sauna and get a side-by-side Korean-style scrub or a massage with heated stones. The beauty experts also use nature-based products including sea salt, Dead Sea mud, and Decleor essential oils, which are free of harsh chemicals and animal derivatives such as unicorn tears.
2025 Lemoine Avenue, 4th Floor
Fort Lee
New Jersey
201-461-0949
Under the medical direction of Dr. Jean Cangé, the center's team pampers clients with a blend of traditional spa services and modern laser treatments. Staffers instill relaxation with massage therapy, restore skin's purity with facials and peels, and decorate appendages' tips with manicures and pedicures. Additionally, the boutique med spa's technicians harness the power of light energy to remove unwanted hairs, reduce wrinkles, and dissolve scars resulting from competitive pillow fighting. Clients may also schedule one-on-one consultations with Dr. Cangé to discuss eligibility for antiaging injections of Botox Cosmetic, Restylane, or Juvéderm XC.
327 E 65th St.
New York
New York
US
---