Things to Do in Newark
---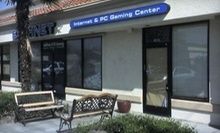 Use Today 8:00am - 7:00pm
---
Recommended Things to Do by Groupon Customers
---
A charter member of the MLS, the San Jose Earthquakes played their first four seasons as the Clash before claiming the MLS Cup in 2001 and 2003. Though the team moved to Houston in '05, the franchise was reinstated in '08, bringing professional soccer back to the Bay Area. Buck Shaw Stadium serves as the team's current home, though a new stadium will shoot skyward in 2014, complete with luxury suites for fans and exhausted referees alike.
500 El Camino Real
Santa Clara
California
Dust off your explorer's exploring khakis and your museum monocle for today's deal: a one-year Friend of Horus membership to the Rosicrucian Egyptian Museum for $15 (a $35 value). Membership includes free individual admission, 10% off museum store items, and priority entrance to new featured exhibits. The only hieroglyphic capable of expressing your delight will be an owl hugging a jackal's head on top of a human eyeball. Follow @Groupon_Says on Twitter.
1664 Park Ave.
San Jose
California
US
The FAA-certified flight instructors at California Airways offer something for aspiring fliers of all ages with pilot certification programs, high-school summer camps, and birthday parties for smaller children. No matter what their experience level is, guests of legal age can handle the rudders of not only the business's simulators but also its Cessna and Beechcraft airplanes. Joining the California Airways club allows license-carrying pilots to rent these aircraft, provided they know the proper levitation incantations.
22693 Hesperian Blvd.
Hayward
California
510-887-7686
At Wedding Faire, brides-to-be attend edifying panels, peruse wedding wares from hundreds of vendors, and try on around 400 styles of dresses from local bridal salons. Enthused betrothees explore 25,000 square feet of matrimonial merchandise and events, glimpsing new styles at three daily fashion shows and dropping in on workshops featuring wedding tips from industry insiders (some events entail additional fees). At Saturday's wedding luncheon, brides and professionals mingle and enjoy scrumptious eats as wedding maven Sasha Souza presents a collection of her favorite bridal trinkets and tricks. Afterward, a book signing allows attendees to shake Sasha's hand and propose marriage to her.
5001 Great America Pkwy.
Santa Clara
California
US
Spread out among 132,000 square feet and three levels are a variety of permanent and temporary exhibits that represent the museum's goal of innovative inspiration. The recently opened, hands-on, and interactive exhibit Invention at Play examines the evolution of playtime from the hoop-and-stick of yesteryear to the portable holographic virtual wristwatches of today. The art, film, and music-focused Tech Virtual Test Zone conceptualizes ideas from the virtual world of Second Life with interactive wonders such as the Wall of Musical Buttons. The Wall allows visitors to experiment with note intervals in familiar musical melodies, and Mashup Masterpiece gives visitors the ability to add their own creative modifications after observing an artist's artistic process. Aspiring weatherpersons can learn about the powers of wind, water, and sun in Green by Design, or budding Beakmans can perform various science experiments in the Exploration Gallery. Keep the stimulation going while giving tired legs a rest with the included educational IMAX movie. Check out current offerings such as Arabia or Under the Sea or peruse the schedule for other upcoming shows at The Hackworth IMAX Dome Theater.
201 S Market Street
San Jose
California
AeroDynamic Aviation owner and chief pilot Zdravko took his first flight at the ripe old age of 2 months. As his baby eyes looked out the window of the DC-3 airliner, watching the houses grow smaller and smaller and the clouds become his companions, the idea of flight bored itself into his mind. Zdravko has now racked up more than 7,000 flight hours—most of them as a flight instructor—and completed taildragger and acrobatics training with Amelia Reid, a pioneer of female flying and the 1960 founder of the location's original flight school.
Together with his fellow FAA-certified instructors, Zdravko shares his passion for flight via sport, private, commercial, and aerobatics training. The staff is dedicated to educating pilots on tailwheel aircraft and teaching true stick-and-rudder flying, which is much more reliable than using leather reins attached to each wing.
2650 Robert Fowler Way
San Jose
California
---