Coffee & Treats in Newark
---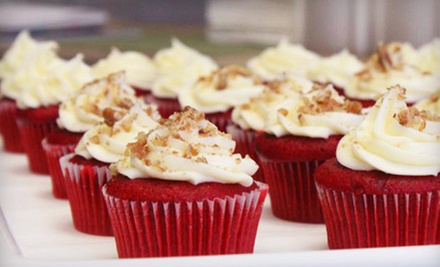 Newark Central Business District
---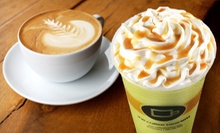 Jersey City – Hudson Mall
Baristas pour steamy caramelattes, blend strawberry monsoon fruit smoothies, and craft chai tea chillers at a spot in the Hudson Mall
---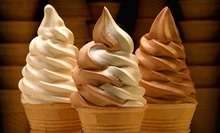 The 165-year-old dairy farm celebrates warmer weather with 7-inch ice-cream cakes or punch cards valid for 10 soft-serve ice-cream cones
---
---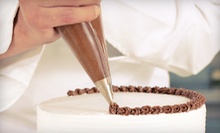 Baker Amy Noelle, featured in Martha Stewart Weddings, helps patrons craft sugar flowers or themed cakes with local ingredients
---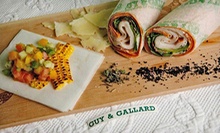 Café serves more than 70 artisan dishes including tuna-, tandoori-chicken-, and prosciutto-topped sandwiches alongside low-calorie options
---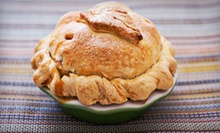 Pies handmade from scratch without artificial ingredients; housemade cakes, cupcakes, and muffins
---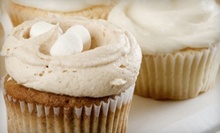 Students concoct three different types of cupcakes and decorate them with icing before returning home with a box of four
---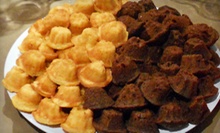 Family rum-cake recipe comes in packages of one or three dozen delivered right to doors
---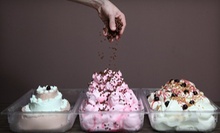 Hands-on gelato-making class that lets students blend custom flavors and take home 4 pints of their own
---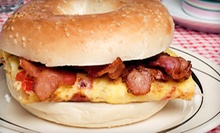 Bay Ridge & Fort Hamilton
Breakfast sandwiches or Old World–style bagels slathered with one of more than 12 handcrafted cream cheeses and butter
---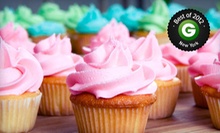 Featured on Food Network's Cupcake Wars, baker Tonnie Rozier handcrafts flavors such as carrot cake, red velvet, and Death by Chocolate
---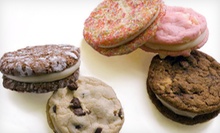 A baker hand packs gourmet cookies into white baker's boxes and decorates holiday-themed cookies with icing
---
Recommended Coffee & Treats by Groupon Customers
---
The brainchild of former Hell's Kitchen contestant Seth Levine, Pop Yogurt serves up decadent yet fat-free cups of soft and smooth frozen yogurt adorned with a unique assortment of toppings. Each cup contains live and active cultures, or probiotics, making it a health-conscious treat despite its potential burial under more than 30 fruits and candies such as red velvet cupcake crumbs, chocolate Pop Rocks, and warm nutella. Also the owner of Georgica, a popular restaurant in East Hampton, Chef Levine occasionally makes appearances at Pop Yogurt's SoHo location, entertaining patrons with stories from his stint on Hell's Kitchen and dispelling rumors that Gordon Ramsay is actually a scarecrow made entirely of copper pots.
410 W Broadway, Suite A
Manhattan
New York
Espresso 77 is a convivial independent coffeehouse, serving its loyal clientele strong, full-flavored espresso in a bright, art-friendly space. Brewing beans from popular Ithaca-based Gimme! Coffee, the café's baristas place warm mugs of deeply aromatic cappuccinos ($3.60) and espressos ($2) into caffeine-craving hands. Complement bold java with a delicately sweet scone ($3) from Alice's Tea Cup or a Mom's-not-watching breakfast of frozen custard ($3.75) from Timmy O's. If the cafe's menu of coffees and teas gives your stomach the energy to draft a formal request for nourishment, order up one of the eatery's light and filling wraps ($6.50). For sweltering, mercury-rising days, the New Orleans–style iced coffee ($2.75–$4.50) will cool off foreheads faster than stepping into Mr. Freeze's cryogenic suit.
35-57 77th St
Jackson Heights
New York
Branson Got Juice proprietor Branson B. has been featured in press from Forbes to Fast Company for his dual connoisseurship of both hip-hop and fine champagnes. A veritable New York legend in the hip-hop and rap community, Branson's storied past includes work as a talent manager and on his own record label, but his curiosity, knowledge, and love of champagne are what's earned him immortalization in numerous lyrics by hip-hop artists and friends—such as the Notorious B.I.G., L.L. Cool J., and Elmo. As Fast Company puts it, "Fab 5 Freddy and other industry insiders credit Branson with having triggered rap's champagne craze in the first place."
In his Sugar Hill juicery, he shifts focus to fresh-pressed juices and healthy smoothies that deliver a potent nutritional punch. Veggies, fruits, and roots relinquish their liquid after a run through the juicer to become elixirs such as the Super Green with kale and spinach, or B's Wellness with carrot, beet, ginger, cayenne pepper, and a dash of magic potion. Smoothies and juices alike benefit from the addition of supplements such as bee pollen, whey protein, and spirulina, and wheatgrass shots let patrons knock back liquid health on the go.
741 St. Nicholas Avenue
Manhattan
New York
212-283-2700
Chic white shelves act as a clean palette to showcase Coco Le Vu's brightly colored rows of candy. Handy scoops encourage guests to mix and match their own signature combination of confections from the bulk jars that fill the pastel-colored shop. Every surface in the shop is populated with decadently filled chocolates, brand-name candy, and classic confections such as gummies, suckers, and jellybeans. The treats can be carefully selected for immediate consumption or fashioned into sweet-stocked gift baskets, which allow patrons to use tasty treats to show someone some love without filling their cubicle up with home-cooked steak dinners.
202 East 110 Street
Manhattan
New York
212-860-3380
The baristas at myWayCup Coffee whip up espressos, lattes, and other caffeinated beverages including the signature MyWayCup cappuccino in the cozy, kosher coffee shop. The intimate coffeehouse boasts a handful of small tables and stools for those who want to linger or enter a cribbage tournament. A glass display case brims with organic pastries, such as meringue cappuccino cookies, carrot muffins, and banana-cranberry muffins.
102 E 23rd St.
Manhattan
New York
US
646-368-1083
Snoball enthusiast Kafi Dublin knows that summer is fleeting but the memory of a flavored cup of shaved ice on a sweltering New York City day can last forever. So, to celebrate summer's ephemeral qualities, she partnered with clothier BrowNY New York, setting up a caribbean snoball stand in front of the clothing store from May through September. At the stand, Kafi and her team soak shaved ice in sweet, thick syrups crafted from a blend of castor sugar and an organic, unprocessed muscovado cane sugar from the Caribbean. Eighty flavors, including sugar-free choices, color the shaved ice in a kaleidoscope of greens, blues, and violets, while toppings such as tres-leches sauce add their own textures to the icy canvas. Kafi also doles out snowcreams and slushes and encourages customers to sample freely to narrow their choices and avoid the frustration of brain-thaw.
345 Lafayette Street
Manhattan
New York
347-507-2874
---