Newark Gyms and Fitness
---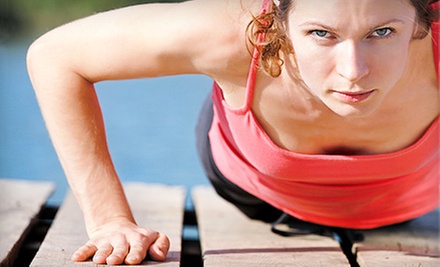 ---
Gym, Exercise, Weightloss Deals
---
Recommended Gym, Exercise, Weightloss by Groupon Customers
---
As part of the Chelsea Piers Sports & Entertainment Complex, located at the historic Chelsea Piers, the Golf Club perches over the same port that once welcomed ships into New York City. Now, golfers tee up in the driving range's 52 heated and weather-protected stalls, which overlook the glinting waters of the Hudson River. Automatic tee-up systems position balls for launch across the 200-yard, net-enclosed fairway. A putting green allows patrons to improve their short game, and two Full Swing simulators encourage them to take hacks in virtual environs, transporting them to famous courses across the country or fifth-grade birthday parties where they missed the piñata.
Children and adults alike can enlist in Golf Club at Chelsea Piers' classes, which stratify students by experience level. The 13-member coaching staff includes PGA and LPGA professionals, and sessions take place in a 2,000-square-foot teaching facility.
18th St. & Hudson River Park
Manhattan
New York
212-336-6400
re:AB is dedicated to preserving the methods and remains of Joseph Pilates through expert teaching and an in-house cryogenics facility. The studio's instructors undergo a minimum of 700 hours of training, observation, and apprenticeship before hitting the mats to help you strengthen your abs and back, reduce neck and shoulder tension, improve posture, increase flexibility, and enhance your ability to communicate with trapped animals.
33 Bleecker St.
New York City
New York
US
Brooklyn Bridge Boot Camp's founder Ariane Hundt, whose classes have frequented the media, runs courses centered around simple-yet-effective moves geared toward challenging camp neophytes and gym buffs alike. All width-whittlers can expect classes to combine cardio-pumping jogs with strength sessions as Ariane and her staff of certified personal trainers turn unassuming benches, fences, and naturally occurring ThighMasters into accompaniments for toning moves that use body weight and other instruments for resistance. Each one-hour workout torches up to 800 calories, and most bodies appear noticeably slenderized after a quintet of classes.
Park Row and Centre St.
Manhattan
New York
Purge your system of pesky toxins, feel your muscles and tendons soften into gumbyesque suppleness, and sweat out tension from every pore. With today's deal, $59 gets you a month of unlimited yoga at Big Apple Power Yoga, an inspiring yoga studio in the Theater District. Big Apple Power Yoga is an affiliate studio of Baptiste Power Vinyasa Yoga, the rigorous, detoxifying style that's making practitioners sweat worldwide. Feel cleansed, invigorated, and powerful with all the yoga you can eat for a whole month.There once was a flexible gal, Whose yogic skills never did fail, When forgetting her keys, She just pulled in her knees, And squeezed through the slot for the mail.
320 W 37th St #10
New York
New York
US
Wendy Traskos's career as a pole-dancing icon began with one fateful spin. Impressed by the strength of self-expression she glimpsed in accomplished pole-dancers, she tried the art for herself and was hooked immediately, so much so she has been honing her spinning skills for 16 years. Now a self-taught professional, she channels her background as a certified personal trainer and gymnast to enhance her routines. Wendy's fitness knowledge landed her celebrity clients, including Montel Williams and Mary J. Blige, and her proficiency on the pole led Germany's version of America's Next Top Model to feature her as a dancing expert.
At NY Pole studios, Wendy passes on her spiraling prowess through her original Climb and Spin method. She believes that students should build a foundation of muscle and a repertoire of techniques as they progress to more advanced pole tricks, which require them to shed all rock-climbing gear. Her classes accommodate varying skill levels with choreographed routines, motivating participants to practice recently learned grips, climbs, and transitions. The studios also offer fitness classes, private parties, and workshops led by guest instructors such as Cleo "The Hurricane," also known as Miss Pole Dance Australia.
333 W 52nd St., Suite 806 & 802
Manhattan
New York
866-568-1274
Helmed by owners with professional dance experience, Pilates Shop/Yoga Garage forges steely abdominals and razor-sharp focus with intimately sized Pilates sessions. The 55-minute classes give instructors a venue for conducting kinesthetic symphonies of harmoniously arching sinews. Small groups of no more than five students work through a choreographed regimen that includes mat work, reformers, and learning the perfect sweater-folding technique. Instructors pay careful attention to each individual, helping hone students' mastery of the laser-focused concentration and meticulously controlled motions that characterize Pilates. Armed with an understanding of proper form, students can begin to improve their posture and balance and bolster the mental focus needed to solve hieroglyphic crossword puzzles.
2805 Broadway
Manhattan
New York
212-316-9164
---