Restaurants in Newark
---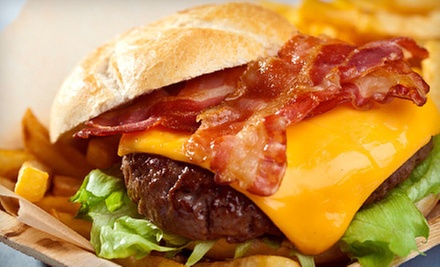 ---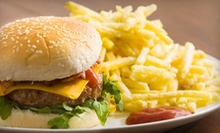 Hearty lunches of whiskey barbecue, crocks of chili, burgers & wraps in traditional Irish pub with quaint décor & large-screen televisions
Use Monday 11:00am - 2:00pm
---
Recommended Restaurants by Groupon Customers
---
The clean, modern eatery, with stark white walls and a wraparound bar, boasts a fresh menu of quick vegan fare and all-kosher treats for breakfast, lunch, and dinner. Grab a vegan apple-cinnamon donut ($3) and enjoy baked breakfast on the go, or stop in for a quick lunch. Sample from the selection of healthy hand-helds starring several meats in disguise, such as the bacon-cheddar chicken-ranch sandwich ($7.81) or the Skinny Elvis sandwich ($5.47), with creamy peanut butter smushed into caramelized bananas. Wraps and salads, such as the bean salad ($5.97), which marries Terri's special six-bean blend with corn, peas, red onions, agave, and balsamic vinaigrette, offer filling fare, while the sweet selection of smoothies, fresh juices, and shakes, such as the choco-peanut butter or Butterfinger ($5.97) promise to please even the most ardent pro-dairy diner.
60 W 23rd St.
New York
New York
Stecchino's chefs seek out culinary inspiration from every corner of Italy to forge a menu of hearty, rustic Mediterranean cuisine. Their burgers represent a different Italian region according to the combinations of flavors and ingredients found there, including the grass-fed beef of the Piedmonte and the spice-rubbed tuna patty of the Sicilian. Each burger arrives on a freshly baked bun and glazed with a rosemary, paprika, or truffle and basil aioli. Housemade pappardelle pasta and grilled flatbreads also lend distinctive, homespun flavors to the menu.
A rich wooden bar, exposed brickwork, and deep earth tones help add a polished lounge-like atmosphere in the dining area. Fans line the ceiling to circulate cool, fresh air throughout the entire room and pop slowly deflating balloons clustered around the wide beams.
765 9th Ave.
Manhattan
New York
212-397-2377
An intimate dining space sets the stage for Kuta's wide variety of flavorsome, Indonesian-influenced fusion cuisine. The prix-fixe menu offers one satay, appetizer, entree, and dessert ($25). Initiate your intake by coupling the Indonesian Madura satay (no extra charge prix fixe, $4.25 solo), featuring sweet soy-swabbed chicken or steak skewers with adornments of peanut sauce and crispy shallots, with the curry puff (add $2.25 on prix fixe, $6.95 solo), a succulent combo of chicken, onion, carrots, potato, and peanut sauce. Entrees such as the spicy Kuta burger ($3.95 extra on prix fixe, $12.95 solo), which combines a 10-ounce sirloin slab with onion brioche, grilled pineapple, and savory garlic fries, embody Kuta's skill for blending Old-World tastes with newishness. Cap off a pleasant evening with the crusted coconut fried ice cream (add $1.25 on prix fixe, $4.95 solo), which features pineapple and raspberry sauce adorning a fried scoop of vanilla.
65 Rivington St.
New York
New York
At Vic's Bagel Bar, bagel buffs can get extra-choosy about their favorite boiled and baked bread-ring selections. The menu boasts 16 pseudo-donuts ($1.10 each), 13 spreads ($2–$6.10 per quarter-pound), and 42 mix-ins (most are $0.50), which can be combined to create designs that are made-to-order right in front of the customer. Start by snagging the bagel of your wildest dayfantasies, including cinnamon raisin, pumpernickel, and whole-wheat everything, and add a delicious spread: hummus ($4), Nutella ($4), tofu cream cheese ($3), or egg-white salad ($4.75). Then, confuse your taste buds with a delectable lineup of mix-ins, such as peaches, cucumbers, goat cheese, and wasabi, to end up with the final product. Wash out your gullet with a small iced coffee ($2.25) or a large flash flood of herbal tea ($2.10).
544 3rd Ave.
New York
New York
Since the days of the Silk Road, thousands of years ago, traders and travelers have taken the Khyber Pass, a mountain road that cuts through the borders of Afghanistan and Pakistan. When they set up camp, many different cuisines mingled over campfires, inspiring traded recipes and flavors. Today on St. Marks Place, the Khyber Pass restaurant commemorates the diverse cuisines of its namesake by serving both Afghani cuisine and diverse Middle Eastern dishes. Their dining room is decorated in an opulent traditional style, with layered rugs, draped tapestries, and fringed tablecloths inspiring New York Magazine to call it "a perfect spot for romantics on a budget."
34 St. Marks Pl.
Manhattan
New York
212-473-0989
Each night, dozens of high-definition televisions broadcast play-by-plays all around Snap Sports Bar's dark, retro interior. From behind the dark wooden bar, bartenders fuel the hurrahs of mingling fans with an eclectic mix of craft beers, cocktails, and shots along with a menu of pub food including hot wings, sandwiches, and burgers. Convivial at all hours of the day, the bar even has a party planner on staff to help arrange in-house events such as corporate meetings, birthday parties, and going-away bashes for migratory roommates.
248 West 14th Street
New York City
New York
US
646-350-0539
---