Restaurants in Newberg
---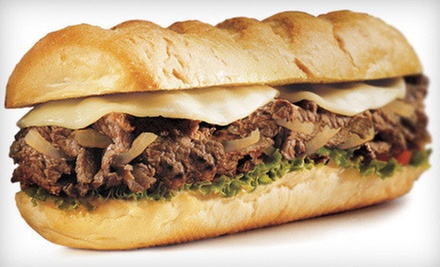 ---
Recommended Restaurants by Groupon Customers
---
Since 1846, the Miller family tended to herds of cattle in East Macleay, on the fertile plains of the Willamette Valley. Today Dan and Jerry Miller continue their family's legacy—though cattle no longer graze the fields, the pair still operates the ranch themselves along with their restaurant, Macleay Country Inn. Their specialties arrive on tin plates alongside baked potatoes and knives with wooden handles worn smooth. Fireplaces and paintings of forested scenery surround the solid-wood dining sets, which shine slightly under amber lights hanging from rough-hewn rafters. The restaurant hosts Monday-night bingo, sponsored by the Silverton Elk's Lodge, along with live music on select nights in its onsite pub.
8362 Macleay Rd. SE
Salem
Oregon
503-362-4225
As The Sandwich Shop's grill masters tend to the flames, swirls of smoke fill the outdoor air with the rich aromas of pork, briskets, and racks of ribs. When the time is right, they pass on their carefully smoked meats to the sandwich makers stationed inside the shop. These aficionados of the handheld then slather the tender morsels with barbecue sauce and enough coleslaw to stuff a midsize teddy bear. Though smoked meats remain the menu's foundation, the staff continuously experiments with new creations such as meatloaf sandwiches or biscuits and gravy made from their stash of juicy pork. They don't just work lunch and dinner shifts, possessing any unwavering eagerness to surprise morning diners with twists to the traditional egg sandwich.
1350 Hawthorne Ave. NE
Salem
Oregon
503-884-0542
What started as a refreshment stand during a 1924 Pioneer Day celebration has since grown into Arctic Circle, an eatery that transcends typical fast-food standards by building its menu items from high-quality ingredients. Black Angus patties support burgers stacked with mushrooms or bacon, and 100% Alaskan halibut keeps the fish sandwiches filler-free. Over more than 60 years of business, Arctic Circle has handcrafted original eats, such as a fry sauce blended from tomato and lemon, and the Brown Topper, an ice-cream cone dunked in chocolate and placed atop the heads of nearby gentlepersons. The dessert menu also includes milkshakes, whose creamy contents harvest flavor from real fruit or hunks of candy.
1415 Capitol St. NE
Salem
Oregon
US
When her two sons came back from Europe raving about the traditional liege sugar waffles, Mary did what any good mom and professional pastry chef would do: she learned how to make them. But Mary wasn't content with mere imitation––she wanted her waffles to be something unique, and so she spent several weeks crafting her own super-secret recipe that blended Belgian-style traditions with hard-to-source ingredients. After all that work, she knew her waffles were made for more than just maple syrup, and a slew of waffle-based dishes was born, incorporating toppings that include everything from thick-cut bacon and housemade salsa to scoops of small-batch ice cream and Guittard chocolate. Soon, she began serving the treats out of a converted Dutch-style door window in her husband's Bread & Ink Café, and her waffles quickly gained enough acclaim to be featured in Bon Appetit, as well as an episode of the TV show Portlandia.
Now operating from two locations, the staff still gives diners the option to devour their waffles on the go, but welcomes guests to linger longer in the warmth of covered indoor- and outdoor-dining spaces. There, steaming cups of locally-roasted Kobos coffee and glasses of blackberry-basil lemonade help wash down the waffley goodness, while a full line of frozen take-home waffles await to be warmed in home toasters or Mrs. Butterworth's loving embrace.
3610 SE Hawthorne
Portland
Oregon
US
503-239-4756
The Lumberyard is an indoor mountain bike park outfitted with jump lines, pump tracks, skill sections, and technical trail riding for bikers of all skill levels. The space also rents out bikes, helmets, and protective pads and hosts skill-building clinics. Nestled within The Lumberyard Bike Park's spacious surrounds, the cooks at Pub @ the Yard sate appetites with a mouthwatering menu of savory and sweet pub food. Patrons sidle up to rugged wooden tables and bars in the dining room, chowing down on burgers and pizzas as they hold up scoring signs to critique the technique of riders in the bike park below.
2700 NE 82nd
POrtland
Oregon
US
503-252-2453
---