Things to Do in Newberg
---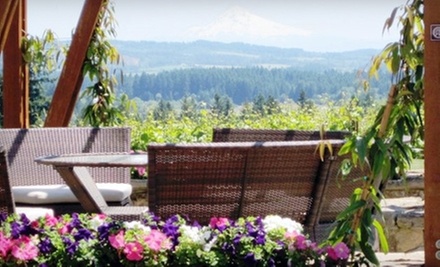 ---
Recommended Things to Do by Groupon Customers
---
Originally established and overseen by a committee of parents, Sip! McMinnville Wine & Food Classic began in 1994 as a small community fundraiser for St. James Catholic School. Today, the annual festival draws nearly 10,000 people to the Evergreen Aviation & Space Museum, requiring more than 300 volunteers to assemble regional winemakers, culinary masters, and artists. Vintners disclose trade tips as they peddle their ambrosial libations, all of which are ultimately ranked by a panel of professional judges into bronze, silver, gold, and best-of-show tiers. Guests can take wine-tasting classes, which teach sippers how distinguish fruity undertones from a banana hiding in their glass, or glean cooking tips from kitchen demonstrations and food booths. Throughout the weekend-long gathering, artists display their opuses in the form of tangible wares or live music.
500 NE Captain Michael King Smith Way
McMinnville
Oregon
562-310-8984
It was 1869 when the Lee family planted its first seed in the soil of Tualatin, Oregon. Today, three generations of the family still keep Lee Farms' lights on and its scarecrows vaccinated. They stock the country store with local produce, 18 flavors of honey sticks, and 17 varieties of jam. In the bakery, the staff hand makes pies each day, baking perennial favorites such as apple and seasonal flavors such as pumpkin.
To keep things fresh, Lee Farms rotates the selection of food and activities each season. In May a greenhouse surrounds visitors in flowers, and in October the farm transforms into a celebration of the harvest season, when guests can pick from 12 varieties of pumpkins. Lee's staff cuts down stalks to make a corn maze and drives visitors on scenic hayrides across the farm while they sample kettle corn and homemade cider.
21975 SW 65th Ave.
Tualatin
Oregon
Cinetopia's super-high-definition digital projectors, wide leather seats, fresh market-to-table cuisine, selection of local microbrews, extensive wine list, and art gallery have earned the cinema acclaim from multiple media outlets. The Mill Plain location boasts five Grand Auditorium theaters, each equipped with 50-foot, 2048p screens. Reclining seats ascend diagonally for unimpeded views, and ejection buttons allow audiences to escape the theater during too-scary shower scenes. The venue also houses three living-room theaters for patrons aged 21 and older with footrests, pillows, and waiters on hand. Live music performed from an overhead balcony fills these spaces before Friday and Saturday shows. View the schedule of current and upcoming showings here.
12345 SW Horizon Blvd., Suite 231
Beaverton
Oregon
503-597-6900
Sykart is an indoor karting company. We've got two tracks, one in Tukwila, Wa and one in Tigard, Or. Our facilities feature high tech European style karts capable of 40+ mph driven on fun and challenging indoor courses.
8205 SW Hunziker St.
Tigard
Oregon
On the screen before the trainee, an officer is down in the doorway, while down the hall within the scenario, an assailant shields himself behind a hostage. This is just one of the 160 high-definition real-world tactical scenarios—in addition to 180 virtual-range options—that play on the single-screen Threat Alley and 300-degree Threat Arena platforms, immersing marksmen in the kind of training used by law enforcement, the military, and special operatives. Using modified firearms that eschew ammo for an infrared laser and a CO2 system to produce recoil, each computerized simulator calibrates shooters' virtual shots, producing a recap for up to five shooters per round. The tactical scenarios also supply guests with return-fire belts, which deliver a small shock when either "hit" by virtual enemy fire or when one falls for, "Hey, what's that over there?"
Beyond overseeing their simulated tactical training and virtual ranges, Threat Dynamics' instructors—possessing a mix of military, law-enforcement, and NRA-certification backgrounds—lead classes in both armed and unarmed self-defense.
8250 SW Tonka Rd.
Tualatin
Oregon
503-692-2992
Come late July, plumes of lavender-scented steam arise from Mountainside Lavender's still and drift through the cool mountain air. As the season winds down, the farm's experts set to work extracting the essential oils from their sole crop via the millennia-old practice of steam distillation. With more than 20 varieties of french and english lavender dotting the side of Chehalem Mountain, farmers have more than enough buds to choose from for their small batches of oil, which many prize for its calming effects. What doesn't end up bottled may debut in the farm's selection of handmade soaps, massage oils, and eye pillows.
In addition to incorporating the potent herb into therapeutic goods, farmers open their fields to visitors, who can gather bunches of english and french lavender varietals that burst into purple, pink, and white blooms. They also welcome guests to pause from plucking, smelling, or explaining the concept of private property to bumblebees so they can savor a picnic lunch while soaking up views of Mount Hood and Saint Helens.
17805 SW Hillsboro Hwy.
Hillsboro
Oregon
503-936-6744
---