Beauty & Spas in Newburg
---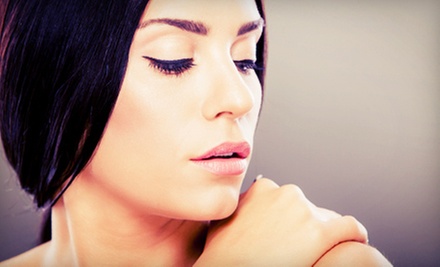 ---
Recommended Beauty & Spas by Groupon Customers
---
The accomplished tattoo artists at Xtreme Ink and Piercing stamp the skin with colorful, custom art and decorate the body with shimmering hoops and studs. Their repertoire of meticulously inked images ranges from whimsical pictures such as a giraffe or sentient ice-cream cone to more iconic visuals, such as a shadowy portrait of John Lennon or a bold emblem of Captain America's shield. The team also applies permanent makeup designed to match skin tone and personal style. Bright-red walls, leather couches, and hardwood floors create a salon-like interior, and 60-inch televisions distract clients wary of needles and getting burned by a flaming yin-yang symbol.
531 Eastern Blvd.
Clarksville
Indiana
812-282-8282
From the outside, Blades Salon and Spa looks like a dream home. Impeccably landscaped shrubbery frames its front doors and tall windows, and a fountain sends ripples through the flower-accented pond in the front yard. The greenery continues in the back of the house, where trees and plants circle another small pond, a popular spot where local pyrotechnicians cool off after starting a shirtsleeve fire.
Inside this idyllic setting, experienced stylists cater to clients' hair needs, whether customers are looking for a fashionable cut and color or hair-replacement services for adults and children. As part of their commitment to helping clients look and feel their best, staffers partner with Locks of Love, using donated hair to create top-quality hair prosthetics for children dealing with long-term hair loss due to medical issues.
132 Chenoweth Ln.
Louisville
Kentucky
502-893-0431
Paula Milby, an aesthetician licensed in both Kentucky and Indiana, kick-starts each of Glowing Face Therapeutics' rejuvenating treatments by offering clients wine, tea, or soda. Then, she uses her skincare expertise to carefully administer one of many services, ranging from relaxing facials to peels and scrubs to waxing. As a Lavish Lashes–certified lash technician, Paula can also enhance clients' eyes with long-lasting extensions, tinted eyebrows, and the ability to see through cops' sunglasses. Paula works out of three different locations: Salon 253 in Jeffersonville, reNew MediSpa in Louisville, and Looking Glass Salon and Spa in New Albany.
253 Spring St.
Jeffersonville
Indiana
812-218-9144
Located in an upstairs private room inside Studio Glam, BashFULL Lashes adds depth to coy glances and sly winks using Xtreme Lashes eyelash extensions. The studio stocks a spectrum of semipermanent lashes of various lengths, colors, curvatures, and thicknesses, which are applied one-by-one to the client's existing eyelashes. The resulting lashes appear thicker and longer without the use of mascara or fertilizer.
130 W Court Ave.
Jeffersonville
Indiana
812-725-9556
More than just a tasteful decoration, the yin and yang emblazoned on Salon 253's floor speaks to the sense of balance visitors can expect to achieve within the salon's relaxing confines. Salon 253 offers up four massage modalities as well as aromatherapy raindrop therapy treatment and detoxifying body wraps to help chase away tension, and Dana focuses on catering to each customer's individual needs to keep muscles as relaxed as the joints in the salon's rotating chairs.
253 Spring St.
Jeffersonville
Indiana
812-218-9144
The medical team at Ageless Medical Weight Loss Center & Medspa enhances beauty with custom weight-loss programs and cutting-edge technology. They draw from 60 years of combined experience to help clients shed pounds with six different medically supervised weight-loss programs, including NutriMed full- and modified-liquid dietary plans. The clinicians provide one-on-one counseling and advanced body-composition analyses that determine the percentages of a person's lean muscle mass, fat, water, and brain space devoted to memorized food-commercial jingles.
The center has tracked down the latest laser systems to provide skincare treatments with less downtime and discomfort. Palomar-certified registered nurses remove hair with the Icon's diode lasers, vacuum-assisted technology, and a large handpiece that cuts treatment time by more than half, all without the need for topical anesthetics. The crew uses the Lux1540 laser to reduce wrinkles without affecting skin's surface, and employs intense pulsed light to diminish sun damage, spider veins, and acne. To complement the benefits of a weight-loss program, medical staffers can reshape areas of stubborn fat with the radio-frequency energy of the noninvasive Exilis system.
4501 Shelbyville Rd.
Louisville
Kentucky
---