Massage in Newburg
---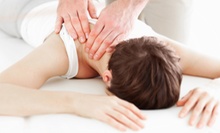 Massage therapist tends to her clients' physical and mental needs with custom strokes and therapeutic use of hot stones
---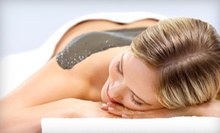 60 minutes of relaxation start with a botanical salt scrub before a body wrap's clays, fruit enzymes, and herbs detoxify
---
Recommended Massage by Groupon Customers
---
Whether you're an athlete with muscle pain from strenuous activity or just suffering from the aches of office work, Lyons will tailor your massage to suit your needs, varying techniques as necessary. The soothing environment of Relax Renew Revive is an ideal place to partake in full-body puttification. A private treatment room, simply furnished, with walls of deep teal, relaxes the mind and soothes the senses, priming torso and tailbone alike for relief.
130 Fairfax Avenue, Suite 2A
Louisville
Kentucky
502-523-2513
The licensed massage therapists at Light Hands Therapeutic Massage East focus on medical massages to help prevent injury and foster the muscular foundation for healthier, more pliable backs. The staff's gliding effleurage and smooth strokes supplement traditional medical treatments to flush the bloodstream and muscles of toxins, tension, and miniaturized submarines manned by overly ambitious research scientists. Therapists analyze clients' everyday habits for signs of trending problems and then proceed to address individual areas of tension to boost spirits and overall range of motion.
3002 Eastpoint Pkwy.
Louisville
Kentucky
502-794-4559
Vicky suffers from the pain and weariness of fibromyalgia. Don survived being hit by a truck while riding his bicycle, but was left with broken bones and contusions that contribute to his chronic discomfort. Louise's sixth-nerve palsy gives her double vision. Although each person's condition is dramatically different, all three have found relief at the hands of Elizabeth Slone, whose massages don't just soothe tension and ease sore muscles—they also help her patients manage their pain and heal.
Having honed her techniques at Lexington Healing Arts Academy, Slone has been practicing massage therapy since 2001, going hand-to-hand against troublesome aches using trigger-point and neuromuscular modalities. Her gifted mitten fillers are also well versed in orthopedic and adhesion release massage techniques, which can help break up the fibrous connective tissue that forms after injury, surgery, or ingestion of an entire throw rug. She serenades olfactory senses with aromatherapy scents during kneading sessions and can augment massages with reflexology.
Zandale Drive
Lexington
Kentucky
859-619-8711
At Adjustments & Acupuncture, Doctor of Chiropractic Deb Hirabai uses more than 14 years of acupuncture experience to guide her patients toward active lifestyles. A recipient of such treatments herself, Dr. Hirabai zeroes in on everyday disorders while drawing on methods such as spinal corrections, applied kinesiology, and traditional Chinese acupuncture and herbal formulas. Most treatments begin with a comprehensive exam, which allows her to map out a personalized solution for each patient rather than relying on a cloth map of Middle Earth.
233 B Alpine Dr.
Shelbyville
Kentucky
US
502-295-0631
When considering what to bring to a desert island, one might consider a snowmobile, a milk steamer, and one of Elite Massage Therapy's two therapists. The pair helm separate locations of the company, so customers will find different methods of relief depending on where they find themselves. From his station downtown, Jacob Kilbride specializes in sports-performance massage, supplemented by the rehabilitative Kinesio Taping Method and a Chinese scar-tissue mediation technique called gua sha. His journey began at Spencerian School of Massage, where he mastered anatomy and the fundamental techniques of Swedish, deep-tissue, and other modalities. Brennen Sneed mans the Highlands location, where he uses his massage therapy diploma from Spencerian College and experience mending football injuries for the Louisville Cardinals to enhance athletic performance with Swedish massage, hydrotherapy, and stretching techniques. Both experts complement therapeutic healing with sensory indulgence by keeping aromatherapy oils and hot stones on hand to dip into vats of molten chocolate.
1348 River Rd.
Louisville
Kentucky
502-558-5220
As a child, Hardin Field V spent his formative years working on a farm in his native Kentucky. The challenging work and constant exposure to the outdoors instilled in him a love for physical health and nature, two passions he combines in his practice at Stream Point Acupuncture. Field, now a licensed acupuncturist, joins up with licensed massage therapist Mandy Kiley to help foster health and well-being without drugs or invasive treatments.
Mandy's East Coast exuberance for life seeps into her work as a massage therapist. In each treatment, she channels her uncanny ability to search out hidden tension while maintaining gentleness and empathy for the client. As a spiritual counselor, Mandy's principal goal with massage is to guide clients towards the pain-free states of enlightenment that typically happen as one deeply relaxes or listens to Gordon Lightfoot sing about his childhood blanket.
3882 Mall Rd.
Lexington
Kentucky
859-492-3028
---