Newburg, KY Outdoor Activities
---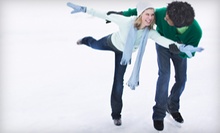 Two full-size rinks welcome guests during open-skate hours throughout the week
---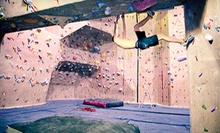 Rock climbers of all skill levels revel in a 4,000 sq. ft. facility
---
Recommended Outdoor Activities by Groupon Customers
---
A solitary moan drifts across a 15,000-square-foot warehouse. Lights flicker, and performers with horns, tattered clothes, and fake wounds surge through The Devil's Attic. Guests scatter in terror across cinema-quality sets populated by professional actors in makeup that lends to an environment reminiscent of a childhood nightmare or the time you got lost in the clown-art section of a museum. The scarred, bloody ghouls and sinister monsters offer scares suitable for humans aged 12 and older.
647 W Hill St.
Louisville
Kentucky
Designed by renowned architect David Pfaff, the 27-hole championship golf course at Quail Chase Golf Club splits into three par-36 courses that wind through the area's lush scotch pine, maple, oak, and dogwood trees. Limber up stiff clubs at the course's practice facilities, which prep ungainly irons for an 18-hole run with bermuda-grass tees, a USGA practice putting green, and a reserved area for rehearsing pre-shot ritual baths. Golfers can strike through two of the club's three 9-hole courses, manipulating orbs past the angular detours of dogleg holes and around four water hazards during approximately 4.5 hours of play. Concealed cart paths obscure scenery-marring vehicles and help to keep play flowing by restricting fairway victory laps to every other shot.
7000 Cooper Chapel Rd.
Louisville
Kentucky
502-239-2110
Along 1,000 feet of an indoor raceway, up to eight Sodi competition karts snake around bends and blaze through straightaways at speeds of up to 40 miles per hour. Instead of creating a typical tiny, circular path, the designers of Bluegrass Indoor Karting are proud to present a track that celebrates speed and skill. Their karts protect drivers from bumps and rolls with a three-point safety harness, bumper system, and no diving policy. They also design karts specifically for kids, which share the same specs as the adult karts but only max out at a speed of 25 miles per hour. From the 2,000-square-foot viewing area, guests can watch their friends chase down checkered flags, and the facility's 5,000 square feet of conference rooms accommodate youth birthdays and corporate events.
2520 Ampere Dr.
Louisville
Kentucky
502-297-9899
Baseball in Louisville dates back to 1876 when the Louisville Grays began playing as part of the National League. Soon after the turn of the 20th century, minor league baseball arrived in Derby City and for 70 years, the Louisville Colonels commanded it. Their departure in 1972, however, led to a period of inactivity, as well as a period of unemployed umpires roaming the city shouting "SAFE!" at landing birds. Ten years later, baseball returned with the arrival of the Louisville Redbirds, who eventually became the RiverBats in 1998, and simply the Bats in 2002. Over the years this franchise has spent time as the affiliate of three big league teams: the St. Louis Cardinals, the Milwaukee Brewers, and its current affiliate, the Cincinnati Reds.
401 E Main St.
Louisville
Kentucky
502-614-4515
Classic Biplane Tours' certified pilots helm modern versions of the 1935 Waco YMF, as they trace premapped and custom routes through the sky. Each pilot possesses years of professional flight experience, whether working as a missionary pilot, corporate pilot, or commercial pilot, and cheerfully shares savvy knowledge of the skyways throughout each flight via voice-activated headphones and microphones. Once safely returned to earth, passengers are bestowed certificates that designate them as qualified barnstormers, which budding aviators can then proudly display at home or use to legally commandeer an eagle.
2700 Gast Blvd.
Louisville
Kentucky
502-836-5252
At Farnsley Golf Course, you can sharpen your long and short game at a nine-hole, par-3 course or on multiple practice fields. In 2011, five of the course's greens got a makeover and all caddies were required to dispose of their shoulder pads and acid-wash jeans. Off the course, golfers can perfect their swing at a driving range lined with 300 yards of bermuda grass, or focus on chipping in a short-game practice area. If you're looking for more in-depth tweaks to your technique, feel free to enlist the help of a teaching professional with personalized lessons.
2275 Crums Ln.
Louisville
Kentucky
502-296-0149
---