Things to Do in Newburyport
---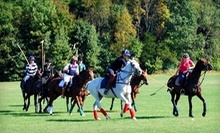 Knowledgeable instructors teach students of all levels basics of regal & fun sport with intro lessons & provided horses & mallets
Use Saturday 7:00am - 10:00am
---
Recommended Things to Do by Groupon Customers
---
Paramotor Tours sends adventurers skyward on the wings of motor-powered paragliders. Nationally certified pilots adhere strictly to FAA safety regulations as they strap in for tandem flights, lifting thrill seekers to heights of up to 8,000 feet. To help ensure smooth takeoffs and landings, each glider boasts several safety features, including reserve parachutes, GPS navigation, and a pause button. Adventurers who wish to pilot their own glider can sign up for a solo-flying course, available on select days.
Rte. 1
North Hampton
New Hampshire
866-866-2880
Chunky's Cinema Pub has been mixing the polished glimmer of modern technology with the gauzy glow of yesteryear for almost two decades. Eight screens mingle first-run blockbusters with themed throwback classics catering to children of the '50s or '80s. There, in the glow of the previews, is another testament to the melding of time—a contemporary dinner-and-a-movie setup brings with it the nostalgia of old-school drive-ins. Instead of traditional cinema chairs, individual cushy Lincoln Continental surround communal dinner tables, and the seats roll and recline to let guests maximize their comfort and customize their sightlines as they catch the onscreen action and pretend to be backseat drivers. At their tables, American pub snacks and entrées from the extensive menu spread out, combining movies with burgers, quesadillas, and steak tips.
While the theater blends old with new, Chunky's Bio Truck zooms into the future with a gas tank full of the 100% trans-fat-free canola oil used for cooking in the kitchen. The bio-fuel reduces the truck's greenhouse emissions and helps to decrease its carbon footprint, spreading an eco-conscious message to the community.
371 Lowell Ave.
Haverhill
Massachusetts
A stream of yellow and black buzzes by. It's not a swarm of bumblebees, but friends and family racing each other in yellow and black go-karts around Checkered Flag Indoor Karting's 23,000-square-foot speedway. Strapping on helmets and sliding in behind the wheel of 15HP electric karts, up to 10 drivers jockey for position while whipping around eight snaky turns and sling-shooting past opponents on the wide lanes along the 100-foot front stretch. The facility's electronic timing system lets speedsters check out their best lap times from each 20-lap race. Racers must be at least 54" tall or born with tires instead of feet to traverse that track, but during birthday parties kids aged 4–9 and at least 36" tall zip across the 100-foot Mini Cup track. With a snack bar slicing pizza and pouring soda and an arcade, the facility can play host to parties for older kids and adults, as well as corporate team-building events. And for kids and adults seeking serious competition, Checkered Flag organizes leagues lead by indoor karting champion, Tom Prioli.
239 Neck Rd.
Haverhill
Massachusetts
US
978-374-7223
For the past several decades, Bowl-O-Rama has been carefully tended to by the Genimatas family. Over its history, the alley has retained much of its original 1950s charm but, as co-owner Dale Genimatas says, "We are always updating and doing new things." Dale operates the alley with her husband and sister-in-law, who she says have been involved with Bowl-O-Rama their entire lives. Dale began working at the facility in 1979 and has since seen it grow to include a total of 28 candlepin lanes, computerized scoring systems, and a food-and-beverage kitchen where chefs bake hand-tossed pizzas and appetizers that include chicken tenders and cheese sticks. Throughout the year, the family hosts open-bowling hours and special events, closing only on Christmas Day to let the pins celebrate with their families. With each weekend comes the return of cosmic glow bowling, and each year brings annual fundraisers such as the Big Brothers Big Sisters Bowl-A-Thon. "It's a very electric environment," says Dale, reflecting on the scores of players and benefactors that come together each year to support the organization.
599 Lafayette Road, Suite 16
Portsmouth
New Hampshire
US
603-436-0504
The working cornfield at Marini Farm embraces the festive spirit of autumn by wearing a different mask each Halloween season. The corn maze has featured farm-themed shapes, a giant bald eagle, and a pirate design that was featured in the Wicked Local Ipswich in 2010. This year the 10-acre field is sliced into an outline of planet Earth, an astronaut, and a spaceship thought to occupy Buzz Aldrin's secret collection of pet Martians. The maize maze is designed to be both educational and interactive, with about 20 clue stations strategically placed throughout the labyrinth to help adventurers conquer the nearly 10 miles of paths. The maze is open during the day and remains open Friday and Saturday night for flashlight-lead escapades.
The smaller, less complex Finger Fortune maze delights younger adventurers, as do the apple cannon, jumping pillow, pumpkin patch, hayride wagon, and separate play area. For parents or guests staging a corn coup, the third-generation farm serves up a cornucopia of fresh veggies, bakery treats, and plants for purchase or for hurling at scarecrows creepily staring at them in the distance.
259 Linebrook Rd
Ipswich
Massachusetts
Bikram Choudhury requires a lot out of his teachers before he's willing to let them borrow his moniker. Each of Bikram Yoga Merrimack Valley's instructors has completed the nine-week course required for certification with Choudhury himself, including more than 600 hours of training. Every three years, they return for another bout of training to keep their skills sharp and instruction fresh.
Instructors pack all this knowledge into Bikram Yoga Merrimack Valley's 1,500-square-foot workout space, heated by a custom system designed to reach high temperatures with ease. The studio owners respect the environment with low-eco-impact carpeting, green cleaning supplies, and by frequently thanking the potted plants that guard the front door.
43 High St., Suite 310
North Andover
Massachusetts
978-689-9642
---