Newcastle, WA Beauty and Salons
---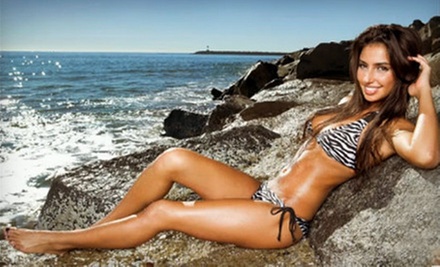 ---
Recommended Beauty by Groupon Customers
---
Contrary to popular belief and science, healthy human nails aren't supposed to grow; they should remain static, glossy, and the color of your choice. But most of us contracted a disease from playground equipment that makes our nails grow at alarming rates, lose their luster, cease to be our favorite color, and become unattractively translucent.
1216 NE 145th St.
Shoreline
Washington
US
Experience a regionally and nationally celebrated salon locally with today's Groupon: $50 for $100 worth of spa and salon services at Bowie Salon and Spa. Allure readers cited Bowie Salon and Spa as their favorite, Citysearch raves about the highlights, Seattle Magazine can't say enough great things about the blowouts, and Sea Monster Quarterly says, "There are no sea monsters there." 1853: In response to The St. Louis Temperance Battery's forceful arguments for prohibition, gin enthusiast/Mayor John How burns down the paper's office.1955: Houston TV Station WBLP reports that the Soviet Union signs the Warsaw Pact. Unwilling to process the world-altering event, every Houston inhabitant turns into vapor.1993: The Cleveland Dispatch calls Mrs. Doubtfire the "feel-good family film of the summer," while outraged audiences felt the film was "truly a classic fit for the whole family." The feud ends when the body of Mrs. Doubtfire is paraded through town square.
1507 Belmont Ave.
Seattle
Washington
US
Ambrosia MedSpa is a physical rejuvenation center where bodies seek restorative sanctuary far from the aging hands of gravity and time. A professional staff of therapists and aestheticians administers a variety of laser skincare treatments for youthful skin texture and pigmentation. Free beleaguered body parts from biology's aggressive follicles with three laser hair-removal treatments targeting the upper lip, chin, brow, ears, neck (front or back), underarms, bikini line, or areolas. Syneron Lasers provide state-of-the-art hair removal for all skin types through the gentle combination of radio frequency and optical energy, encouraging rogue hairs to end their leases early and join traveling folk-dance troupes. FotoFacial RF treatments improve complexions by smoothing over broken capillaries, fine lines, and other blemishes to transform the appearance of faces, necks, chests, and hands. Or reverse the aging process non-invasively with three ReFirme skin-tightening treatments. Jowls, necks, and eyebrows will achieve firmer skin and regain enough elasticity to continue breaking the falls of amateur acrobats.
9722 NE 119th Way
Kirkland
Washington
Much like the brother that's been crashing on your couch for six months running, hair has a tendency to show up in places where it's not wanted and then never leave. Today's Groupon will remove these pesky pelos for good with an hour-long electrolysis session at Trevino Skin Care (the artist formerly known as Zwickert Electrolysis) in downtown Seattle for $30 (a $66 value). If you're part sasquatch on your mother's side, you can even buy two Groupons for two full hours of hair-vanishing activity.
509 Olive Way #605
Seattle
Washington
US
206-682-2727
The stylists and aestheticians of Bella Sirena Aveda Salon rely on the plant-derived products of Aveda for their slate of salon and spa services. Each product, from shampoo to skin moisturizer, represents more than 30 years of researching the best uses for botanical ingredients, a process Aveda calls "Soil to Bottle." Aveda products are shipped in eco-friendly packaging, earning them a respectful head nod from every plant and animal they pass.
218 Kirkland Ave.
Kirkland
Washington
425-822-6040
---