Newington, CT Drs and Health Practioners
---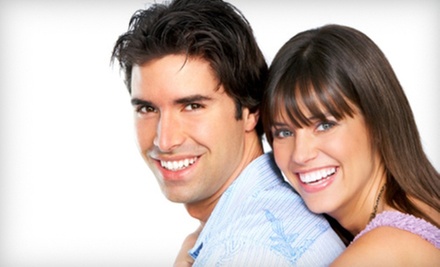 ---
Drs & Health Practitioners Deals
---
Recommended Drs & Health Practitioners by Groupon Customers
---
Little did Dr. Jan Iyengar know that visiting a homeopathic doctor 45 years ago would not only cure his asthma, but it would also stir a passion for homeopathy that's guided the rest of his career.
Since breathing easier, he's become a nationally certified massage therapist, homeopathic consultant, and board-certified hypnotherapist. Inside Body-Mind Wellness Center, Dr. Iyengar harnesses his advanced training in modalities including sports massage, trigger-point therapy, and myofascial release to help bodies drain metabolic waste and improve range of motion. His hypnotherapy sessions also open up his patients' subconscious minds to suggestion, helping them gain control over the negative feelings that lead to addiction, overeating, and strongly worded letters to the editor about fire-hydrant placement.
175 Main St.
Manchester
Connecticut
860-646-4791
Dr. Daniel Javaheri leads a team of dental experts in correcting shoddy smiles with a wide array of cosmetic and preventative services performed in a spa-like office. Dr. Javaheri promotes overall patient wellness using advanced technology, including safe sedation and digital x-rays, which emit much less radiation than Lex Luthor's kryptonite-flavored toothpaste. Smiles by Design uses composite fillings that match natural tooth coloring, and the dentists have also mastered dental implants, bridges, and crowns to isolate and repair unsightly damage to pearly whites. While patients wait for mouth refurbishings, the office lavishes them with paraffin hand treatments, heated blankets, and liquid refreshments from a beverage bar.
1263 Berlin Tpke.
Berlin
Connecticut
US
Channeling more than 20 years of experience, Dr. Daniel Chaparro leads his staff in restoring brilliant smiles while emphasizing preventive care. He outfits his office with the latest technology, such as CEREC one-day crowns and Invisalign braces, which straighten crooked teeth while remaining virtually invisible. Using LumaLite technology, the staff whiten teeth in an accelerated, personalized process that allows them to shine for three to six months without the use of plutonium-coated porcelain caps.
1263 Berlin Tpke., Berlin
Berlin
Connecticut
US
55 may be the number in the business's name, but the certified technicians at Laser55 are partial to the number 3. That's because there are three steps to their nonsurgical weight-loss program: lipo laser, whole-body vibration, and an amethyst bio-mat. First, patients relax as a technician passes the noninvasive lipo laser over skin, where it penetrates fat cells and drains them. Then, they step onto the whole-body-vibration platform, which quickly shakes up muscles to trigger contractions that work to burn off the newly liquefied fat. To cap off the three-step treatment, patients lay atop an amethyst bio-mat, which kick-starts the lymphatic system while ionizing the blood to promote detoxification. This helps the body to flush fat from the system long after the appointment ends. While the staff can perform each treatment separately, they recommend their patients go through all three steps, since the laser, vibration platform, and bio-mat all suffer from severe separation anxiety.
846 Farmington Ave.
West Hartford
Connecticut
860-906-1294
Since Dr. Philip E. Pilon founded the Center for Dental Excellence more than 45 years ago, his practice has expanded to employ two more dentists and a full staff of qualified tooth tenders. The team operates in an antique-style house whose cozy living room, which acts as the reception area, contrasts with a constantly updated cache of self-aware dental technology. Sedation dentistry, digital x-rays, and laser technology carry out both cosmetic and general services. The office's philanthropic Give Kids a Smile clinic provides dental care for youngsters, and Dr. Pilon's office also champions the dental charity Mission of Mercy.
625 Hopmeadow St.
Simsbury
Connecticut
860-658-1991
The Beautiful Image system sculpts faces and bodies alike with the stimulating power of microcurrents. Its noninvasive silver metal wands emit specific frequencies that, when drawn across the skin, encourage the underlying tissue to return to a tauter, more-youthful state. These currents target crow's-feet and drooping jowls, as well as soft bellies and cellulite. Photos taken before and after treatments and news segments about the procedure back up the system's efficacy.
1097 Farmington Ave.
Berlin
Connecticut
866-273-1401
---