Newington, CT Drs and Health Practioners
---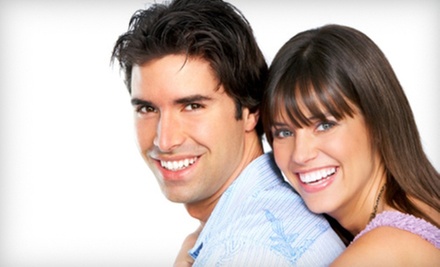 ---
Drs & Health Practitioners Deals
---
Recommended Drs & Health Practitioners by Groupon Customers
---
55 may be the number in the business's name, but the certified technicians at Laser55 are partial to the number 3. That's because there are three steps to their nonsurgical weight-loss program: lipo laser, whole-body vibration, and an amethyst bio-mat. First, patients relax as a technician passes the noninvasive lipo laser over skin, where it penetrates fat cells and drains them. Then, they step onto the whole-body-vibration platform, which quickly shakes up muscles to trigger contractions that work to burn off the newly liquefied fat. To cap off the three-step treatment, patients lay atop an amethyst bio-mat, which kick-starts the lymphatic system while ionizing the blood to promote detoxification. This helps the body to flush fat from the system long after the appointment ends. While the staff can perform each treatment separately, they recommend their patients go through all three steps, since the laser, vibration platform, and bio-mat all suffer from severe separation anxiety.
846 Farmington Ave.
West Hartford
Connecticut
860-906-1294
Since Dr. Philip E. Pilon founded the Center for Dental Excellence more than 45 years ago, his practice has expanded to employ two more dentists and a full staff of qualified tooth tenders. The team operates in an antique-style house whose cozy living room, which acts as the reception area, contrasts with a constantly updated cache of self-aware dental technology. Sedation dentistry, digital x-rays, and laser technology carry out both cosmetic and general services. The office's philanthropic Give Kids a Smile clinic provides dental care for youngsters, and Dr. Pilon's office also champions the dental charity Mission of Mercy.
625 Hopmeadow St.
Simsbury
Connecticut
860-658-1991
The Beautiful Image system sculpts faces and bodies alike with the stimulating power of microcurrents. Its noninvasive silver metal wands emit specific frequencies that, when drawn across the skin, encourage the underlying tissue to return to a tauter, more-youthful state. These currents target crow's-feet and drooping jowls, as well as soft bellies and cellulite. Photos taken before and after treatments and news segments about the procedure back up the system's efficacy.
1097 Farmington Ave.
Berlin
Connecticut
866-273-1401
Dr. Jeff Martone, DPM, FACFAS and the staff at Family Foot Care Center's two offices help feet find relief from disease-, age-, and grape stomping-related symptoms with an array of services. They wield advanced technology during treatments, including the fungus-thwarting Cutera Nd:YAG laser and a noninvasive testing system for peripheral arterial disease. In addition to treating foot woes, the staff contributes to patients' podiatric knowledge with a slew of educational resources available on its website.
11 Central Avenue
East Hartford
Connecticut
Vera Reed, a licensed massage therapist, is the wellness equivalent of a one-stop shop. In addition to mastering shiatsu, lymphatic drainage, energy balancing, reflexology, and other techniques over the past decade, she's dived into dietary and herbal studies. This makes it possible for her to provide holistic treatments for the whole body, rather than just one system or two really small toes.
In addition to caring for her patients with organic products, Vera and the staff of Body Nutrients also take care of the planet. Their efforts have resulted in the offset of nearly 2,000,000 pounds of CO2, over 16,000 pounds of waste kept from landfills, and the planting of over 1,000 trees.
45 S Main St.
West Hartford
Connecticut
860-833-6376
Across Visual Perceptions' three offices, a team of ophthalmologists and optometrists monitors ocular health and accuracy. In addition to standard eye exams, they administer emergency eye care and manage ocular diseases. Their offices house fine visual technology, including an OptiMap retinal-imaging system and an eye chart scribed by e.e. cummings. Once patients collect their fresh prescriptions, they can drop by the optical store, where licensed opticians outfit Gucci, Oakley, and Tom Ford frames with precisely ground lenses.
369 New Britain Rd.
Kensington
Connecticut
860-828-1900
---