Beauty & Spas in Newmarket
---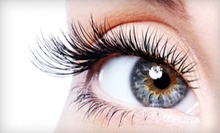 Synthetic extensions fuse to each individual eyelash to create fuller looks that can last up to 12 weeks
Use Today 10:00am - 6:00pm
---
Recommended Beauty & Spas by Groupon Customers
---
At Body & Soul Clinic, clinicians and aestheticians pamper and beautify clients with advanced technology such as lasers, LED lights, and light and heat energy (LHE) devices. Before removing hair with lasers, lightening pigmented skin with photorejuvenation, or brightening teeth with LED lights, the staff consults with clients to understand their skin's unique characteristics without having to interview their loofahs. Body & Soul can also take a less invasive approach to whole-body wellness with massages and naturopathic-medicine therapies.
37 Jacob Keffer Pkwy.
Vaughan
Ontario
Beneath the golden tassels of draped curtains, powder-pink treatment tables cradle the reclining bodies of visiting clients. There, the staff of K.Ka Beauty And Health Spa performs European-style skincare procedures—including facials, massages, and body wraps—with nourishing products and innovative technology. Meanwhile, nail technicians pamper hands, feet, and the work-weary talons of pet messenger falcons with a range of artful manicure and pedicure services.
8360-8362 Kennedy Rd., Suite B19
Markham
Ontario
905-489-2436
The certified aestheticians and laser technicians at Uptown Laser & Beauty Medi-Spa smooth and perfect skin, turning back facial clocks with a full array of cosmetic and clinical treatments. Inside the Spa's 1,400-square-foot facility, seven treatment rooms brim with the industry's latest technologies, such as the Palomar laser, whose intense pulsed light treatments gently reduce the appearance of facial wrinkles and blemishes, and other laser treatments banish unwanted hair from the face, body, or that look-alike staring back at you from the other side of the mirror. An all-purpose beauty bar, Uptown boasts in-house experts in many aesthetic fields, including makeup, teeth whitening, waxing, and facials.
The Spa's atmosphere breeds a feeling of comfort, warmth, and professionalism with flickering candles and a decor of soothing hues. A complimentary beverage station cossets clients' thirsts, while the streamlined and modern decor maintains a clean aesthetic within.
15565 Yonge St., Suite 102
Aurora
Ontario
905-727-4240
The outlines of butterflies line the walls of Princess Nail Spa, adding a soothing sense of elegance to the posh purple- and white-hued salon. Specializing in the applications of acrylic nails and Shellac polishes, the spa's staff grooms nails as guests sink into the plush cushions of the pedicure station, chatting with friends or catching up on fictional friends on the spa's TV.
2-324 Hwy. 7 E
Richmond Hill
Ontario
905-881-2227
VIM Wellness Centre hopes to bring vim—an energy, enthusiasm, and passion for life—to every client through beauty and wellness treatments. These include custom meal and lifestyle plans crafted by a registered dietitian, as well as LipoLaser fat-reduction treatments. Vagheggi products are the esthetician's weapon of choice when cleansing and exfoliating complexions during facials and microdermabrasion, while the DermaFrac skin rejuvenation system combats wrinkles, acne, scars and more. Clients can also find comfort in five types of massage, including hot stone and reflexology, and acupuncture sessions, which are designed to rejuvenate the mind and relax the body.
883 16th Ave., Unit 2
Richmond Hill
Ontario
CA
905-763-7676
The services at Copper Creek Medi Spa are varied, but they coalesce around the goal of making guests both look and feel their best. The center's 10 different facials are a central part of that mission, since each addresses a different skin problem, from acne to wrinkles to dryness. Massages vary just as much, sometimes taking place in standard one-on-one sessions, other times in couples treatments, and occasionally even taking the form of four-hands massages, during which two therapists work away kinks in one client. Copper Creek also is outfitted with advanced laser and intense-pulsed-light systems, which remove unwanted hair, rejuvenate skin, and reduce the appearance of spider veins. But the med spa's space does not feels clinical—it features high ceilings, art-bedecked walls, and an indoor garden filled with plants that don't judge you for breathing the oxygen they didn't want anymore.
110 Nashville Rd.
Kleinburg
Ontario
CA
905-893-0777
---