Dance Lessons in Newmarket
---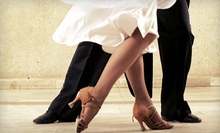 Studio cofounded by Fred Astaire trains students with a curriculum that breaks social dances down into easily combined components.
---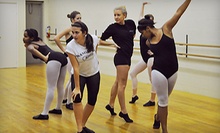 Yoga classes teach basic floor poses & positions to build strength, improve balance & emphasize mental clarity
Use Tuesday 7:30am - 11:30am
---
Recommended Dance Lessons by Groupon Customers
---
Dance District straightens out pairs of left feet with instruction in a variety of dance styles, including ballroom, salsa, disco, tango, and swing. With this deal, clients will get a one-hour private dance lesson from one of Dance District's dexterous instructors. Hit the private lesson solo to hone your skills with one-on-one attention or bring along a sweetie for no additional cost. Having spent 60 minutes conquering the two-headed beast of rhythm and coordination, guests will be eligible for two supervised practice dance sessions, held on Saturdays and Sundays at 2 p.m. Each two-hour practice session is overseen by a Dance District instructor, ensuring that pitfalls and bad habits are both side- and box-stepped. This Groupon also grants clients access to a Dance District dance party, held on the last Friday of each month. The 2.5-hour dance party brings together an armada of earnest movers and shakers, expanding guests' social circles through the unbridled power of dance and mutual interest in raspberry jam.
55 Mill Street Building 5
Toronto
Ontario
416-603-4004
Every Thursday, Jive Nation Toronto's students and instructors step into the studio to hone their dance abilities in a social setting. But before hitting the dance floors of local restaurants and clubs, the individuals dedicate their time to learning new moves. Fresh pop tunes fill the air as instructors guide students through a fusion of modern-jive, salsa-inspired, and swing moves. From this combination, beginners can absorb three–four common steps after their first lessons without having prior dance experience or recollections from past lives as Astaires. Partners are not required for lessons, as the instructors pair students together, which allows them to make new friends while learning how to become confident dancers.
188 Lowther Ave.
Toronto
Ontario
416-500-3314
Toronto Social Dance School's instructors teach students with all kinds of dance experience, ranging from beginners who have never set heeled foot to hardwood to seasoned dancers looking to learn a new style. The instructors must complete a rigorous training program before they can teach, so they are well-versed in a variety of dancing styles. They can teach students traditional ballroom and social dance routines and how to have fun doing the merengue, hustle, and waltz.
To ensure that each dancer gets the most out of private or group classes, teachers have friendly consultations with new students to determine their previous dance experience and evaluate their current skill level. This meet and greet helps the staff place students in classes full of dancers of similar abilities before teaching them to swing hips in a salsa class or toe-tap during a swing session. Regardless of what style students choose, all lessons offer a supportive atmosphere that helps build confidence, tone bodies, and forge new friendships.
In addition to dance classes six days a week, Toronto Social Dance School also encourages students to practice their shuffling during weekly socials held every Friday and Saturday night.
39 Glen Cameron Road
Thornhill
Ontario
905-763-2623
Jacqueline Gobeil believes that everyone can dance. She decided to prove her theory by teaching dance lessons form her own living room. Over the past 10 years, her one-room outfit has expanded to five studios in three locations and an annual recital showcasing more than 150 dancers of all ages. With each lesson, she teaches her students to exude confidence through their toes as they tickle the floor with an eclectic blend of ballet, hip-hop, and tap steps. Her curriculum aims to increase self-confidence, foster the development of new friendships, and improve fitness in students at any level or age.
77 Main St.
Unionville
Ontario
905-943-9009
Owned by veteran performer and choreographer Perri McCall—whose former students include Dancing With the Stars professionals Mark Ballas and Derek Hough—Performers Dance Studio's faculty teaches all ages the art of body movement in more than 10 disciplines. Within the 3,000-square-foot facility, classes of 15–20 students glide across two studios that sport flooring specifically engineered to support dance. Perri's accomplished faculty represents a diversity of performance backgrounds and specializes in instilling creativity in younger pupils while emphasizing the technical foundations necessary for all ages to be proficient in dance styles such as jazz, musical theatre, hip hop, tap, and Morse code tap.
2380 Royal Windsor Dr.
Mississauga
Ontario
416-522-0856
The seeds of Chantel Almeida's 600-student shimmying empire were humbly sown 25 years ago with a class of five in her parents' basement. These days, the school's annual summer camps boast such smooth-moved visitors as Jesse Weafer and Joey Arrigo from "So You Think You Can Dance Canada." Ballroom, hip-hop, ballet, Zumba, and tap are just a few of the year-round courses the school opens up to recreational and competitive dancers aged 2 through adult. A mezzanine overlooking the studios' gleaming sprung floors and a sky-lit lobby equipped with camera feeds from classrooms mean that parents no longer need to identify their children's footsteps by ear to keep track of the littlest leapers.
28-16715 Yonge St., Suite 28
Newmarket
Ontario
905-836-8040
---