Tanning Salons in Newport Beach
---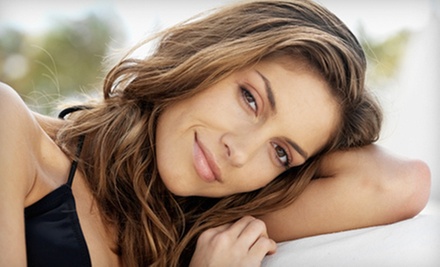 ---
Recommended Tanning Salon by Groupon Customers
---
Seven days a week, tanners bask under high-powered bulbs shining inside Miami Tan's tanning beds, which span Levels 1, 2, and 4 when delivering body bronzes. Alternatively, Mystic spray-tan nozzles spread sunless product over pores to produce a summery glow that rivals that of the solid-gold Speedo worn by King Midas. Miami Tan also offers red-light-therapy treatments, which aim to increase collagen production and help reduce the appearance of wrinkles.
4937 Las Virgenes Rd.
Calabasas
California
818-880-8267
Upon entering the softly lit interior of Caribbean Tans, guests are bathed in the appropriately golden glow of hanging pendant lamps. After checking in with receptionists behind a desk of cream-and-tan tile, they'll pick up complimentary goggles and towels before proceeding to a room. Trained staff members illuminate visitors on the nuances of each tanning option, from all-natural SunFX airbrush bronzing to a variety of UV beds equipped with satellite radio.
148 Main Street
Seal Beach
California
562-493-8269
Drawing inspiration from the natural light that fills the salon, the NTTI-certified staff at Life's A Beach Tanning Salon & Boutique strives to create a natural tan for its guests with UV and spray tanning. The salon's eight UV beds help clients to build up a warm glow throughout the year, and automated Mystic booths and custom airbrush-tanning sessions provide a seamless tan without exposure to UV rays or lifeguards who think they're the boss of you.
Tanning staff members help clients to choose from a selection of designer accelerator lotions, and the boutique showcases clothing, swimwear, and accessories. Onsite aestheticians and nail techs go beyond enhancing skin with a healthy-looking glow by sprucing up fingers and faces with salon services.
5145 E Los Angeles Ave., suite 10
Simi Valley
California
805-579-0076
Since 1984, Sunsations Mystic Tan has beamed more than 10,000 clients to a healthy glow in traditional tanning beds and sprayed customized bronzes with Mystic spray-tanning services. Clients can catch rays in standup or lie-down beds, including the Super Orbit bed, which keeps clients cool and comfortable during 12-minute tanning sessions with a personalized air-conditioning and water-misting system. Aloe vera, vitamins, and pharmaceutical-grade DHA bronze and soothe skin after the staff evenly coats skin with VitaMist solution during sunless Mystic spray tans. In addition to tanning services, Sunsations offers red-light therapy, which targets acne and skin problems, may help regulate sleep, and effectively masks bashful blushing.
16257 San Fernndo Msn Blvd.
Granada Hills
California
818-360-5838
The knowledgeable staff at The Body Bakery helps clients start their golden glows during any season at an upscale-salon space where even the air is decorated—with the smell of chocolate cake. Each of the beds are arranged in order of UV power from Levels 1–5. Patrons climb into a bed inside a private room where they can get epidermises glowing without worrying about other visitors' gazes or the tanning-bed paparazzi. Hydration beds moisten skin between tanning sessions, and a red-light-therapy bed slings infrared photons into the skin to stimulate collagen and reduce the appearance of wrinkles.
18399 Ventura Blvd., Suite 3
Tarzana
California
US
At Coco Beach Tanning Salon, tanning savants strive to stay abreast of the latest bronzing techniques. Their fleet of tanning beds furnishes occupants with aromatherapy, hydrotherapy, and a surround-sound system. For clients who prefer a UV-free glow, trained and certified spray-tan artists meticulously spritz skin with Norvell bronzing serum, which they customize to suit customers' desired hue. Additionally, staff are happy to offer tanning tips for keeping skin as golden and smooth as King Midas's pet porpoise.
1720 E Los Angeles Ave., Suite I
Simi Valley
California
805-520-7800
---