Newport, KY Health and Fitness
---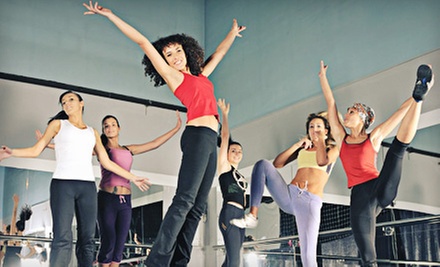 ---
Recommended Health & Fitness by Groupon Customers
---
The doctors at NKY Weight Loss, a nutrition-based weight-loss facility owned and operated by physicians, help clients slim down with custom weight-loss programs. After listening carefully to each patient's goals and health histories, doctors create custom nutrition plans that increase protein intake and limit carb intake. They also suggest exercise programs to build fat-fighting muscle without having to bench-press the living room sofa. Additionally, doctors may prescribe appetite suppressants and recommend natural supplements in order to facilitate weight loss.:
20 Medical Village Dr.
Edgewood,
Kentucky
859-242-1542
In addition to its extensive list of fitness classes and well-furnished workout studio, Revolution Fitness harbors a community of patrons seeking a healthier lifestyle and the desire to attain that goal with the support and camaraderie of others. The studio's predominantly female client base takes advantage of 20 pieces of cardio equipment—such as the Cybex Arc Trainer—featuring personal TV screens and 80 channels of entertainment.
Group fitness rooms host sessions of TRX training or Pilates reformer as ladies peddle toward their ideal physique on one of 20 cycles in the spin room. Offering a personalized approach to fitness without the arduous task of teaching a treadmill to speak your name, Revolution's certified trainers inspire patrons to actualize their goals with one-on-one support and motivation. And to supplement, an onsite nutritionist balances the physical training with professional advice.
4642 Ridge Ave.
Cincinnati
Ohio
513-272-2345
Established in 1996 as Ohio's first certified Pilates studio, BodyMind Balance provides years of experience and knowledge for fitness-seeking students. BodyMind Balance's mat classes are taught in Classical Pilates style and conducted with nothing but a polished wood floor, a mat, and a lot of super-motivating eye contact. Beginner and advanced classes are available several times a week in the airy studio. Pilates strengthens, lengthens, and shapes the body by utilizing ancient Jedi techniques without the need for expensive, hair-singeing lightsabers and humid training on swamp planets. It also relieves stress, de-slouches one's posture, and increases lung capacity so that you can stop avoiding long sentences when you speak. This Groupon is also valid toward Gyrotonic group classes.
1940 Dana Ave.
Cincinnati
Ohio
Montgomery Dental Care's teeth-whitening process can restore the sheen dulled by caffeine, tobacco, and motorcycling through licorice fields without resorting to the abrasive whitening substances that are commercially available. Visitors will benefit from professional-grade whitening materials, including teeth-whitening trays that fit as snugly as an enamel-craving koala gripping a tooth tree, as well as top-of-the-line luster-restoring gel.
9563 Montgomery Rd.
Cincinnati
Ohio
A cleaning might not cure brain fever or hammer toes, but broken fillings and cavities can't hide from Dr. Barry P. Gibberman's expert eye (his left eye). Your treatment begins as one of the friendly tooth technicians snaps on his business gloves and gives each of your shining enamels a thorough look-see ($120), taking some x-ray glamour shots ($60) to reveal any cracks, fissures, cavities, or political kickbacks from the tonsils before breaking out the rocket-powered toothbrush for an oral-hygiene throwdown. The meticulous cleaning ($75) gives the heave-ho to any tartar and plaque buildup, clearing the way for future generations of inevitable meal remnants. You'll leave with a smile bright enough to melt hearts, including your own, so be careful around mirrors. To ensure that your meal-crushing mandible toppers remain optimally mineralized, they apply a fluoride treatment to your teeth ($22), hardening the enamel.
9157 Montgomery Rd., Suite 105
Cincinnati
Ohio
513-793-2611
Beneath glimmering disco balls and colorful graffiti murals, roller skaters of all ages and experience levels careen across the hardwood floors of Fun Factory Roller Skating's indoor rink. The kid-friendly melodies of Radio Disney serenade pint-size skaters each Saturday morning, and top pop ballads resound across the rink on Saturday and Sunday nights. Gearing up patrons for wheeled motion, the onsite shop equips patrons with skates for rent or purchase, though customers are responsible for feeding and watering them.
Beyond the rink, the facility's sizeable arcade engages thumbs, and a bounce house ricochets lively lads and lasses off colorful, cushioned walls. After an action-packed day of exertion, guests can refuel at the concession stand with pizza and snacks. The center opens its facilities for private parties, field trips, and fundraisers while frequently inviting costumed characters to interact with kids and talk Wall Street with adults.
1631 Sherman Ave.
Cincinnati
Ohio
---