Restaurants in Newport
---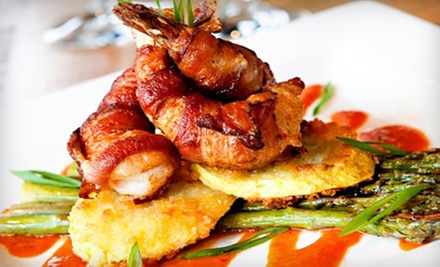 ---
Recommended Restaurants by Groupon Customers
---
At Embers, flames dance in a stacked-stone torch and gas lanterns, and atop the wicks of candles, all of which illuminate floral oil paintings and black-and-white photos of Cincinnati history. Just as the restaurant's name evokes images of fire, so too does its menu of steaks and chops aged for 28 days. The Filet Oscar arrives at the table with a king-crab crust–a touch that tips its hat toward the restaurant's seafood specialties. Seared scallops, grilled Scottish salmon, and broiled lobster tail grace the list, though the grill's flames bypass the extensive sushi selections. The staff recommends pairings with one of 11 signature cocktails or wines and beers from around the world.
8170 Montgomery Rd.
Cincinnati
Ohio
513-984-8090
Fish arrive fresh from the boat to fry on Tropics Restaurant's sizzling grill alongside a wealth of half-pound burgers, creative appetizers, and saucy pies forged from Mio's pizza products. The eatery's floor-to-ceiling windows grant sweeping views of the Ohio River, replete with the bounty of boats and pet narwhals tethered to Manhattan Harbour's slips.
1301 4th Ave.
Dayton
Kentucky
859-261-8800
Every seat is a window seat at 360 Restaurant, a revolving restaurant perched atop the Radisson Hotel Cincinnati Riverfront. Surrounded by art-deco accents, visitors take in ever-changing panoramas of downtown Cincinnati, tree-lined Covington, Kentucky, and the serpentine Ohio River. Not to be outdone by the view, the menu tops the dining room's ultramarine-blue tablecloths with a wide range of New American fare. Chefs plate steaks ranging from a 16-ounce rib eye to a 6-ounce bacon-wrapped petit filet, as well as seafood such as brown-sugar-marinated salmon. Eclectic small plates include an Asian-style shrimp tower and goat-cheese hushpuppies.
668 W Fifth St.
Covington
Kentucky
Tom + Chee co-owners chef Trew Quackenbush and Corey Ward are revolutionizing the grilled-cheese sandwich every day. What once was two slabs of boring bread and a simple, stupid slice of cheese has been reinvented by their kitchen, which churns out a menu of gooey sandwiches mentioned by the Today show and feasted upon by Man v. Food's Adam Richman. Most famous for a sandwich that combines glazed donuts, the eatery also fills an assortment of breads with gourmet cheeses such as brie and smoked gouda, crunchy potato chips, and cherry peppers. They recommend sandwiches always be dipped, which is why chefs tirelessly ladle bowls of tomato-based soups from bubbling pots all day long.
133 E Court St.
Cincinnati
Ohio
As diners walk into Aroma Restaurant and Sushi, they're greeted by a soaring display of multicolored panels glowing over the dark-wood bar. The aromas of seared sea scallops, tempura-battered thai sweet-and-spicy chicken, and short ribs cause mouths to water, and artful sushi displays dazzle with avocado green and orange-red dots of masago. The menu's selection of salads—including cold soba-noodle salad in mango dressing and a summer salad with arugula, watermelon, feta, candied bacon, basil, and mint—runs longer than the tightly curated selection of upscale entrees, which include tempura chicken, seafood, and short ribs. Chefs also pile sushi platters with 50–60 rolls to satisfy the cravings of a large group of people or a solitary alligator.
7875 Montgomery Rd.
Cincinnati
Ohio
You can still spot founder Bill "Mr. Goodies" Dickerson strolling around the Goodies Barbecue kitchen, testing sauces and ensuring the pork, ribs, and chicken are slowly pit-smoked just right. His daughter Creola Robinson has now taken over his business, overseeing the chefs as they dry-rub meats, fry up fish, and bake peach cobbler and chess pie.
They season a tangy tomato base with dashes of brown sugar and vinegar, resulting in the hot and mild barbecue sauces that reporters from City Beat lauded as "legendary." The barbecue artists have been perfecting these recipes since the restaurant's founding in 1986, and today, their sauce can be found on the shelves of local grocery stores and flowing out of the water fountains of select community parks.
5841 Hamilton Ave.
Cincinnati
Ohio
---