Theme & Amusement Parks in Newport
---
Theme & Amusement Park Deals
---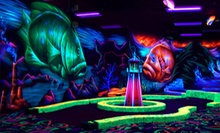 Mini golf takes putters on glow-in-the-dark journey, mini-bowling tests ball-rolling prowess, and golf simulators replicate PGA courses
---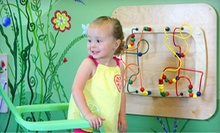 Toddlers romp in playroom painted with pastoral scenes & filled with mini slides, cloth tunnels & games to refine motor skills
Use Monday 9:00am - 12:00pm
---
Recommended Theme & Amusement Parks by Groupon Customers
---
In 1946, Ellis D. Atwood began to build a sanctuary for one of America's most magnificent beasts: the railway train, which was then on the brink of extinction. He rescued equipment from short lines in Maine and laid tracks around his cranberry bogs, where they would cart his harvests and carry visitors on scenic tours. These daytrips became such a draw that Ellis decided to augment his plantation with carnival attractions and holiday light displays. The park borrowed his initials to form its name, Edaville, and today, more than 65 years since Ellis purchased the first of his rails, the park continues to welcome families who flock there for the classic rides, outings aboard the train, and panoramas of growing cranberries.
A looming Ferris wheel rewards guests of all ages with a view of Edaville's layout. From the Tilt-a-Whirl and Red Baron plane rides to the old carousel and souvenir general store, the surroundings comprise a whimsical escape designed with young children and their parents in mind. To complement the 1,300-acre cranberry plantation, the Cranberry World exhibit provides a glimpse of antique cars and cranberry-harvesting gear, enlightening visitors with historical narratives about the fruit. Ellis's Playhouse contains a ball pit, maze, and train tables, which enable youngsters to see what subways looked like before they got shy and burrowed into the earth. Fall and winter seasons transform the park into a sparkling venue for Christmas lights and visits with Santa, with select dates offering magical rides aboard a train designed after the Polar Express.
7 Eda Ave.
Carver
Massachusetts
As neon obstacles glow under a series of black lights, teams move through two levels of mazes and catwalks as they avoid the photon blasts of opposing players' and the pitfalls of the 7,500 sq. ft. arena. While sprinting up ramps and seeking cover, players must avoid strategically placed laser mines that flash and beep before tagging anyone within reach, which effectively deactivates their equipment and James Bond trivia knowledge for 12 seconds. Players can earn points by blasting the mines first, while bases and targets offer chances to earn even more tally marks.
After futuristic battles conclude, guests can putt through an 18-hole mini golf course surrounded by alien planets and dinosaurs. Off the course, visitors can also sling skee balls and pop tokens into games in the arcade to win tickets redeemable for prizes. With a laser maze where players navigate beams of light and four party rooms added to the mix, Lazer Gate becomes the ideal spot for birthday parties or training camps for lethargic clones.
288 Plymouth Ave.
Fall River
Massachusetts
508-730-1230
Since 1989, the Biomes Marine Biology Center has immersed visitors of all ages in the lives of sea creatures through a range of hands-on programs. Though it recently moved to a new location, it has kept aquatic habitats focused on the denizens of Narragansett Bay and the Atlantic Ocean. Amid tanks of native and tropical species such as octopuses, horseshoe crabs, lionfish, tortoises, and sharks, the staff treats visitors to a range of events—including public feedings, educational demonstrations, and hermit-crab-socialization seminars.
In a separate area for kids aged 3–6 , staff members lead animal-themed story times, and walk children through corresponding craft projects afterward. They also organize birthday parties, during which kids can pet tide-pool animals such as eels, horseshoe crabs, and small sharks.
221 Shady Lea Rd.
North Kingstown
Rhode Island
401-295-4690
In 1958, Ryan Family Amusements founder James A. Ryan opened a simple, eight-lane bowling alley, planting the foundation for a slew of entertainment centers throughout Massachusetts and Rhode Island. At 10 locations, visitors enjoy a variety of arcade and skill games in addition to traditional candlepin, tenpin, or duckpin bowling. Every Friday and Saturday evening from 9 p.m. until midnight, bowling lanes take on an incandescent glow, allowing bowlers to experience futuristic entertainment without the inconvenience of rising jetpack-fuel prices. Bumper bowling is available for younger players, and an onsite concession stand refreshes responsible adults with glasses of beer and wine.
200 Main St.
Buzzards Bay
Massachusetts
Most physical confrontations involve a level of personal risk, but at Cartland of Cape Cod, fun-loving competitors let robotic Boxerjocks do the swinging. Safely tucked away in a cage of steel, operators trigger sidesteps with the thrust of a joystick and jabs with the punch of a button. The unusual attraction is just a taste of what the epicenter of family fun has to offer, from vintage Indy-style go-karts to colorful bumper boats and water-balloon slingshots. Visitors who want to keep dry can head to the 20-hole mini-golf course, batting cages, and the area of classic coin-operated kiddie rides, and can still escape the heat with a scoop of ice cream rather than laboring to befriend an iceberg.
3044 Cranberry Hwy.
Wareham
Massachusetts
508-295-8360
The phosphorescent, indoor landscape at Monster Mini Golf immerses putters in an eerie universe that inverts the sun-soaked cheer of conventional courses. Rimmed in glowing green barriers, 18 holes lure swingers of all sizes to challenge their coordination and resolve in the face of winged monsters, scowling animated trees, a creepy clown, and their opponents' shockingly dazzling smiles. Sheltered from searing rain and howling wind, the indoor course enables play around hazards such as a spell well and luminous, ghostly windmill at any time of the year. An in-house radio station and DJ mask the sound of pounding hearts with lively beats and course commentary, and golfers looking for additional glory can win prizes by participating in regular contests or at the onsite arcade (arcade games not covered by this Groupon).
140 Taunton Ave.
Seekonk
Massachusetts
---