Tours in Newport
---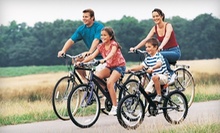 Lubed & trued two-wheelers roll along Sandwich Boardwalk planks as riders absorb sites of museums & unique village shops
Use Today 8:00am - 6:00pm
---
Recommended Tours by Groupon Customers
---
Now in its 16th season riding the rails, the Newport Dinner Train whisks up to 200 passengers through the lush lands and rich history of Aquidneck Island. A 44-ton diesel engine powers the locomotive, which pulls vintage 1940s dining cars, similar to the ones grandparents had to haul barefoot through the snow on their way to school each morning.
19 America's Cup Ave.
Newport
Rhode Island
401-841-8700
When the Newport Historical Society and the Newport Restoration Foundation joined forces, the result was Newport History Tours. Founded to celebrate the region's rich and vibrant history, Newport History Tours designed more than a dozen tours that explore the city's landmarks, historic sites, and more than 300 pre-Revolutionary War–era buildings. The tours touch on just about every aspect of the city's past, with themes that range from the colonial era and Golden Age to prohibition smuggling, historical criminals, and lantern-lit holiday strolls.
127 Thames St.
Newport
Rhode Island
EcoTourz's cache of bikes and kayaks furnish unique perspectives of the Upper Cape's natural splendor and Sandwich's historical charms. Guides usher small groups of kayakers down Historic Mill Creek, where herons and osprey soar above the tall grass while conspiring to overthrow the neighborhood mockingbirds. On dry land, EcoTourz staff rents out bicycles and divulges prime pedaling spots, such as the marsh-lined Sandwich Boardwalk or some of the Cape's oldest buildings.
18 Jarves Street
Sandwich
Massachusetts
508-888-1627
Since 2007, the team behind Historic Tours of Newport has carefully consulted literature and publications documenting Newport's heritage in its effort to chart engaging and enlightening van tours that propel passengers through more than 365 years of history. Expert guides dispense factoids about Newport's social, religious, and architectural past on 60- to 90-minute Ten Mile Ocean Drive tours, which whisk visitors past a plentitude of sites including Bellevue Avenue's 17th-century buildings and mansions, Chateau-sur-Mer's dainty gardens, and the tree stump where town loon Humphreys McCaw declared himself king. Guests eager to peek inside one of myriad mansions detailed on the tour can opt for a Majestic Mansion tour, which permits escorted entry into one of six elegant manors during Ten Mile Ocean Drive excursions. Patrons purchasing private tours can additionally elect the two-hour Newport Now tour, which explores the city's contemporary shopping malls, farmers' markets, and secret Redcoat-revivalist meeting places or custom design a tour around whatever sites and they yearn to behold.
23 America's Cup Ave.
Newport
Rhode Island
401-855-1942
The line to the men's room at Nimrod Restaurant is peculiar because it usually contains both men and women. Near the restroom's doorway, gatherers careen and crane their necks to see a 200-year-old hole and the projectile that created it: a cannonball from the War of 1812. This hands-on history lesson is one of many elucidated by the guides at Phat Tire Bike Tours. They backdrop their classroom against the scenic sights of crashing waves, lush gardens, and bustling downtown shops. Seated on personal bikes or rental bikes that correctly answer the question, "What's my favorite color?", groups can set out on tours of places such as Falmouth, Plymouth, Martha's Vineyard, or Nantucket.
14 Palmer Ave.
Falmouth
Massachusetts
774-454-8122
Segway of Newport makes the world smaller by equipping customers with wheeled transports ideal for exploring Newport's beauteous scenery. Crowned by TripAdvisor voters as the town's best tour company, Segway of Newport offers regular guided group tours atop Segways, Ultra Motor electric bicycles, and Dahon folding bikes. After a brief training session, patrons masterfully steer Segways toward Thames Street and onto scenic 10-mile Ocean Drive. Here, they coast past Newport Country Club and Gooseberry Beach before peering over the Cliff Walk's jagged edges and pondering whether the ocean is bouncy. Ultra Motor electric bikes reach speeds up to 20 miles per hour, driven by feet or their own enchanted power, whereas 7-speed cruisers or 21-speed mountain bikes allow riders to set a pace of their choosing.
438 Thames St.
Newport
Rhode Island
401-619-4010
---