Newton, MA Outdoor Activities
---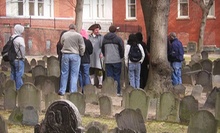 Follow a guide in a tricorn hat on a 90-minute exploration of colonial Boston through the uprisings that led to American independence.
Use Today 8:30am - 11:30am
---
Recommended Outdoor Activities by Groupon Customers
---
HipHost taps into the teeming river of local pride that runs through every city to power its huge range of sightseeing tours. Locals eager to unveil the true history and hotspots of their beloved home can contact the company to become tour hosts. Once new guides have set up their tour and peppered the website with pictures of the many sites to be seen, HipHost directs guests their way. Visitors might learn the history of an important historical figure such as Paul Revere on a Boston walk fueled by Little Italy's pizza and local craft brews, or they might skip the history lesson and, like a centipede in search of a stool, crawl from pub to pub in New Orleans. HipHost encourages guests to thank, review, and tip the local hosts for sharing their time and expertise.
50 Dalton St.
Boston
Massachusetts
617-520-4922
Cambridge Historical Tours unearths nearly 400 years of history during informative jaunts that cast light on the area's captivating, funny, and sometimes gory past. Sheathed in authentic puritan attire, guides lead groups on 90- and 120-minute treks back in time, fusing wholesome doses of humor with laboriously researched facts. Guests raise an imaginary glass at the house of John Hicks, a participant in the Boston Tea Party, and absorb the eerie ambiance of the Cambridge Burial Ground, where many of Harvard's early presidents are buried. The extended 120-minute tour reveals such sights as the picturesque Longfellow House, which was seized in 1775 to become George Washington's quarters, presumably so he could practice his putting game on the property's lush lawns.
Harvard Square
Cambridge
Massachusetts
617-520-4030
A floating dining and entertainment center, the Odyssey I cruise ship was constructed with open decks for hosting elegant cruises that drift by Boston's scenic vistas. Cruises pass by historically significant sights, including Charlestown Naval Yard and Castle Island, or drift under an illuminated night sky on full-moon cruises. A cappella brunch cruises combine music from an a cappella quartet with champagne and chocolate, and, on the Fourth of July, the world's oldest commissioned warship—the _USS Constitution_—offers a view of history during its trek across the harbor while guests enjoy a lunch of lobster and mussels. Regular lunch, dinner, and brunch outings serve guests with delectable multicourse meals. Live music accompanies evening cruises, which means guests can hit the boat's dance floor and show off their Nobel Prize–winning dance moves before the night's end.
60 Rowes Wharf
Boston
Massachusetts
866-845-3463
Lasting friendships could be a natural side effect of the fast-paced match play that occurs atop Franklin Park Tennis Association's Shattuck Grove courts. The nonprofit organization enlists certified tennis pros to teach fundamentals during summer classes and camps and winter indoor lessons, while fostering a sense of community among players.
On Saturdays during the summer, classes for kids, youths, and adults are scheduled one after the other. This gives parents an opportunity to chat as kids play, and players get some time to connect before hitting the courts. Competitors can walk away with new comrades and a greater appreciation for active, healthy living that's usually only obtained by blending a year's worth of fitness magazines into a morning smoothie.
1542 Columbus Ave.
Roxbury
Massachusetts
617-686-0593
Bastions of the abolitionist movement, Boston and its progressive citizens helped motivate activists across the nation to stand against slavery, thus fanning a flame that contributed to the Civil War. During a 90-minute Boston Civil War tour, groups walk among historically significant sites where figureheads such as Frederick Douglass and William Lloyd Garrison publicly asserted their outrage and sought refuge from enraged mobs. While strolling through Beacon Hill on Sunday, knowledgeable guides point out the African Meeting House—a recruitment center for Massachusetts' all-black regiment—and the homes of famous authors such as Louisa May Alcott, who pulled from her experience as a Union Army nurse to write Hospital Sketches in 1863.
139 Tremont St.
Boston
Massachusetts
617-413-6998
An antique paddleboat churns the water. Its gleaming white hull cuts through gentle waves and reflects the sun. Passengers gaze out of lower-level windows or rest their arms along the railings on an open upper level, where they stand sheltered from the weather by a striped fabric canopy. Cruise Boston_'s captains ferry visitors through the Boston Harbor along the city's waterfront and up and down the winding Charles River aboard this antique vessel and the _Henry Longfellow, a powered one-story tour boat. On sightseeing tours guides divulge the history behind the city and its waterfront buildings, explaining why most opted to construct stairs instead of water slides, as they pass the USS Constitution, Long Wharf, Bunker Hill, Back Bay, and Fenway Park. During warmer weather captains also pilot tours at sunset—during which bartenders sling cocktails from a full on-board bar, and summery music wafts from the deck and into the night.
290 Congress St.
Boston
Massachusetts
---