Professional Services in Newton
---
Professional Service Deals
---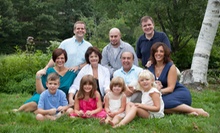 Photographer specializing in available-light photography snaps portraits of families and graduates in outdoor settings
---
Recommended Professional Services by Groupon Customers
---
The sartorial pros at Komal's Custom Tailors and Clothiers craft and fit men's and women's bespoke suits, jackets, shirts, dresses, and tuxedos to match each client's frame and taste. Choosing from more than 2,000 fabrics from global brands such as Royal Oaks and Ermenegildo Zegna, tailors outfit shoulders in swank jackets ornamented with hand-sewn buttons or tuxedos that keep men looking sharp while standing on top of nearby wedding cakes. Fittings in the outfitter's Framingham storefront grant the tailors the opportunity to capture all information needed, and appointments scheduled in patrons' homes or offices accommodate busy schedules or those who need final approval from judgmental family pets. Kaleidoscopic ties and accessories complete fetching ensembles, and gift certificates and tuxedo rentals sail into special events when needed
331 Worcester Rd.
Framingham
Massachusetts
508-872-9669
Now a professional photographer who trained at the New England School of Photography, Erik first cottoned on to photography while living in Europe. Awestruck by the beauty and excitement that comes with trekking around unfamiliar places, he wanted to pull the sights through the lens of his camera and keep them from weathering in his memory. His newfound passion for photography snuck into his luggage on his trip back to the U.S., where it grew into a full-blown career of photographing boudoir shoots and weddings.
Patton Boudoir's 900-square-foot studio, decorated like an old-fashioned dressing room, sets an elegant backdrop for tasteful photo sessions. Commercial lighting casts a flattering glow over skin, and bottles of champagne set a festive mood. During boudoir sessions, Erik uses a mix of humor and specific direction to create images that draw out each client's personality, celebrate their beauty, and show off the elegant curve of their antennae. Depending on the package, the shoot takes the form of a full-fledged event with professional makeup artist Michelle working at Erik's side, styling hair, applying makeup, and orchestrating the wardrobe. After the shoot, Erik lightly retouches and individually tones prints to mimic darkroom techniques.
215 Boston Post Rd.
Sudbury
Massachusetts
617-959-0767
Inside Playground's family-oriented play palaces are the creative invention of a mother and veteran pre-school teacher with expertise in combining fun activities and learning. Kids aged 6 and younger remove their shoes and gleefully enhance motor skills in a supervised carnival of colored ball pits, inflatable structures, and safe child-size gym equipment. In addition to the main play area, the indoor, year-round facility also supplements the scampering with an array of sit-down games and puzzles designed to nourish developing neurons. Party rooms host birthday shindigs with plenty of parent-friendly seating and free WiFi. Inside Playground has a schedule of weekly events, such as visits from Barney the dinosaur, Elmo, and magicians who pull rabbits out of children's ears.
100 Parker St.
Watertown
Massachusetts
US
617-923-1772
Roberta Dehman Hershon founded Hope in Bloom after her lifelong friend and fellow gardener died of breast cancer in 2005. The organization designs and installs indoor and outdoor gardens at the homes of Massachusetts residents who are undergoing treatment for breast cancer. With gardens tailored to each individual's living space and lifestyle, they serve as tranquil sanctuaries and have helped improve the quality of life for women and men with breast cancer and their families during what is often a stressful time.
See how Groupon helps you discover local causes and lend a helping hand at the Groupon Grassroots blog.
202 Bussey St.
Dedham
Massachusetts
---