Newton, MA Spa and Massage
---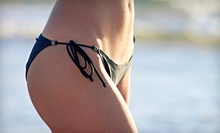 Salon technicians anoint epidermal layers with treatments to reduce the signs of aging
Use Today 10:00am - 7:00pm
---
Recommended Spa & Massage by Groupon Customers
---
Massage therapist Michael Moore keeps the Boston Ballet limber. The award-winning healer has been the company's go-to bodywork provider for the past four years, and its dancers say he "truly understands the physical needs of the body." Before joining up with the ballet, Michael had plenty of experience maintaining hard-working bodies as a therapist for athletes, such as the U.S. Ski Team in Vail.
But Michael doesn't discriminate, and he gives each of his clients the same high-quality rubdown that the athletes enjoy. This attention to detail earned him Boston magazine's Best Massage Therapist award from 2006 to 2009. The magazine credited Michael with "consistently thorough handiwork that reversed our laptop shoulder and boosted our energy for days." He and former college athlete Steven Toland perform Moore Massage's treatments, which range from traditional Swedish kneads to Active Release Techniques, a patented style that aims to break up scar tissue and codependent muscles.
105 Newbury St., Floor 4
Boston
Massachusetts
US
617-424-4000
There are three different relaxing options for you and your significant other to choose from (and a fourth option if your significant other is you), giving you one last thing to debate before all your worries drip into a puddle of feel good.
249 Newbury St.
Boston
Massachusetts
An Aveda-concept salon, Element Day Spa pampers clients with high-quality, natural products in a soothing environment. Show appreciation for your noggin's natural winter cap with a hair spa treatment ($50), which lavishes rich, luxurious oils onto the scalp during a relaxing massage, then swaddles strands with a warm towel to facilitate shine absorption. The health-boosting service, followed by a style-boosting blow-dry with hydrating treatment ($25), will keep your follicles feeling loved and your loved ones feeling your follicles until you feel justified charging them a petting fee. Professional makeup application ($35) will add the finishing touches to your refurbished façade by highlighting your best features and camouflaging warped wooden paneling. Before you leave, appease your skin's incessant demand for at-home mollycoddling by using your $10 voucher for Aveda skincare products.
91 Main St.
Charlestown
Massachusetts
US
Melt your cares into a soft, warm pool of happiness with today's transcendental deal: $45 gets you a healing, invigorating hourlong massage at Essential Bodywork and Massage, a $90 value. Ease your muscles and soothe your troubled soul with gentle, healing treatments by Essential's dedicated therapists, who all specialize in a wide variety of massage and bodywork techniques. Follow @Groupon_Says on Twitter.
846 Massachusetts Ave.
Lexington
Massachusetts
US
---