Bars in Niagara Falls
---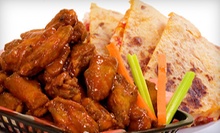 Pound of savoury chicken wings served in softly-lit concert venue adorned with vibrant murals
Use Today 8:00pm - 11:45pm
---
Recommended Bars by Groupon Customers
---
Samovar Room melds vodka and voluptuousness to give patrons an upscale, Russian-influenced night on the town. Ignite imbibing with an item from Samovar Room's drink menu, such as a vodka-infused lychee martini ($9) or the Sparkling Pear ($11), made from pear vodka and sparkling pear juice. For guests seeking further forays into distilled derring-do, Samovar Room offers vodka tastings, with three standard vodkas ($32) or three premium vodkas ($42) available. Both options are served with Russian bread and pickles as well as smoked salmon. Samovar Room's edibles extend beyond vodka-accompanying sidekicks, however, with a full dinner menu using local and seasonal ingredients. Split steamed mussels ($12) with the doctor to your Zhivago, or opt for a roasted boneless chicken ($17) with vegetables and fries. Caviar is also available (prices vary).
51A Winchester St.
Toronto
Ontario
Williamsville, NY. The early 20th century. A man guides his family's horse-drawn carriage through the flurries of snow sweeping across their circular driveway before coming to a halt in front of a striking two-story home. The ride was long and chilly, but inside, homey warmth awaits. Today, teleportation discs may have replaced the horse and buggy, but travelers still traverse the same driveway in search of a warm welcome. Now the home of Parings Wine Bar, the turn-of-the-century house reflects the goal that owner Shelia Paolini shared with the Amherst Bee's Jessica Finch: "We want it to feel like you are coming into a living room, that you are at home, not at a bar."
As soon as guests push open the bright-red front door, they enter a space that combines the comfort of a lived-in family room with the gourmet flavors found at traditional wine bars. Lit by flat-screen TVs and a cozy fireplace, guests peruse Chef Scott Martin's ever-changing menu, which often features mediterranean nachos, lobster mac 'n' cheese, and horseradish beef tenderloin. Resident sommelier Alphonso DiMono's wine list, which culls vintages from global wineries from Australia to France to California, perfectly complements the chef's creations. The bar's mixologists also shake up more than 20 martinis infused with treats such has espresso vodka, Godiva white-chocolate liqueur, and pumpkin puree. As they sip and eat, guests can also join in special event nights that include art shows, live music, and happy hours that feature 20 types of wine for just $20 per bottle.
5893 Main St.
Williamsville
New York
716-630-5951
The sound of honking horns, chattering pedestrians, and singing puppets fades away when diners duck into Wine on Third's dimly lit dining rooms. Here, the din of Third Street is replaced with soft music and tinkling wine glasses. Diners perch along a lengthy wooden bar sipping red, white, and sparkling selections from the eatery's comprehensive wine list, which was awarded the Award of Distinction from Wine Enthusiast Magazine. Small plates of tuna sashimi, assorted cheeses, and greek dips flood tables throughout a spacious dining area flanked by vibrant local artwork where guests linger over last bites of New York–style cheesecake and final sips of sweet martinis. Branching out beyond satiating taste buds, the elegant eatery plays host to special events including art shows and live music throughout the month.
501 Third St.
Niagara Falls
New York
Family-owned and operated for more than 40 years, Mitchell's Tavern draws diners with beer, spirits, and a lengthy menu of freshly cooked pub fare. Its historic brick building, which is more than 70 years old, housed both a deli and the local fire department before transforming into the neighborhood tavern it is today. An outdoor patio shades rows of tabletops with umbrellas; inside, sports memorabilia and photographs crowd the walls as complimentary popcorn erupts from kettles and hearty roast beef sandwiches, hamburgers, and fried fish mingle with mugs of draft beer and mixed drinks. Happy hours and drink specials give wallets a break throughout the week—Mondays, for instance, bring half-priced bottles of Bud, and ladies night every Saturday treats ladies and gorillas in convincing cashmere gowns to $2 drinks and $4 cosmopolitans.: m]]
734 Sheridan Dr.
Tonawanda
New York
716-874-8907
Lists of seasonally inspired cheeses, meats, and garnishes are printed in chalk on a board titled "Picnic Platters," tempting guests to design their own charcuterie spreads or delegate control to a knowledgeable staff member. PicNic Wine Bar has something for everyone, earning it a spot on Vacay's 2012 list of Canada's top 50 restaurants. Flare magazine also deemed the eatery a Toronto hot spot, saying, "the combinations are endless."
PicNic's widespread appeal is due to more than just their picnic platters. Guests can select from more than 30 wines by the glass, as well as from a handful of bottled and draught beers. Chefs also craft more elaborate small and large plates of gorgonzola-stuffed dates and mini foie gras sliders, served at long, communal tables that add sophistication to picnic-style dining.
747 Queen St E.
Toronto
Ontario
647-435-5298
Known as the "Stuffed Hot Pepper King," Nicky G's Sports Bar and Restaurant churns out pizzas, calzones, and subs crowned with stuffed peppers, but they also concoct milder choices, such as 8-ounce Black Angus cheeseburgers, steak-and-cheese subs, and even freshly made crab cakes. From 4 p.m. to 9 p.m., the wait staff shuffles food to tables inside the restaurant and bar area or to patrons on the patio. On Sunday nights, guests can enjoy entertainment with their meal, as wannabe singers tray their hand at karaoke and wannabe football players tackle barstools.
2141 Clinton St.
West Seneca
New York
716-826-4259
---