Museums & Galleries in Niagara Falls
---
---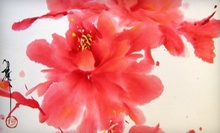 Renowned artists dispense methods and advice for Chinese brush-painting in small-group, 90-minute classes for all skill levels
---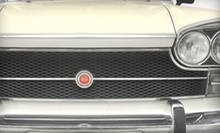 Museum showcases antique global & Canadian-made motorcycles, trucks, cars, pianos & washing machines alongside library collection
Use Today 9:00am - 5:00pm
---
Recommended Museums & Galleries by Groupon Customers
---
Since 1861, the Buffalo Society of Natural Science has culled more than 700,000 specimens and artifacts from around the world. These treasures now reside in the Buffalo Museum of Science, allowing visitors to explore anthropology, paleontology, and zoology, with a special emphasis on the Buffalo Niagara region.
Special exhibits encourage guests to learn about the world around them through hands-on education. This fall, The Science of Sports teaches a number of athletic secrets, from throwing the perfect Hail Mary pass to creating hockey ice that fosters the fastest skating. Opened in March 2012, the Explore YOU health science studio allows visitors to learn about their bodies while studying recent medical technologies that help keep the human race healthy. The earth systems studio Our Marvelous Earth opens in October to explore geological phenomena, extreme weather, and alternative forms of energy with its interactive exhibits and displays. Elsewhere, mummies share their stories of living in Khent-min through the collected artifacts and forensic evidence on display in Whem Ankh: The Cycle of Life in Ancient Egypt. During the next four years, the museum will continue to add new exhibits and improve others with new, interactive technologies.
1020 Humboldt Pkwy.
Buffalo
New York
Lou and Marianne Fenninger founded Art Source in 1978 in a 200-square-foot basement. When demand for the couple's poster prints exploded, they soon expanded their products and services. Within a few years they'd outgrown the basement, and moved into the 6,000-square-foot showroom they occupy today.
Nowadays, Art Source reaches every corner of the globe, distributing art for both retail and wholesale clients as far-flung as Europe, Japan, and New Zealand. The shop helps customers find perfect pieces for complementing their room decor and covering up unsightly fire extinguisher cases with 10,000 stock images of classic, modern, local, and international art, as well as an original art design service, all available for custom printing. Additionally, Art Source's staff help patrons preserve cherished pieces with custom framing services that can wrap works of any size in a carefully designed and assembled border.
23-455 Cochrane Dr.
Markham
Ontario
905-475-8181
Since opening its star-dappled doors in 1964, the Whitworth Ferguson Planetarium has delighted sky-gazing enthusiasts through effulgent re-creations of the night sky and educational journeys through the solar system with its 24-foot-diameter dome, capable of illuminating 4,000 stars. Celestial explorations have included shows such as Uranus and Neptune: Planets of the Telescope Age, which explores the planets and their improbable journey from drifting stardust to two of the solar system's gas giants. Attractions such as Shorter Nights: Passage Into Spring reveal the dazzling sights visible in the local Buffalo sky in the buildup to the equinox, and Pluto and the Other Dwarfs: Smaller Objects of the Solar System guide sojourners on a quest to view the celestial orb as it hides, weeping over its stripped status as a planet, behind Saturn's rings.
1300 Elmwood Ave.
Buffalo
New York
716-878-4911
Shadows dart across the wall, a strange voice emerges from thin air, and you get the eerie feeling that you're being followed. This is no ordinary place. The Iron Island Museum's paranormal history has captured the minds of countless visitors and has been featured on TV programs such as Ghost Lab and Ghost Hunters. Originally built as a church in 1883, the house later became a funeral home in the late 1950s, during which time it hosted more than 1,000 wakes. The business eventually shut down, and in 2000, the building was donated to The Iron Island Preservation Society of Lovejoy, which made a startling discovery: 24 canisters of cremated remains had been left behind.
Today, an all-volunteer staff leads tours of the church's vaulted ceilings, stained-glass windows, and themed rooms. The church showcases hundreds of historic relics, including military uniforms, railroad items, and a wooden altar that dates backs to 1896. However, the museum's biggest draws can't be seen, at least not most of the time. Guides and visitors stay alert for signs of paranormal activity and look for chances to communicate with what they consider to be some of the building's resident ghosts. The staff has even taken recordings that play back the voices of unknown figures saying things such as "I'm cold," and "Why don't they make pants for ghosts?"
998 Lovejoy St.
Buffalo
New York
716-892-3084
In 1754, Richard Stockton, a leading attorney who would go on to be a signer of the Declaration of Independence, acquired land on his grandfather's 5,500-acre tract to build a home. The house later traded hands among Stockton family members until the 20th century, when it served as the state's first Governor's Mansion, eventually housing five governors.
Since its restoration and conversion into the Morven Museum & Garden in 2004, galleries on two floors of the dwelling have housed permanent and temporary exhibitions relating to New Jersey history and culture, as well as the Morven property, now a National Historic Landmark. As guests wander the museum's halls, Stockton family portraiture and decorative art speaks of past eras while contemporary art and photographs keep visitors grounded in the present day. Meanwhile, 5 more acres outside host a massive garden that includes a recreation of Morven's old Colonial Revival¬–style blooming garden and its charismatic, singing Venus flytrap.
273 Bloor Street West
Toronto
Ontario
Canada
The McMichael Canadian Art Collection was set in motion in 1952, when Robert and Signe McMichael purchased the property and, inspired by their surroundings, began collecting artworks of similar beauty. Today, the museum—which is built of fieldstone and hand-hewn logs—remains enveloped by 100 acres of conservation land, and houses a permanent collection of nearly 6,000 pieces devoted solely to Canadian artists. Its 13 galleries showcase ongoing exhibitions, including a tribute to the McMichael legacy. The facility's floor-to-ceiling windows look out upon the surrounding Humber River Valley, where dense woodlands and oaks sporting powdered wigs influenced many of the collection's works. In addition to its permanent displays, the McMichael frequently hosts internationally acclaimed touring exhibitions, as well as lectures, musical performances, and workshops for aspiring creators.
10365 Islington Ave.
Kleinburg
Ontario
905-893-1121
---