Pet Services in Niagara Falls
---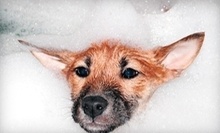 Pet shop gussies up big, small, pedigree or mixed-breed canines with meticulous, customized grooming
Use Saturday 10:00am - 3:00pm
---
Recommended Pet Services by Groupon Customers
---
Paws and Claws prides itself as a comprehensive stop for all furry friends. At each location, owners can bring along their creatures to find ample supplies to feed and entertain them, such as a large selection of toys and treats. Their knowledgeable staff includes professional groomers and retail specialists trained in the ways of pet nutrition and hygiene, as well as a consulting veterinarian who keeps the business up-to-date on animal-health trends. This commitment to enhancing the quality and longevity of pet lifespans is also apparent in Paws and Claws' donations to animal charities and adoption efforts.
800 Niagara St.
Welland
Ontario
Each year, the SPCA Serving Erie County gives more than 15,000 dogs, cats, and exotic pets a new lease on life. Founded in 1867—making it the second-oldest humane society in the country—the SPCA's compassionate animal rescue, rehabilitation, foster care, and adoption services have earned Charity Navigator's four-star rating for extraordinary accountability and transparency, the highest rating available in all three categories. In the adoption center, furry faces peer from comfortable, clean cages as staff and volunteers evaluate customers' needs and introduce them to compatible pets, decreasing the chance of conflict when adopters' favorite shows compete with Animal Planet specials. Before becoming eligible for adoption, pets undergo thorough health, temperament, and behavioral evaluations, and those who need extra TLC receive additional obedience training.
In addition to matching people with loving pets, SPCA Serving Erie County's staff investigates more than 200 animal-cruelty complaints per month, and provides emergency animal-rescue services 24 hours a day, seven days a week. Rescued animals receive state-of-the-art medical care in the facility's onsite surgical suite, and rehabilitation programs prepare them to thrive in loving homes. A local, independent humane society, the donation-supported SPCA Serving Erie County is not associated with the ASPCA and receives no government funding.
205 Ensminger Rd.
Tonawanda
New York
716-875-7360
Since 1988, Pet Supplies Plus has welcomed millions of furry critters of every stripe—from llamas and monkeys to potbellied pigs—into their animal-friendly stores. The shop is designed so that both pets and their owners can easily navigate the inventory of more than 10,000 items. Wide aisles give leashed pups enough room to roam, colorful signage keeps shoppers moving in the right direction, and low shelves allow dogs to sniff out their preferred brand of rawhide chew. A self-serve dog wash enables guests to scrub their canine companions' coats to a youthful, puppy-like shine, whereas grooming services enlist professionals to tackle tougher jobs, such as brushing out matted fur or convincing dalmatians to stop mixing white and black after Labor Day.
2155 Delaware Ave.
Buffalo
New York
716-876-6663
---