Arts & Culture in Niagara Falls
---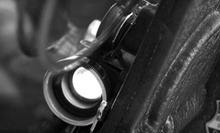 Use Today 1:00pm - 5:00pm
---
Recommended Arts & Culture by Groupon Customers
---
Love, Loss, and What I Wore premiered on Broadway to rave reviews in 2009, and the show recently made its successful Canadian premiere in Toronto. Based on a book by Ilene Beckerman, Love, Loss, and What I Wore was adapted for the stage by sisters Nora and Delia Ephron—Nora is the co-writer and director behind films such as Sleepless in Seattle, You've Got Mail, and Julie & Julia, and Delia is a co-writer for You've Got Mail and The Sisterhood of the Traveling Pants. The play collects vignettes and monologues on clothing, accessories, and both the funny and the painful memories that women associate with them, creating a hilarious theatrical experience that's universal in its appeal, like Hawaiian pizza or the songs of Burt Bacharach.
260 King St. W
Toranto
Ontario
The largest soft-seat theatre in Canada, the Sony Centre for the Performing Arts is perhaps most famous for its overhanging marquee outside. The diagonal canopy and its snake-like rows of lights were restored to their original form in 2010, along with the facility's wood, brass, and marble accents. Inside the lobby, York Wilson's mural, The Seven Lively Arts, fills eyes with fractured, panoramic representations of various artistic media, from slanted musical staffs to menacing Greek theatre masks.
1 Front St. E
Toronto
Ontario
416-368-6161
Bing Crosby. The Marx Brothers. Frank Sinatra. These are only a few of the luminaries who have trod the boards at Shea's Performing Arts Center over its nearly 90-year history. Shea's originally opened as a movie house in 1926, shortly before the advent of talkies. Partnering with Tiffany Studios to create an extravagantly lush interior, Chicago architects C.W. and George L. Rapp modeled the opulent venue after a European opera house and created a Neo-Spanish Baroque masterpiece in the process. Tours of the venue provide an up-close view of its grandeur and many electrical outlets, and they benefit the center's ongoing restoration initiatives. Shea's Performing Arts Center also houses the Western New York Entertainment Hall of Fame, whose inductees include stars such as Lucille Ball, Buffalo Bob, and Christine Baranski.
650 Main St.
Buffalo
New York
Dipson Theatres celebrates a reputation as a regional movie institution with a network of 12 locations lighting 57 silver screens across Michigan, New York, and Pennsylvania. Though the company now spreads across the northeast United States, it began in the small city of Batavia, NY, in 1939—a time when movies were called "picture shows," Roosevelt was in the White House, and everybody could only see in black and white. Today that tradition underlies the cinematic experience as patrons chomp popcorn and sip sodas, marveling at modern 3-D visual adventures, summer action movies, family-friendly features, or even indie art flicks and footage from world-renowned opera performances.
3500 Main St.
Buffalo
New York
SCREENS Restaurant & Sports Lounge captivates casual moviegoers and cinephiles alike with its array of daily scheduled films and private group screenings in three high-definition theaters. In addition to a variety of cult and foreign flicks, towering high-definition screens broadcast the latest NFL Sunday Ticket games, X-Box and Playstation 3 tournaments, and national flossing championships to viewers nestled in comfy lounge chairs. Servers bustle from room to room, placing the menu's selection of gourmet pizzas, pasta dinners, and burgers on tables flanked by portraits of iconic Hollywood stars.
5445 Transit Rd.
Williamsville
New York
716-688-4933
Stage West keeps visitors comfortable and entertained with hotel accommodations, live comedies and musicals, and elaborate buffet dining. The concept was the brainchild of the Pechet family, who opened the first Stage West Theatre Restaurant in the Mayfield Inn in Edmonton in 1975. After making several trips to the U.S. to research dinner theatre, the family opened two more locations in Calgary and Mississauga, bringing shows headlined by internationally performing stars.
The Mississauga site recently became a part of the Ramada Worldwide family, and now, after dinner from the renovated buffet and a show in the Las Vegas–style theatre, guests relax in a heated saltwater pool and jacuzzi. The hotel also features a giant, three-storey indoor waterslide ideal for keeping kids busy, gaining a quick burst of adrenaline, or testing whether a suitcase is waterproof.
5400 Dixie Rd.
Mississauga
Ontario
905-238-0042
---